A Twist in the Narrative About the Nation's Urban-Rural Economic Divide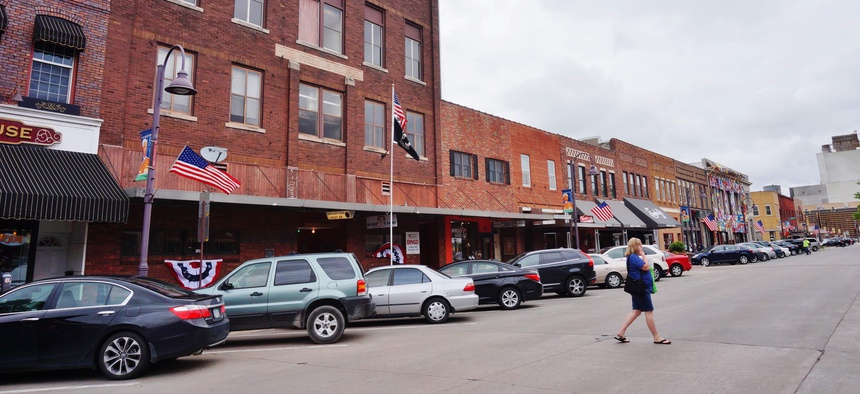 New research from the National League of Cities zooms in on differences between the nation's mid-sized city economies.
Economies in mid-sized U.S. cities fall into at least three distinct categories, with unique factors driving growth and declines in each group, according to research released Wednesday.
The findings are presented in the latest edition of the National League of Cities Local Economic Conditions survey. The report notes that the variation found between mid-sized city economies adds nuance to the common narrative in the U.S. that economic differences break mainly along urban-rural lines.
Local economies around the nation are classified in the report into five different categories.
One group is major urban job centers. Another is rural areas.
But the researchers also split up the economies found in cities with 50,000 to 300,000 residents.
They separate these economies into three clusters: "mid-sized business boomers," "cities on par," and places with "room to grow."
"What we really found interesting was a sort of dynamic middle," said Christiana McFarland, research director for the National League of Cities, as she discussed the mid-sized city clusters.
Room-to-grow economies are places with attractive commercial property values, affordable housing stock and population growth—communities like Plano, Texas and Scottsdale, Arizona.
The report describes these types of localities as somewhat suburban and as "key exhaust valves" for tight housing markets in core cities within the regions where they are located.
But room-to-grow economies are also known for office parks and malls, establishments that tend to be withering, the report points out, as corporations look to relocate to denser urban centers and as shopping habits shift with the continued rise of online commerce.
Within the cities-on-par cluster are places like Ames, Iowa and Chapel Hill, North Carolina. These sorts of communities tend to be seeing the slow but positive economic growth that the nation as a whole has experienced since the Great Recession.
But, in general, they also lack affordable housing and are straining in some instances to deliver services to vulnerable populations, such as people in poverty, or those who are homeless.
Mid-sized business boomers are cities such as Ann Arbor, Michigan and Longmont, Colorado.
"Boomers" are experiencing business expansions that might involve the tech sector, small-scale manufacturing or tourism. They are also seeing declines in affordable housing, along with business growth that is outpacing available workforce talent.
"That group of cities will be the one to watch," McFarland said, referring to the business boomers cluster.
"This is the group that really has an opportunity to grow in a more equitable way," she added.
McFarland explained that this is because these cities have relatively new growth compared to bigger urban centers where trends like rising housing costs are already firmly established.
The survey presents other information as well, based on data drawn from responses from local elected officials in 224 cities.
Overall, 84 percent of respondents reported that their local economies had improved over the past year. And 12 percent reported stable conditions. These figures are roughly in line with the survey's findings in 2015.
About 78 percent said new businesses were on the rise.
On the negative side, demand for "survival services," like food banks and homeless shelters, was up in 42 percent of cities surveyed.
The most significant barriers to economic growth that respondents identified were shortages of affordable housing and workforce skills that were not well aligned with the needs of employers.
Between the clusters the survey responses varied.
For instance, 68 percent of respondents in the business boomer cluster indicated that limited affordable housing was the biggest drag on economic growth. This was true for only 40 percent of the cities-on-par respondents and 25 percent in the room-to-grow group.
Meanwhile, 54 percent of cities-on-par respondents identified new businesses starting up as the top driver of economic growth. As did 53 percent of those in the business boomers category. But in the room-to-grow cluster only 18 percent of respondents said this was the case.
McFarland noted a couple of general themes that come across in the survey results. One is that affordable housing and jobs are "becoming divorced" in many regions. "In areas that have jobs, the housing prices are becoming completely unaffordable," she said.
Another is that there is concern among local government leaders about workforce readiness.
"If we had to point to one issue where it really requires all levels of government coming together to address a particular challenge," she said, "we really would point to workforce development."
A full copy of the report can be found here.