If California Is So Prosperous, Why Are So Many Californians Poor?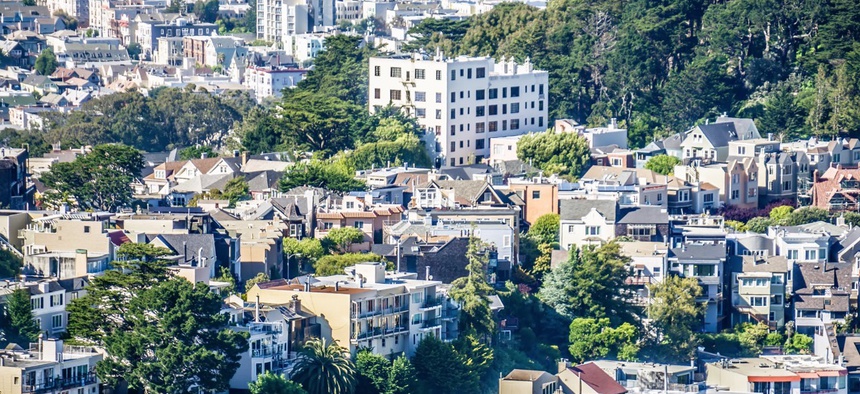 "Poverty remains unacceptably high" in the Golden State.
More Californians faced economic hardship between 2014 and 2016 than residents of any other state, with high housing costs limiting job market gains that might otherwise have lifted more people out of poverty.
About 8 million Californians, that's one in five or 20.4 percent, lived in poverty on average at some point during that period, according to new figures from the U.S. Census Bureau's Supplemental Poverty Measure.
The SPM provides a more accurate picture of economic insecurity than official poverty numbers—which show California in the middle of the pack at 14.5 percent—because it factors in differences in regional cost of living and benefits helping families afford basic expenses.
"Poverty remains unacceptably high in California," Alissa Anderson, a California Budget and Policy Center senior policy analyst, said during a Tuesday afternoon conference call.
The numbers are "striking," in part, because California remains one of the most prosperous states in the nation, Anderson said, with hourly wages and family incomes improving due to minimum wage hikes.
Florida and Louisiana were just behind California with their SPMs, and the national average is 14.7 percent. Poverty has declined nationally from 15.1 percent between 2013 and 2015, but California's rate has held steady.
Those figures would be higher without government support, largely at the federal level.
The Supplemental Nutrition Assistance Program kept 800,000 Californians out of poverty, about half of those children, and the Earned Income Tax Credit and Child Tax Credit proved critical as well. But the Trump administration's budget in May proposed sweeping cuts to food assistance programs, support and housing for low-income families, housing vouchers and construction, disability benefits, and welfare-to-work funding.
"Federal actions have serious potential to affect California's poverty rate," said Sara Kimberlin, a CBPC senior policy analyst.
CBPC suggests state and federal lawmakers explore pathways to economic security, namely quality jobs, increased wages and government assistance via strengthening the California EITC and increasingly subsidizing child care and preschool.
More than half of Californians put more than 30 percent of their incomes toward housing, so the state legislature is considering a set of bills and a housing package to address the crisis. One such measure would fund increased development of affordable housing, while another would streamline reviews of high-priority housing projects.
President Trump and a faction of congressional Republicans also continue to push repeal of the Affordable Care Act and Medicaid cuts that would take away many Californians' health care coverage, thereby worsening their economic hardship, according to CBPC.
Under the ACA, the number of uninsured Californians plunged 10 percentage points since 2013—from 6.5 million to 2.8 million last year. A total of 1.4 million people bought private health insurance through Covered California, and nine out of 10 of those are eligible for federal subsidies to reduce the cost.
But a new ACA repeal effort is underway in the U.S. Senate, and Trump's budget proposal assumes deep cuts to Medicaid that equate to a massive cost shift to states. In California alone the cost of Medi-Cal would increase $20 to $30 billion annually, which "could not be absorbed by our state budget," said Scott Graves, CBPC director of research.
Instead, Graves proposed that government agencies expand their outreach to get more people signed up, increase subsidies for people who buy their health insurance through a marketplace but find it burdensome, and extend Children's Health Insurance Program funding, a "critical health care option for low- and moderate-income families."
"Politicians in Washington should be looking for ways to strengthen our nation's health care system," Graves said.