Check Out These Giant Pumpkins and Cabbages From 2017 State Fairs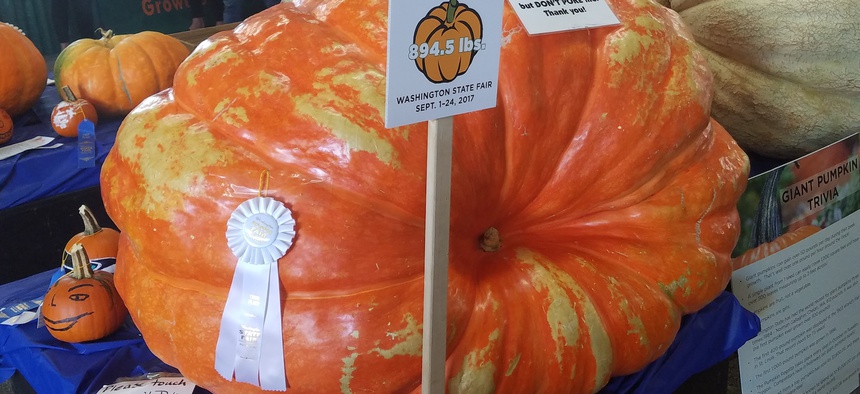 PHOTOS: At one agricultural showcase, the bounties from many counties take center stage.
PUYALLUP, Wash. — State fairs across the nation are known for their various individual traditions, whether it's the famous Butter Cow in Iowa, the Milk Chug-a-Lug and Milk Mustache contests in Oregon or hot dish on a stick plus various other "hidden" food options in Minnesota. Here at the Washington State Fair, about 35 miles south of Seattle, the annual event has been long associated with a particular raspberry scone.
While many state fairs these days focus on amusements and attractions, most are firmly rooted in their histories as showcases for agriculture and industry. That includes the Washington State Fair, which can trace its roots to 1900 when a group of businessmen and farmers launched the Valley Fair in Puyallup, southeast of Tacoma. It operates as a private not-for-profit organization and doesn't get state subsidies, like some fairs do.
As Route Fifty explored the Washington State Fair recently—the 20-day event closes this weekend—we checked out some of the agricultural showcases, where the bounties from many counties were on display, including giant pumpkins and cabbages.
This pumpkin, grown by Sumner resident Joel Holland, weighing in at 1,388 pounds, took first place at the Washington State Fair.
If you think that's big—and it certainly is—it's not as massive as this year's "pretty, pale-orange gourd" that shattered local and state records in Ohio, coming in at 2,150 pounds. It was a star attraction not just at the Ohio State Fair this summer, but at the 54th annual Barnesville Pumpkin Festival that's currently underway.
As The Times Leader in Martin's Ferry, Ohio reported on Thursday:
"Hundreds of people gathered at the intersection of Main and Chestnut streets held their breath as an enormous orb grown by Todd and Donna Skinner of Barnesville was hoisted onto the official Pumpkin Festival scale."
At the Kentucky State Fair, this year's winning pumpkin came in at 1,233 pounds.
The first-place pumpkin in Alaska this year, grown by David Iles of North Pole, came in at 1,231.5 pounds. As KTUU-TV reported, Iles is one of the few competitive pumpkin growers in the world to use hydroponic techniques, not conventional soil.
Growing produce in a cold-weather environment Alaska can lead to sometimes lead to "freak show" results, including a 138.25 pound cabbage grown in Palmer that set a world record for heaviest cabbage back in 2012.
Look at that cabbage! That's certainly far more sizable than the 63 pound cabbage grown by Cindy Tobeck that set a record in Washington state this year or "Stinky II," a "delicious" 81.35-pound cabbage grown by Brian Shunskis that took first place at the Alaska State Fair this year.
All those cabbages, no doubt, could make a lot of cole slaw.
While Alaska is known for producing freakishly large cabbages and pumpkins, the state of Arizona is not. The Arizona State Fair, which starts Oct. 6, boasts a pumpkin that weighs only 450 pounds. Better luck next year, Arizona.
Some other scenes from the agricultural showcase at the Washington State Fair.