Justice Department, Chicago Continue Their Immigration Compliance Dance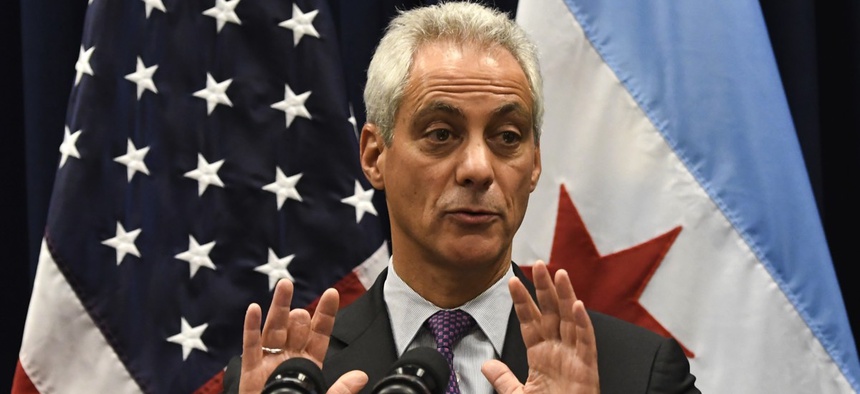 A month after the Trump administration was stopped from withholding public safety funds from the city for its "sanctuary" policies, it's now targeting a different law enforcement grant.
The Justice Department placed a condition on $3.1 million in public safety funds awarded to Chicago, requiring the "sanctuary city" to prove compliance with 8 U.S.C. 1373 even though a federal judge issued a preliminary injunction against the agency in September and reaffirmed it in October for such behavior.
Chicago was notably absent from the department's list of state and local jurisdictions warned their Byrne Justice Assistance grants are contingent upon cooperation with federal immigration enforcement.
But the department has now set its sights on the city's Community Oriented Policing Services award, freezing use of the money to hire police officers until Chicago shows its government employees are free to share information with Immigration and Customs Enforcement.
"In the face of a federal judge rejecting the Trump Justice Department's attempt to use one federal grant to blackmail cities, they've doubled down with another attempt on a second federal grant," said Mayor Rahm Emanuel in a statement released Friday. "You would think the Trump Justice Department has actual priorities they need to focus on, instead of repeatedly trying to inject their personal politics into our public safety. I have a message for President Trump: Chicago's values are not for sale. We will remain a Welcoming City."
Emanuel maintained Chicago certified compliance in April and again in October without the Justice Department clarifying its position on requirements, though Attorney General Jeff Sessions now appears to view jurisdictions that prevent law enforcement from inquiring about a person's immigration status in violation of the federal statute. Local officials have expressed concerns about unconstitutionally detaining suspected undocumented immigrants on behalf of the federal government, absent a warrant, for fear of legal retribution.
Chicago Corporation Counsel Ed Siskel plans to ask a judge to intervene unless the department provides further guidance.
In September, the department announced that jurisdictions certifying ICE could enter their detention facilities would receive additional points and perhaps funding during the COPS grant scoring process, but the city received its full allotment for three-year hires to address specific crime problems identified in its community policing strategy.
This is not the first time Sessions and Chicago have butted heads. The attorney general said in August that "respect for the rule of law has broken down" in the city and suggesting it "recommit to policies that punish criminals."
Deputy Attorney General Rod Rosenstein took a less accusatory tone earlier this month in remarks delivered at the Chicago Crime Commission Annual Stars of Distinction Awards Dinner.
He noted that with more than 600 homicides so far in 2017, Chicago is on pace to record the second-highest total this century—most of it tied to gang violence around drug trafficking. Not once did he mention immigration.
"The debate about what caused the recent lapse in deterrence will endure, as will efforts to remedy root causes and improve relationships between police officers and residents of crime-ridden neighborhoods," Rosenstein said. "In the meantime, the crime surge can be suppressed if law enforcement agencies work together to secure lengthy sentences for armed felons, build proactive drug and conspiracy cases against members of gangs that foment violence, and prosecute dangerous offenders who violate probation or parole conditions."
Rod Rosenstein continued: "Every city should be a sanctuary, a place where America's citizens and invited guests live in peace and unafraid."