Small Town Mayor Impeached, Kicked Out of Office, Then Reinstated and Reelected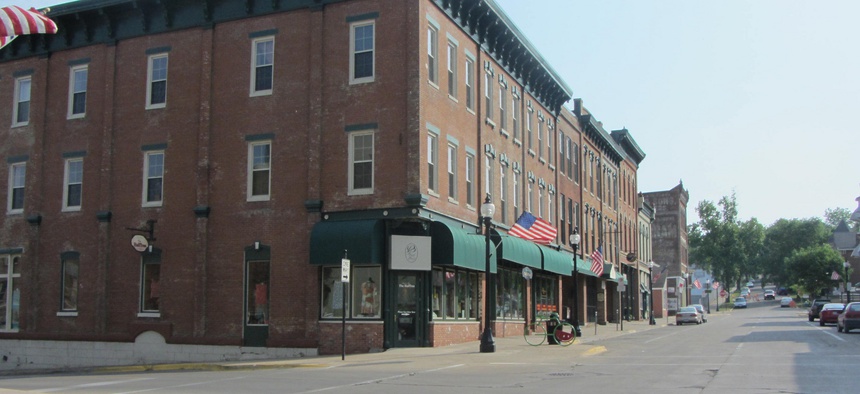 It was a classic local political power struggle, in miniature perhaps, but still bruising.
The local politics nightmare in Muscatine, Iowa is, if not over, then at least entering a new and perhaps less acrimonious, more productive phase.
Embattled Mayor Diana Broderson won reelection on Tuesday with nearly 60 percent of the vote in this city of 24,000 people, located on the Mississippi River about 35 miles southeast of Iowa City.
Broderson's victory along with the election of three new reform candidates to the seven-member city council served as rebuke to the Muscatine's municipal legislative body, which has been engaged in a power struggle with Broderson for all of this year.
In May, after months of highly charged city hall politics, the council voted as a bloc to impeach Broderson and remove her from office. It was the first impeachment in Iowa history. Broderson likened the council proceedings to a "kangaroo court" and appealed the impeachment to the state judicial system, where she won. Iowa judges ordered council members to turn over public documents on the impeachment and then vacated the vote to remove Broderson from office.
"Due process requires a fair tribunal, not simply the empty appearance of fairness," District Court Judge Mark Cleve wrote in October. He argued that the city council members mocked justice by acting in the case as investigators, prosecutors and judges and added that their work was further tainted by the fact that they clearly stood to gain by ousting Broderson.
In short, Muscatine has endured a classic political power struggle, in miniature perhaps, but still bruising.
According to court documents, soon after political newcomer Broderson took office in 2016, she found what she said looked like corrupt municipal dealings—back-scratch kind of understandings tied to city contracts and board appointments as well as a city business-development trip to China that looked like tax-funded tourism. She complained about the contracts and asked for a state audit of the China trip. A state auditor who reviewed the spending mostly agreed with the mayor.
The council, feeling unfairly surveilled and generally under attack, united against Broderson. They complained that Broderson was trampling procedural order, mainly by approaching city staff and the city attorney on her own, that she was improperly bypassing the council on a regular basis and also overstepping City Administrator Gregg Mandsager's authority.
Broderson told residents she was being hobbled in her office by a council that operated like an old-boys club used to doing business as usual.
The city administrator, meanwhile, has threatened to sue the mayor for defamation, according to the Quad City Times. "I am tired of the attempts to bully my family and me. I am tired of the lies. I am disgusted by Broderson's attempts to trash the reputation of my family and me. She has abused her position as Mayor of Muscatine and must be held accountable," Mandsager said in a statement.
"You know, this is company town. There are big business interests here, major employers… and [Broderson] is a political novice," Laura Belin, a former reporter for Radio Free Europe and the main writer for Iowa's Bleeding Heartland politics blog, told Route Fifty. "[Broderson] was asking questions. Sure, maybe she made some mistakes, maybe she failed to follow the rules, but she was also challenging the way things were done."
Belin noted the irony from a national perspective of what was happening in Muscatine. She pointed out that Broderson is a Democrat supported by labor interests and that the mayor won a major victory Tuesday night against Republicans in a Democratic wave election, but that the council and political players in town might well view Broderson as a Trump-like figure—an amateur shaking things up, big-footing people that know how things are done, not playing by the rules and making trouble in the process.
Belin said she thought Tuesday's reform-candidate election wins in Muscatine in fact had very little to do with Trump, Trumpism or the current state of affairs in Washington, D.C.
"This was about local politics, about a classic abuse of power," she said. "People see that what the council did cost a lot of money in legal fees. They led the town down this expensive path that judges ruled was illegal. They kept documents out of public view.
"That [Broderson] won was a great symbolic victory," Belin said. "There's a lot of resignation in rural towns in Iowa, a lot of fatalism, just like in a lot of the rest of the country. The feeling that you can't fight the old boy networks. If she lost, I think it would have legitimized the council's views and the process they took to remove the mayor."   
As the Muscatine Journal reported, local politics watchers noted the historic voter turnout notched in Tuesday's off-year election. Residents cast 4,194 ballots, nearly double the record set in 1997.
"The controversies have made the people take notice and get involved and make their voices heard," Broderson told local TV station WQAD after the election. She said she talked to longtime residents who on Tuesday voted for the first time in their lives.
Broderson said she's looking forward to a new era marked by transparency. The mayor also knows that in order to move beyond the conflicts that marred city government this year and begin to get things done in Muscatine, she and the three newly elected reform council members will have to work well with the remaining four-member majority members who spent months clashing with the mayor only to be embarrassed in the courts and on Election Night.