City Hall Transition Underway as San Francisco Remembers Ed Lee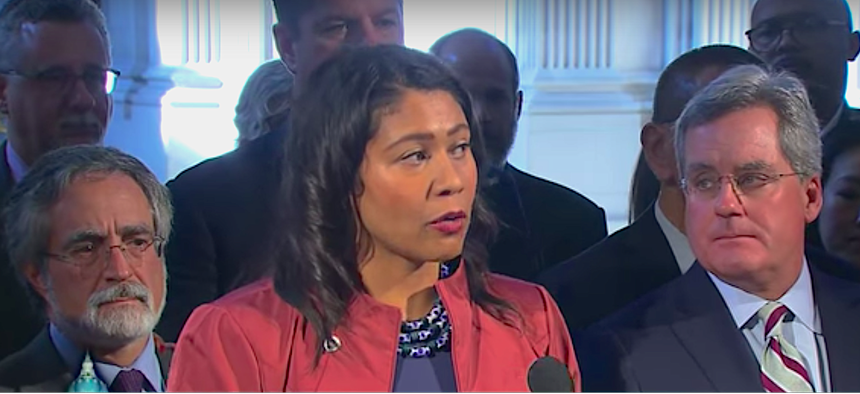 Acting Mayor London Breed: "He was humble and determined no matter what job he held. He was fair and collaborative no matter the heat of the moment. What mattered was helping his fellow San Franciscans."
As San Francisco's civic community remains shocked by the unexpected passing of Mayor Ed Lee early Tuesday morning, after experiencing cardiac arrest while shopping at a grocery store, municipal life is continuing at City Hall.
London Breed, the president of San Francisco's Board of Supervisors, is serving as acting mayor.
As the San Francisco Chronicle reported Tuesday, funeral planning and the mayoral transition are underway :
Workers were packing up Lee's mementos and files in boxes, readying the office for his successor, and the acting mayor was using one of the rooms in the protocol suite for the time being.
Lee, who was re-elected in 2015, was serving as city administrator when he was selected to replace Gavin Newsom when he became California's lieutenant governor in 2011.
"We want it to go smoothly because that's the way he wanted us to do things," Chief of Protocol Charlotte Maillard Shultz told the Chronicle . "The place is in shock. It's very quiet around here. Flowers are arriving, and messages, but the people that work here, everybody's on the job."
The Board of Supervisors can decide whether to appoint a replacement mayor or have Breed, as board president, serve as acting mayor until a June 5, 2018 special election for a permanent replacement.
Flags will remain at half staff throughout San Francisco for 30 days. Lee's body will lie in repose in City Hall on Friday and a memorial celebration will be held on Sunday .
During remarks honoring Lee's legacy and a press conference at San Francisco City Hall on Tuesday, the acting mayor remembered the city's first Asian-American mayor "as a good man with a good heart."
He was also a long-time City Hall veteran with a long record in public service, including positions as the city's human rights commissioner and public works director.
"Flash never mattered to him. Disagreements never deterred him," Breed said during her remarks Tuesday. "He was humble and determined no matter what job he held. He was fair and collaborative no matter the heat of the moment. What mattered was helping his fellow San Franciscans."
Watch Breed's remarks:
This article was updated with additional information about memorial plans.