Ed Lee's Legacy in San Francisco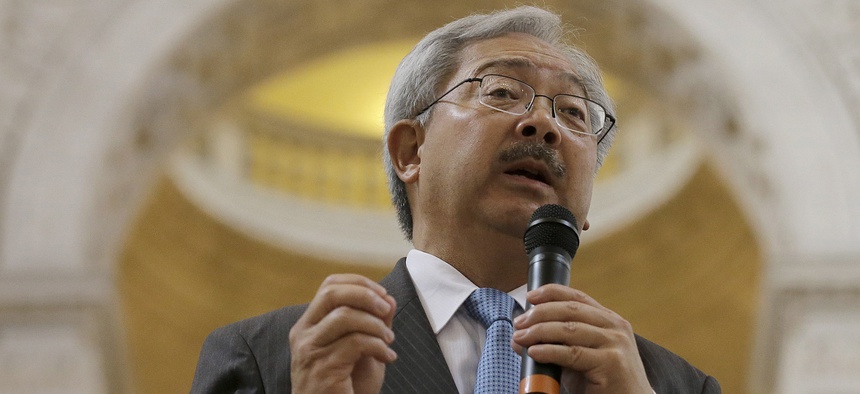 San Francisco Mayor Edwin Lee, the first Asian American to lead the city, died on Tuesday. He was 65.
Former Mayor Willie Brown, whose push catapulted Lee to the Mayor's office in 2011, told the San Francisco Examiner that Lee suffered a cardiac arrest at a grocery store Monday night, and was pronounced dead at the hospital a few hours later.
"He was a real good man," Brown told the newspaper. "To die the way he died, it's just totally, completely, shocking."
SPUR, a Bay Area urban planning think tank, remembered him in a statement as a leader who sought consensus in broad coalitions. "In some ways, he was a holdover from the heyday of the civil rights era leaders who went into Democratic Party leaders," the statement said. "That style of governance sees organized labor and business as natural allies in the service of generating jobs for residents."
Lee was born and raised in Seattle by Chinese immigrant parents. He moved to the Bay Area in the 1970s for college. Later, at University of California Berkeley Law School, he worked with the Asian Law Caucus on housing and tenants' rights issues. Lee even delayed taking the bar to organize a major rent strike in 1978, according to The New York Times.
After a decade of working as a civil rights lawyer, he took the first of many positions in the city government. When former mayor Gavin Newsom resigned in 2011, Lee was asked to run. He was the choice for moderates in the city's all-Democrat city council.  
"Decades ago, I was about as anti-establishment as one could be," the Times reported Lee saying after his swearing in ceremony. "But today, like you, I'm trying to make the establishment work for all San Franciscans."
Lee's mayoral win was symbolic, providing a boost to the large but historically disadvantaged Asian American population in the city. In his six years in office, Lee has left behind a string of accomplishments—and some significant failures—all of which together make for a complicated legacy.
"His first instinct when confronted with a difficult policy decision was to try to get everyone together to hammer out an agreement." the SPUR statement reads. "It didn't always work of course, but sometimes it did, to great effect."
Here are some of the most noteworthy points in his policy legacy.
A ballooning tech economy—for better and for worse
"I want tech companies to start here in San Francisco, and I want them to stay and to grow," Lee famously proclaimed in 2011, on the night he transformed from interim mayor to mayor-elect. In the years that followed, he delivered—but attracting business came at a cost.
Lee has been credited with catalyzing San Francisco's tech boom early in his term by passing a business-friendly tax-exemption that he (correctly) predicted would help lure economic development into a distressed part of town. Called the Central Market-Tenderloin Area Payroll Expense Tax Exclusion, it waived payroll taxes for companies whose payroll exceeded $1 million in exchange for a community benefits agreement, and a commitment to build in the Tenderloin area. After Lee used the exemption to harpoon Twitter in 2012, it became sourly known as the "Twitter Tax Break." Other tech companies like Uber, Airbnb, Pinterest, and Dropbox followed Twitter into the city, bringing with them municipal grants, large philanthropic donations to non-profits, and increased local purchasing—in exchange for whopping tax breaks diverted from the city budget.
During Lee's tenure, the number of jobs in the city swelled to over 600,000, growing by 25,000 each year; unemployment decreased to 3.6 percent; and San Francisco has evolved from a city in the depths of a 2010 recession into one with an annual budget that exceeds $10 billion. Lee maintained that it's thanks to the payroll exclusion that San Francisco is the prosperous host city to innovation it is today. Critics are quick to point out that prosperity isn't evenly distributed, however: housing prices are skyrocketing, driven up by the high-wage tech workers moving in; rates of homelessness are high; and inequality between black and white residents is widening—with median household incomes of $104,300 and $29,500, respectively. And the Tenderloin district, while revitalized, has been drained of many longtime residents who blame gentrification.
In recent years, Lee has continued to make economic development a priority. "He spearheaded the creation and proudly served as the Chair of the Conference's Technology and Innovation Task Force," said New Orleans Mayor and President of the U.S. Conference of Mayors Mitch Landrieu in a statement. "He provided invaluable insight and thoughtful leadership on the ever-changing, and often times challenging, landscape of the field." In 2016, Lee vetoed a measure to crack down on Airbnb's San Francisco presence, instead coming to a compromise—again drawing criticism, this time for encouraging the online home rental service to continue to jack up cost of living. His development initiatives have also transformed San Francisco's built environment, breaking ground on the over 1,000-foot tall Salesforce tower that's now the tallest building in the city, and luring the Golden State Warriors away from Oakland and into San Francisco's Mission Bay with the promise of a new stadium. This fall, construction on the Chase Center was more than a quarter of the way completed, and will bring a projected influx of investment from retail and tourist revenue.
—Sarah Holder
A Transportation Transformation, Left Unfinished
"Transit first" was already a guiding principle at City Hall when Lee took office. Over the course of his tenure—both through action and inaction—Lee has helped make San Francisco a "driving last" city. Since 2013, when the city inaugurated an annual transportation survey, the percentage of trips by private car has decreased from 50 to 43 percent. Lee presided over a spate of bicycle infrastructure construction and transit investments that helped draw people out of their cars: Satisfaction with the city's public transit provider, MUNI, has risen steadily since Lee took office.   
Ironically, the biggest factor behind the decline in private car usage might be the increase in traffic, as new modes of tech-enabled transit have poured in to the city. Delivery services and ride hailing apps, so many of which were founded in San Francisco, clog the roads with their frequent stops. The hometown of Uber and Lyft is bursting with these vehicles: A recent study found that they account for 20 percent of vehicle miles travelled in the city, averaging 170,000 pickups on an average weekday. Add to these totals the 34,000 San Franciscans who take the notorious tech buses down to Silicon Valley's corporate campuses, and there's not much room left to spare.
Critics say Lee could have done much more to regulate or tax these new vehicle types. Lee was hammered for his initial proposal to allow the tech shuttles to use public bus stops for free (current rules have the shuttles pay $7.31 per stop). As mayor of the city where these transportation categories were invented, Lee could have set a global precedent for mutually beneficial regulation. This year, Lee seemed to shift his stance with the ride hailing companies, demanding data sharing agreements, and suing Uber for access to its driver information.
While many critics might see the tech shuttles as the most visible symbol of Lee's transportation legacy, others will look to the red transit-only lanes, running down iconic San Francisco streets like Mission and Geary. These "red carpets," which began popping up in 2013, have significantly improved safety and reliability for buses and streetcars, and visually represent the city's attempts to prioritize transit.
Lee also presided over a number of transportation mega projects, conceived well before he took office, that will dramatically reshape the transportation landscape. The central subway, slated to begin service in 2019, will provide rapid transit service for San Francisco's Chinatown, the densest neighborhood in the country without a subway stop. The nearly complete Transbay Terminal will be a gleaming public space, with a 5.4 acre rooftop park and new high speed rail and bus stations. Both of these projects have faced their fair share of cost overruns and delays. Notably, no one is sure how the city will pay for the DTX, a mile-long track extension from the current rail terminus to the new terminal in the heart of downtown, making the station a looming boondoggle.
Financial problems for the terminal itself were resolved when the city, in a controversial move, sold the naming rights to Salesforce for $110 million, making it the "Salesforce Transit Center" and "Salesforce Park." The last year or so of Lee's mayoralty would likely have been dedicated to getting the DTX started, perhaps with a strategic infusion of tech money.
—Benjamin Schneider
One of the First $14/Hour Minimum Wage Hikes
Before Lee took office, San Francisco had already become the city with the highest minimum wage in the country, hitting $10.74 in 2013 after voters passed a generous minimum wage ordinance. In 2014, Lee pushed to elevate this cap, hoping to secure low-wage workers' economic stability in an increasingly expensive city. Uniting a coalition of business interests and labor unions with a passionate argument and savvy political compromise, he introduced Proposition J, which would increase the minimum wage incrementally—first to $14 per hour in 2017, and up to $15 by 2019.
"He cared a lot about getting people of color into positions of power and into positions of economic security," said SPUR in its statement.
—Sarah Holder
A Staunch Defense of Sanctuary Cities
In 2015, the shooting of a woman named Kate Steinle tested Lee's stance on sanctuary cities. The suspect, who has since been acquitted, was an undocumented immigrant who had previously been deported. The case created a huge uproar against sanctuary policies in Congress, and later became a central rhetorical flashpoint in the presidential election. Lee, however, stood firmly in support.
"There has been much discussion about San Francisco's Sanctuary City Policy in the aftermath of Kathryn's death," Lee said in a statement at the time. "Let me be clear: San Francisco's Sanctuary City Policy protects residents regardless of immigration status and is not intended to protect repeat, serious and violent felons."
The war against sanctuary cities has only escalated since Donald Trump took office, with his Department of Justice repeatedly threatening to cut off federal funding if cities continue to limit support for federal immigration authorities. In January, San Franciscosued the federal government, saying the threat to withhold grants violated the federalism clause of the constitution. In April, a federal judge sided with the city. "San Francisco is and will remain a Sanctuary City," Lee said in a statement praising the ruling. "We know that Sanctuary Cities are safer, healthier, more productive places to live."
—Tanvi Misra
Slashed Greenhouse Gas Emissions
San Francisco has long been a one of the nation's most sustainable cities, and Mayor Lee kept the bar high. Under his leadership, San Francisco's greenhouse gas emissions dropped to 28 percent below the city's 1990 levels by 2015—the equivalent of taking 380,000 cars off the road. This was a point of pride for the mayor, especially this past year, during which President Trump has made a number of budgetary decisions at the expense of the environment.
"We were able to reduce those emissions at the same time as our city's population increased by 19 percent and our economy grew by 78 percent—debunking the myth parroted by the federal administration that responsible environmental policies and a strong economy are mutually exclusive goals," Lee wrote in a Medium post the day before he died. In the same post, he also wrote that the city is well on its way to its goal of achieving a 50 percent renewable electricity supply by 2020, and 100 percent by 2030—a commitment that echoes Governor Brown's 2015 mandate.
Mayor Lee made a number of other long-term sustainability commitments as well. In 2012, he joined San Francisco Environment in leading a commitment to zero waste by 2020. And last December, Mayor Lee and London Breed—who was the Board of Supervisors President at the time, and is now the acting mayor in Lee's absence—introduced new legislation that added green building standards to the San Francisco Environment Code, which have applied to all new construction projects. This came just after San Francisco was named the top market for green building in 2016. Under Lee's leadership, the city has also come to encompass 7 million square feet of city-owned and operated LEED certified properties—an increase from 4 million square feet in 2014.
Most recently, Lee had signed the "Chicago Climate Charter," committing to reduce San Francisco's emissions to help make up for President Trump's decision to withdraw from the Paris Climate Agreement earlier this year. "We are just getting started, too," he wrote.
—Alastair Boone
An Unprecedented Housing Crisis
Lee's legacy may be measured by the price of housing in San Francisco, which has nearly doubled since the beginning of his term in 2012. The housing crisis in the Bay Area is hardly the fault of any mayor: It dates back at least to 1978, when California passed its notorious property tax cap, Proposition 13, and it has been compounded by many other factors since.Nevertheless, as the top official in San Francisco, Lee was held accountable for forces that were sometimes beyond his or anyone's control. A debate over the Ellis Act, a California state law that authorizes tenant evictions, for example, consumed much of Lee's time, even though Ellis Act evictions reached their peak in the late 1990s. Lee supported an Ellis Act reform bill proposed by Mark Leno, the state senator who then represented San Francisco, in 2015, but the legislation ultimately failed. That same year, Lee declined to sign a different bill passed by the city's board of supervisors known as Eviction Protections 2.0—even though Airbnb had long since emerged as a more urgent threat.
Tenants and homeowners who thought that his administration was not doing enough to protect them brought forward an array of building moratorium proposals through ballot initiatives. Sometimes, the Mayor got ahead of his constituents: Voters supported his push to build 30,000 new housing units, and another ballot measure he supported that authorized greater inclusionary zoning for affordable housing, passed last year.Yet the housing crisis remains, and some of Lee's greatest accomplishments—most notably, the pension reform designed by Lee, the program that got him elected mayor in the first place—may be overshadowed by the times.
—Kriston Capps
Expansive Investment in STEM education
Though Lee faced criticism for being too cozy with the tech industry, he was able to use some of its clout (and cash) to fund the city's education system. According to the Los Angeles Times, it was over a dinner of French toast and omelets that Lee convinced Marc Benioff, the CEO of Salesforce.com, to aid STEM efforts in the San Francisco Unified School District (SFUSD). During the 2013-2014 school year, the Salesforce Foundation gave SFUSD a $2.7 million grant that enabled middle schools to install Wi-Fi in their classrooms and buy iPads for use in math and science classes. The company has donated $26.7 million to the school district over the past five years. SFUSD Superintendent Vincent Matthews recently claimed in the San Francisco Examiner that minority enrollment in computer science classes has increased by almost 3,800% since Lee began the district's partnership with Salesforce. Nearly all of the money has been targeted at STEM education—increasing computer science enrollment, providing students with math coaches—which some worry could send a signal that the city only values the industries that currently dominate the Bay Area.
Lee also capitalized on the increase in city wealth by using a tax on homes that sell for over $5 million to make San Francisco's City College free to residents. In February 2017, he announced that the city would set aside $5.4 million each year from the tax revenue. The college would split the sum, using $2.1 million to pay for student tuition and $3.3 million to cover other fees like books and transportation. Jeffrey Hamilton, City College's spokesperson, told PBS that the money could assist 28,000 to 30,000 students.
It has been difficult for teachers to make a living in the city—according to the San Francisco Chronicle, despite SFUSD having the most expensive housing in the state, average teacher pay ranks 528 out of the state's 821 school districts. In May of 2017, after decades of fruitless discussion about the lack of affordable housing for teachers in the San Francisco, Lee committed to spending $44 million on a housing site specifically for educators. The site is located in San Francisco's Outer Sunset district, and the city is hoping that it will be completed by 2022.
—Teresa Mathew