Trying to Build a Better Election Integrity Commission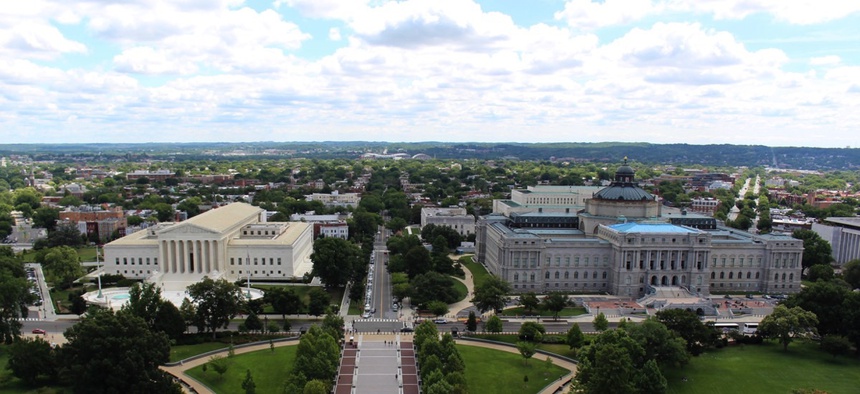 The newly formed National Commission for Voter Justice intends to avoid the pitfalls that befell Trump's group, ensuring transparency and accessibility as it investigates state barriers to voting.
WASHINGTON — Civil rights leaders formed the National Commission for Voter Justice on Wednesday to check the Trump administration's now-defunct and controversial Election Integrity Commision, which passed its charge onto the Homeland Security Department.
The self-styled "People's Commission" is the brainchild of Rev. Jesse Jackson and aims to be more transparent and accessible than the EIC as it travels the country holding public hearings investigating allegations of voter suppression.
By 2012, about 40 states introduced more than 100 voter suppression measures, culminating in the 2013 U.S. Supreme Court Shelby v. Holder decision, which found Section 5 of the Voting Rights Act unconstitutional. Section 5 required state and local governments with histories of discrimination to receive federal preclearance before altering their voting protocols.
"Emboldened by the court's decision, even more states passed restrictive measures—leaving the precious and sacred vote threatened for millions of citizens," Barbara Arnwine, Transformative Justice Coalition president and NCVJ co-chair, said on the steps of the U.S. Supreme Court.
Minorities, low-income people, students, women, people with disabilities, returning citizens, and LGBT individuals are "often targeted specifically" by such laws, Arnwine said.
Pennsylvania's voter ID law failed because of a "fully engaged" public, said state Sen. Vincent Hughes, NCVJ co-chair. But the Keystone State still relies on outdated voting machines that might not withstand a concerted Russian cyberattack, he said, and doesn't permit early voting.
"In Pennsylvania, like other states across the nation, we have these constant roadblocks that are inconsistent with the 21st century reality of American citizens needing to have more opportunity to vote, not to have less," Hughes said.
The commission is operating on the assumption that Homeland Security's review of voter fraud claims will be done in secret and is making plans for voter education that will address varying state laws, proper identification, and the locations and operating times for polling places.
On Jan. 27, the commision will meet in Detroit to host its first state listening session with plans to publish its findings and recommendations in November 2019.
Rather than telling people who to vote for, the commission will encourage a more diverse set of candidates to run for office.
Arab Americans were mostly overlooked by U.S. political parties until Jackson's 1984 presidential campaign. Even in 2016 President Trump stirred fears of Muslims at the polls in states like Ohio, said James Zogby, Arab American Institute president and NCVJ member. Party leadership still eludes them.
"The biggest secret in American politics, is American politics," Zogby said.