As Boston, N.Y. Mayors Start Their 2nd Terms, a Focus on Housing Affordability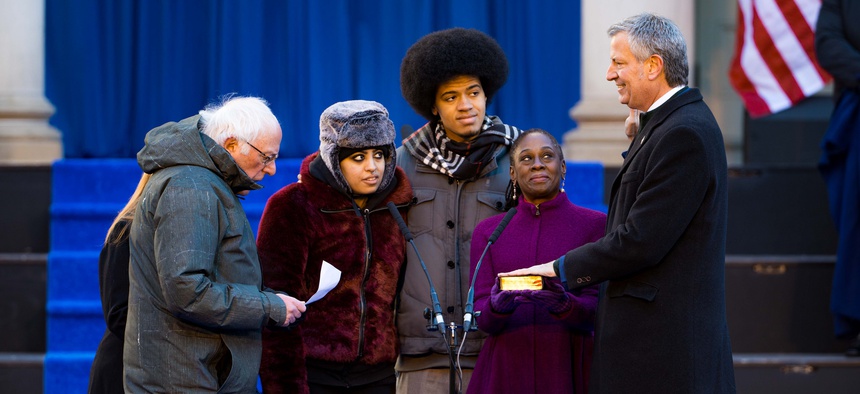 In their inauguration speeches, Marty Walsh and Bill de Blasio discuss what may be the the most difficult policy challenge U.S. city halls are facing.
The mayors of Boston and New York, both re-elected by voters in November, used their respective inauguration speeches on Monday to discuss the challenges their cities face when it comes to creating new and maintaining existing affordable housing and their commitments to finding solutions to what may be the most difficult problem U.S. city halls are dealing with.
During an inauguration event at Emerson College, Boston Mayor Marty Walsh, a Democrat, said that although a "strong education and a good job are the foundation" for a strong city, "housing is the key to long-term financial security."
When it came to housing affordability, Walsh gave a progress reports where Boston stands, according to prepared remarks :
Four years ago, we took on the historic housing shortage that has been driving up costs and driving down savings for too many families. We set a target of creating 53,000 new homes by 2030. By improving the development and permitting process, increasing affordable housing production, and expanding homebuyer supports, we got ahead of pace to meet that goal. And rents have stabilized.

Last year alone, we set new records, with over 5,000 new homes—and more than 1,000 restricted to low- and moderate-income families.

But with our city's population growing even faster and a regional housing shortage adding pressure, too many families are still being priced out of too many neighborhoods. We are determined to meet this challenge by redoubling our efforts.
Walsh said that by March, mayors in the Boston area will announce the region's housing needs as part of a larger strategy to ease the affordability crisis. "As a leader in this strategy, we will increase our city's targets for low-income homes, moderate-income homes, senior housing, and overall units," the mayor said.
In remarks on the steps of New York City Hall in Lower Manhattan, Mayor Bill de Blasio, a Democrat, reiterated his goal to make the nation's largest city the nation's "fairest" big city.
Comptroller Scott Stringer and Public Advocate Letitia James, who like the mayor were re-elected in November and sworn in on Monday, also addressed the affordability crisis in the nation's largest city, Curbed New York reported :
Though speeches were generally brief—in part as a kindness to those who attended the outdoor ceremony on a bitterly cold day—each speaker managed to hit on that idea of fairness as the goal for the next four years, whether by creating and preserving affordable housing or ensuring that "equal pay for equal work" isn't merely a slogan.
De Blasio, who was sworn in by U.S. Sen. Bernie Sanders, an Independent from Vermont, said in his speech: "The true owners of this beloved place are not the big landlords and developers, not the titans of Wall Street and the one percent. The deepest, truest stakeholders of this town are the people who do the work… but too often have not reaped the rewards."
The Nation , in an editorial published Monday , said that de Blasio has "a second chance, a final, four-year opportunity to make good on his promise to make New York "the fairest big city in America"—and to do so at moment not only when so many of his own constituents remain desperately in need but also when the very idea of effective, democratic, compassionate government is under daily assault."
The progressive publication, which laid out a set of housing policy priorities, noted in its editorial: "To do this will not be easy, and will require tenacity, vision, and a progressive compass firm enough to weather the inevitable opposition."