Colorado Lawmakers Poised to Oust 1st of Several Accused Harassers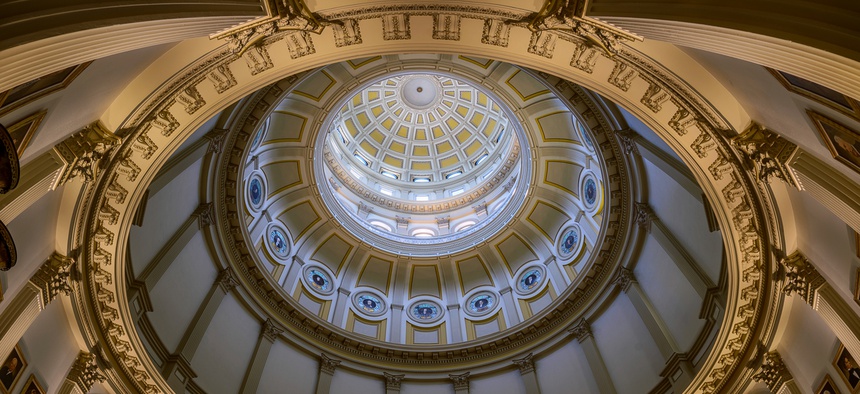 STATE AND LOCAL ROUNDUP | Statehouses grapple with clunky harassment policies; calls to lock up Mayor "Lawless Libby" in Oakland, Calif.; a dramatic end to the Allentown corruption trial; and an expensive affair for Nashville's mayor.
Here are state and local government stories that caught Route Fifty 's attention ...
#METOO | The 2018 legislative session in Colorado, just a month and a half into its four-month term, has been rocked by allegations of sexual harassment . Lawmakers, lobbyists, aides and interns have leveled accusations targeting two Democratic representatives and three Republican senators. Media reports on the accusations have appeared on a regular schedule, lighting up social media and heightening partisan tensions in a building where Democrats control the House and Republicans control the Senate. Chamber leaders, who at first seemed procedurally uncertain how best to address the allegations, eventually tapped an independent group to investigate. The group, The Employers Council , has completed its report on perhaps the most high-profile case, the one centered on state Rep. Steve Lebsock , a three-term Democrat who's running for state treasurer and who has pushed back hard against allegations, even submitting the results of a polygraph he paid for himself to rebut charges. The case against Lebsock surfaced mainly after allegations made by fellow Democratic Rep. Faith Winter were made public. Winter said she decided to speak to the press after it became clear to her that other women in the Capitol may have experienced similar harassment in their dealings with Lebsock. On Tuesday, the conclusions of the independent investigation were read out to the House chamber. House Majority Leader KC Becker called the actions detailed by the investigation "egregious." The House responded by launching caucus deliberations on expelling Lebsock. Observers estimate a full House vote on the matter will come this week. [ Colorado Politics ; The Denver Post ]

Minnesota state legislators, only recently back at work, are also grappling with how to address sexual harassment at the Capitol in St. Paul. Two of Minnesota's state lawmakers resigned after credible harassment allegations surfaced in the fall. Last week, House members attended a first-ever mandatory harassment training , and on Monday, a committee met to begin reviewing the Legislature's sexual harassment policies. Still, the fact that much of politics is about appearances has left observers skeptical the culture at the Capitol in Minnesota will change. According to the National Conference of State Legislatures , 11 states in recent months have proposed changes to their harassment policies. Over the last four months nationwide, nearly two dozen male state lawmakers have resigned, have said they will resign, or have been forced from leadership after being accused of harassment or assault. [ MinnPost ]
Interns in state capitols , who often receive less formal workplace protections than other legislative staffers, remain particularly vulnerable to harassment . [ The Pew Charitable Trusts / Stateline ]
BORDER SECURITY | In November, politicians jumped on news that Border Batrol agent Rogelio Martinez died on the job near Van Horn in West Texas and claimed that Martinez was attacked. But earlier this month the FBI said its ongoing investigation into the death has found no evidence of foul play and that agent Martinez likely died in an accident . The story demonstrates the way bad politics can hamper good policy, wrote the Houston Chronicle :
"If what happened in Van Horn was an accident, the Border Patrol should review training and take the necessary steps to better protect agents in the field. The Border Patrol's records over the past decade show that agents are far more likely to die in an on-the-job accident than in a confrontation with criminals. Since 2010, one Border Patrol agent was shot to death by a criminal while on duty; one was killed in a friendly fire incident with fellow agents; and 10 were killed in automobile accidents."
U.S. Customs and Border Protection has brought its Predator B drone back to San Angelo in West Texas to conduct security missions. This is the third year in a row Air and Marine Operations has worked its drone above the international border from San Angelo Regional Airport, also known as Mathis Field. The drone operations conducted there in 2016 were the first ever flown out of a civilian airport. The missions have reportedly resulted in 24 arrests and seizure of more than 11,000 pounds of marijuana. [ San Angelo LIVE! ]
MAYORS | Oakland Mayor Libby Schaaf on Tuesday continued to defend her decision to warn residents of the possibility that U.S. Immigration and Customs Enforcement planned soon to conduct sweeps in the Bay Area. Angry people from around the nation over the last two days phoned her office and leveled online threats, saying federal authorities should "lock up" " Lawless Libby." "She's on the threshold of obstruction of justice for doing what she did," said former federal prosecutor Tony Brass . " Because you put agents in danger, you put the police in danger and you put neighbors in danger." Schaaf disagreed. "I was sharing information in a way that was legal and was not obstructing justice, and it was an opportunity to ensure that people were aware of their rights," she said. [ The Mercury News , CBSLocal ]
Lawyers in Pennsylvania delivered dramatic closing arguments on Tuesday in the six-week corruption trial of Allentown Mayor Ed Pawlowski . The case included secretly recorded video of the mayor and his campaign staffers. "I'm not a pay-to-play guy," Pawlowski told campaign aide Sam Ruchlewicz in a section of tape prosecutors didn't play for the jurors. "What do they get?" asked defense lawyer Jack McMahon , referring to Pawlowski's campaign donors. "They get: 'I don't do pay-to-play' and 'This is not New Jersey.'" Prosecutors said the tapes paint a picture of an elected official who knows what he's doing is wrong and whose "paranoia gives way to panic." [ The Morning Call ]
Jackson, Mississippi Mayor Chokwe Antar Lumumba issued an executive order Monday banning the release of mug shots of people killed in officer-involved shootings. He said the images widen the "historical divide" between police and the community. A state ethics commission said law enforcement agencies can withhold mug shots but only if a case is under investigation. "While [Lumumba's] motives may be pure, and he doesn't want to further divide the community, I fail to see how not allowing the public to know what's happening isn't just as divisive. In my view it's just the opposite," said local First Amendment attorney Leonard Van Slyke . [ Clarion Ledger ]
Nashville is reworking rules around how police will protect Mayor Megan Barry , whose former bodyguard earned tens of thousands of dollars in overtime pay while he conducted a romantic affair with the mayor . In the future, there will be minimal overtime and members will alternate working weekend days, a police spokesman detailed in an email to reporters. [ Tennessean ]
John Tomasic is a journalist who lives in Seattle, Washington.