Nashville's Embattled Mayor: 'Failure May Be Instructive' But It's Also 'Humbling and Humiliating'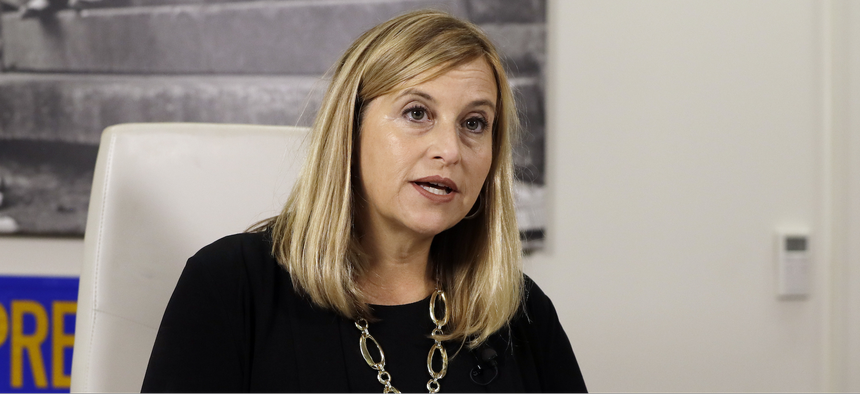 STATE AND LOCAL ROUNDUP | Creator of Showtime TV series responds to Boston city councilor's criticism; 4-day school weeks in Oklahoma; Georgia planning truck-only highway; and Canada's prime minister goes hiking with L.A.'s mayor.
Here are state and local government news stories that caught our attention this weekend ...
CITY HALLS | This weekend, Nashville Mayor Megan Barry continued to try to make amends for the extramarital affair she had with a police officer who has led her security detail. In a guest article in the Tennessean, she wrote: "Failure may be "instructive," as John Dewey famously said, but frankly in the moment and in public it's just humbling and humiliating, and the only thing a person who has disappointed so many so quickly can do is merely to ask with all my heart for your forgiveness. And so I do." The Tennessee Bureau of Investigation is currently investigating the mayor to see if any public funds were misused during her affair. There are also separate inquiries by a special Metro Council committee and the Department of Law. [The Tennessean; Fox17 Nashville]
The creator of a critically-acclaimed Showtime TV series that's set in South Boston and depicts the life and difficulties of a single mother living in the neighborhood says that Boston City Councilor Ed Flynn should rethink his opinions about the show. Flynn took to Facebook last week saying that his constituents have complained that the show, "SMILF," is "a degrading, crude and inaccurate portrayal of their life in the neighborhood." In her rebuttal, Frankie Shaw wrote:
What's clear is that I'm telling a personal story about a woman who loves her kid and is also burdened by her circumstances of being a single mom, a survivor of childhood sexual abuse, and living in a neighborhood she and her own mom can no longer afford. And if you don't know what to tell the kids about the title's meaning, you can say what my cousin Jess tells her kids: "It's a word that is degrading to women and Frankie is trying to use it in a feminist way." Her kids stare blankly and then walk away. Or you could tell them what I tell my son SMILF stands for: "Single Mom In Love Forever."
[Boston.com; Boston Globe; Facebook]
EDUCATION SPENDING | The four-day school week is spreading like a "contagion" across local districts in Oklahoma, the result of strained state funding for public education. While some superintendents have touted the benefits of a shorter school week, Gov. Mary Fallin has said the condensed teaching schedule has made it difficult to attract businesses to the state. Ninety-one of the state's 513 public school districts have shifted away from a five-day school week. [Tulsa World]
PARKS & RECREATION | Idaho's state parks generated an estimated $184 million to the state's economy in 2016. A study commissioned by the Idaho Department of Parks and Recreation found that for every $1 Idaho taxpayers pay to fund state parks, $54 million in economic output is created. [The Spokesman-Review]
Los Angeles Mayor Eric Garcetti went for a hike with Canadian Prime Minister Justin Trudeau in Griffith Park on Saturday morning, part of his three-day visit to California. As the two headed toward the Mount Hollywood hiking trail, "starstruck hikers and residents snapped photos." [Los Angeles Times]
TRANSPORTATION | The Arizona Department of Transportation has resurrected a program that gives cities a way to pursue and construct new infrastructure projects without having to go through a federal-funding process. The Highway User Revenue Fund Exchange relies on state funding—"a collection of taxes on gas, use-fuel taxes, motor-carrier taxes, vehicle-license taxes, vehicle registration fees and miscellaneous fees." [Kingman Daily Miner]
Missouri Gov. Eric Greitens said late last week that he opposes a recommendation made by a special committee that calls for increasing the state's gas tax to help meet transportation and infrastructure needs. [Missourian]
The Georgia Department of Transportation has proposed building a special 40-mile-long  truck-only highway to help improve safety and ease congestion along Interstate 75 between Atlanta and Macon. If built, the special roadway would also be a testing ground for autonomous trucks. [WABE / Atlanta Public Radio]
RURAL COMMUNITIES | While more Americans live in cities than they do in rural areas, the numbers don't necessarily support the notion that the nation's rural population is rapidly declining. It's just that cities are growing far faster. "I think a lot of people have this common idea that rural areas are dying," said Benjamin Winchester, who studies rural populations for the University of Minnesota Extension Service. "Yes, we have gone through significant changes, but … we tend to be drawn to interpreting data in certain ways." About 19.3 percent of the nation's population lives in rural areas. In North Dakota, the state's rural population has stayed relatively consistent in recent decades.  [Forum News Service via The Bismarck Tribune]
The mayor of Sioux City, Iowa says that Woodbury County officials should reconsider a plan to boost the number of paramedics for rural communities since its structure leads to double taxation for city residents. [Sioux City Journal]