A Focus on Inclusion From Mayors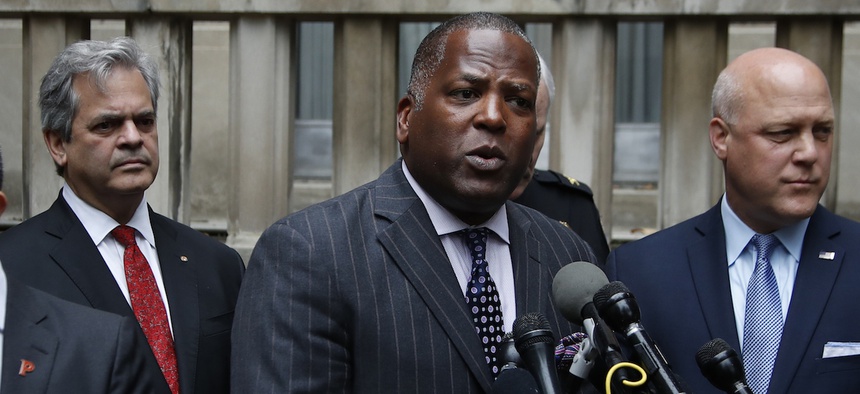 Columbia, S.C. Mayor Stephen Benjamin: "If we don't speak to that as a strength every single day, then we're missing out on what it takes for us to be a competitive and prosperous city well into the 21st century."
Columbia Mayor Stephen Benjamin, who will succeed New Orleans Mayor Mitch Landrieu as head of the U.S. Conference of Mayors, told Route Fifty a focus on inclusion will be a "primary" theme of his leadership of the organization.
"Inclusion will be one of our primary themes and probably the very first thing that will come out of my mouth every interview I conduct over the next year," Benjamin told Route Fifty during an interview at SXSW this week. "I believe it's the spirit of America, and inclusion allows us speak to our better angels, so it's going to be a sacrosanct part of what we discuss over the next year."
Landrieu, the current president of the U.S. Conference of Mayors, is term-limited and will be succeeded by LaToya Cantrell as mayor of New Orleans on May 7. Benjamin, the organization's 1st vice president, is set to succeed him in the organization's leadership.
While pointing out there would be other "unifying" issues like infrastructure, Benjamin spoke passionately about the importance of inclusion in our country. For Benjamin, the value of inclusion appears to be a matter at the core of what mayors do: encourage communities to focus on their common values and solve challenges together.
"Our strength is doing things together," Benjamin said. "And if you break out that legal pad and I write down the five most important things to me and my beautiful wife and our children, the reality is you could probably sign the name of any family, of any faith. In Appalachia, in the inner city, in the suburbs somewhere in Kansas, we all want the same things."
The importance of inclusion is something Benjamin sees in his hometown of Columbia, South Carolina.
"Yes, I live in the heart of the American South, the first state to secede from the Union, the original Secession Convention was held at First Baptist Church just a couple blocks away from City Hall," Benjamin explained. "But now I serve as a mayor of a city founded in 1786 that host people from 200 different countries. We have an incredible diversity of not just political opinion but cultural backgrounds and if we don't speak to that as a strength every single day, then we're missing out on what it takes for us to be a competitive and prosperous city well into the 21st century."
Watch the full interview or check out our key takeaways below.
On Columbia, South Carolina both economically vibrant and progressive:
"By being good stewards of the public trust—we're strong and fiscally sound—it's amazing how much latitude our citizens give us to try and put new ideas on the table," Benjamin said, between ticking off a myriad of assets (from universities to the largest army base) and accomplishments that most mayors would envy. "We've been very fiscally conservative in the way that we handle our money, we finished five of the last seven years with a budget surplus, we've been upgraded by Standard & Poor's and Moody's—all the things that you want to see in good fiscal control. But at the same time we put some very good progressive ideas on the table, and our citizens are really rising to the challenge."
On the changing role of mayors being discussed at SXSW:
"Our role as mayors has really expanded over the last several years. We see great dysfunction in Washington—state governments are being affected with that same issue—and we have republicans and democrats and independents here at this conference [SXSW] all focused on how we can very intentionally create this desired future state, and what happens if you don't act—what could potentially happen if you don't act."
On his challenge to his city to lose 25,000 pounds with him over three months:
"If you go on Twitter or social media, look at #mayorweighsin and ... every city council meeting I'd weigh in. I'd post my meals online, just trying to take care of this temple—one temple God's given each one of us—lost about 25 pounds. I decided this year I'd challenge the entire city to join me and our goal is, collectively over three months, to lose about 25,000 pounds."
"We want to get people active. We've had some great initiatives over the year in which we've done bike rides together—walking with the mayor, moving with the mayor. It's just a chance for us to figure out how we can live longer, happier, healthier lives with the people we love."