Washington Gov. and State AG to Trump Administration: 'Stop Lying'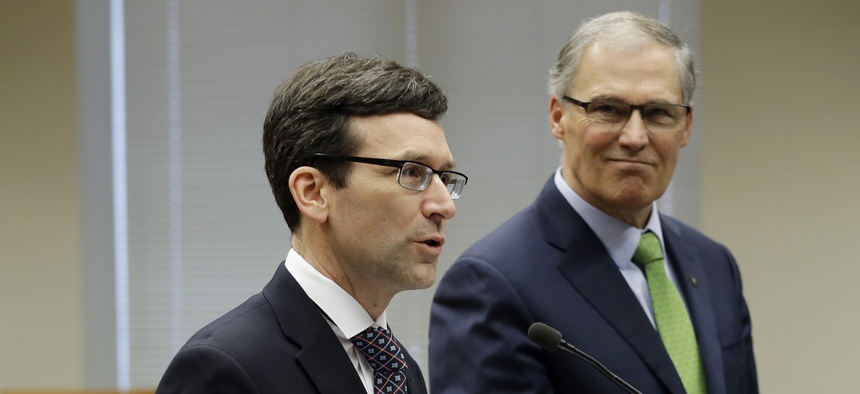 STATE AND LOCAL ROUNDUP | N.J. state government faces shutdown risk … flash floods rip through Mich. city … and Philly mayor responds to city controller's 'recklessly inflated' audit.
Here are state and local government news stories that caught Route Fifty's attention ...
Olympia, Washington: The Trump administration is feeling heat over the Homeland Security Department's controversial family separation policy from state officials, including Washington Gov. Jay Inslee and state Attorney General Bob Ferguson. They sent a letter to U.S. Attorney General Jeff Sessions and Homeland Security Secretary Kirstjen Nielsen asking basic questions about the administration's policy. Additionally, "we ask that you and others in the Trump Administration stop lying about the family separation policy. On May 16, the President said 'we have to break up families,'  a claim he has repeated personally and through his spokesperson, Sarah Huckabee Sanders. As you surely know, this is not accurate." [@AGOWA; @GovInslee]
Denver, Colorado: Gov. John Hickenlooper signed an executive order on Monday that would limit the use of state resources on the Trump administration's family separation policy based on immigration status. "The U.S. Department of Homeland Security's policy and practice of separating children from their parents when arriving at the southern border is offensive to our core values as Coloradans and as a country," the executive order states. Hickenlooper said the state isn't aware of any of its resources being used for the controversial separation of children from their parents at the border, but the executive action sends a message. "I think it's fair to say it's a rebuke," Hickenlooper said. "But it's also just saying: 'It's not going to happen in our backyard.'" [The Denver Post; Gov. John Hickenlooper]
Topeka, Kansas: In a 118-page ruling issued Monday, a federal judge struck down a Kansas voter citizenship law that Secretary of State Kris Kobach championed and defended in court. But his defense wasn't very good according to Judge Julie Robinson who ordered Kobach to "take more hours of continuing legal education after he was found in contempt and was frequently chided during the trial over missteps." [Wichita Eagle]
Trenton, New Jersey: The Garden State may be headed to the "second straight government shutdown in two years." On Monday, Gov. Phil Murphy signaled his intention to veto the state budget proposal being advanced by his fellow Democrats who control the legislature. Part of why Murphy is displeased: The legislature's budget proposal "relies on too many 'one-shot' revenues that serve as temporary fixes and does not include any long-term sustainable revenue stream." On the Asbury Park boardwalk, the governor said that "[n]obody wants a shutdown, and that includes me. So with 12 days to go, I'm an optimist. And I continue to believe we'll get to the right place. But we can't get to averting a shutdown with just any budget."  [New Jersey Advance Media / NJ.com; Asbury Park Press]
Hawaii County, Hawaii: The mayor of Hawaii's Big Island, Harry Kim, suffered a mild heart attack this weekend and remains hospitalized in a Hilo hospital, a county spokeswoman said Monday. Despite being in poor health in recent weeks, Kim has been working tirelessly in the local response to the ongoing lava flows in Kilauea's East Rift Zone, which have destroyed more than 700 homes—including one Kim owns. "The doctor told me I can't leave because he doesn't trust me to rest," Kim said. "I'd fire him if I could." [KHON; HawaiiNewsNow]
Houghton, Michigan: Flash flooding overwhelmed the streets of this college town in Michigan's western Upper Peninsula on Sunday, where "large gorges were dug by the rainwater racing down and across roads, leaving piles of rocks, gravel and other debris." The level of damage in Houghton is historic. "I've never seen anything like this," said Buck Foltz of the Houghton Fire Department. [Michigan State Police; Mining Gazette]
Philadelphia, Pennsylvania: In an op/ed for The Inquirer, Mayor Jim Kenney said that City Controller Rebecca Rhynhart's recent audit that found sloppy bookkeeping at City Hall used "sensationalized statements and recklessly inflated dollar figures designed more to grab headlines than to solve problems." [The Inquirer / Philly.com]
 
Dallas, Texas: Rising sea levels will jeopardize $1.2 billion in property value and put $19 million in property tax revenue at risk along the Texas coast, according to a new Union of Concerned Scientists study. More than 5,500 homes in the Lone Star State will face chronic flooding from high tides by 2030, "assuming aggressive sea level increases." [Dallas Morning News]
Savannah, Georgia: In the face of opposition from property owners, the Savannah City Council on Monday "directed staff to develop a plan for eliminating the controversial fee that was to be billed this fall" and "come up with a way to make up for millions in lost revenue." How much? According to staff estimates, the city would need to make up for about $16.5 million if it eliminates the fee that had been part of the 2018 budget. [Savannah Morning News]