Reported Trump Auto-Emissions Rollback Plan Takes Aim at California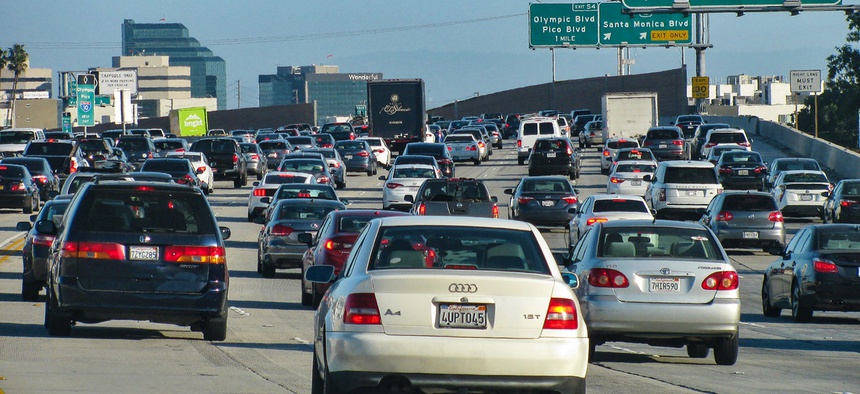 STATE AND LOCAL NEWS ROUNDUP | Calling on pranked Georgia Rep. Jason Spencer to resign … Heading off a marijuana swap-economy in Vermont … Fearing the Trump trade war across North Dakota's 6.6 million-acres of soybean fields.
Good morning, it's Tuesday, July 24, 2018.  A reportedly coming Trump emissions regulation rollback and more Sacha Baron Cohen fallout lead Route Fifty's state and local government news roundup, which also includes stories from Nashville, Tennessee; Augusta, Maine;  Columbus, Ohio; and Bismarck, North Dakota. Scroll down for more ...
ENVIRONMENT | The Trump administration is finalizing a major plan to rollback emissions regulations, Bloomberg News reports, citing sources familiar with the plan. The administration plans to revoke the Clean Air Act waiver granted to California that has allowed the state to limit vehicle carbon emissions and force carmakers to sell a minimum number of electric vehicles, the news organization says. The proposal will likely be released later this week and is sure to launch a protracted courtroom battle. The regulatory revamp would cap federal fuel economy requirements at the 35-mile-per-gallon 2020 level, the sources told Bloomberg, instead of letting them rise to roughly 50 mpg by 2025 as envisioned in the plan put in place during the Obama years. California residents buy more than 2 million new cars and light trucks a year. The state's  auto market is roughly the size of Canada's. The power of the California emissions rules is boosted by the fact that a dozen states also adopt those rules. Seventeen states and the District of Columbia filed a lawsuit on May 2 seeking to block Trump administration efforts to unravel the Obama emissions targets. The Trump administration's Office of Management and Budget is conducting a final interagency review of the proposal, according to Bloomberg. Public comments would follow in the fall. [Bloomberg]
PRANKED | Georgia political leaders on Monday condemned conservative state Rep. Jason Spencer for his offensive appearance Sunday on comedian Sacha Baron Cohen's "Who Is America?" Showtime series. State House Speaker David Ralston urged Spencer to step down and joined a bipartisan group of legislative leaders considering filing an ethics complaint against the lawmaker. During an interaction with Cohen, pretending to be an Israeli security expert, Spencer runs around a gym with his pants down taunting would-be terrorists, shouts racial epithets, and assaults a dummy clad in a black burqa. Spencer, who was defeated in the May primary by a Republican challenger, apologized for the "ridiculously ugly episode," but told the Atlanta Journal Constitution he wouldn't step down. "Sacha Baron Cohen and his associates took advantage of my paralyzing fear that my family would be attacked," Spencer said. The southeast Georgia Republican has previously made headlines by introducing hardline attention-getting bills and making controversial comments. Last year, he was pushed by fellow lawmakers to withdraw an anti-burqa bill and drew criticism from around the country when he told a black former colleague that she others who advocated removing statues honoring the Confederacy could "go missing." [Atlanta Journal-Constitution, CNN]
Elsewhere …
Montpelier, Vermont: The state law that on July 1st legalized marijuana cultivation and possession for personal use did not create a system of legalized marijuana sales—and on Monday, state Attorney General TJ Donovan issued guidance clarifying that trading or bartering in marijuana also remains illegal. Over the past few weeks, some businesses in Vermont have allowed customers to pay for goods and services with "gifts" of marijuana instead of using money. [VT Digger]
Augusta, Maine: This year the state is shouldering the effects of the Trump administration drive to slash outreach funding for the Affordable Care Act's individual-insurance marketplace. The Kaiser Family Foundation reports that statewide funding in Maine for outreach assistance will decline from $550,000 for 2018 to $100,000 for 2019. [Press Herald]
Broadwater County, Montana: The County Attorney's office has announced it will no longer be seeking the death penalty for Lloyd Barrus, the man accused of murdering County Sheriff's Deputy Mason Moore a year ago. "This withdrawal comes after extensive analysis of the defendant's mental health [history]," the county attorney wrote in an affidavit filed with a state district court. Barrus allegedly shot the deputy before engaging in a car chase and shootout that ended in a hail of bullets near Missoula. [KGVO]
Boston, Massachusetts: Police Commissioner William B. Evans, who played a key role in pursuing the 2013 Boston Marathon bombers, is retiring. He will be succeeded by Superintendent-in-Chief William G. Gross, who will become the city's first black commissioner. Evans will head the public safety department at Boston College. [Boston Globe]
Columbus, Ohio: An ordinance passed by City Council last month to ban street-side and freeway-ramp panhandling also unintentionally banned charitable groups from collecting in the roadways, a longstanding tradition for many of the city's nonprofits. The council on Monday is taking up a new measure to clarify the panhandling law. [Columbus Dispatch]
Bismarck, North Dakota: Soybean farmers in the Peace Garden State fear the Trump administration's escalating trade war with China will result in steep losses in revenue. North Dakota ranks ninth among U.S. states producing soybeans for export, falling well behind top growing states Iowa and Illinois. But soybeans have steadily grown in popularity among the state's farmers, who planted 6.6 million acres of soybeans this year. Nearly three-fourths of the soybeans grown in North Dakota are shipped by rail to the Pacific Northwest and from there to countries in Southeast Asia, according to the North Dakota Soybean Council. [Billings Gazette]
Nashville, Tennessee: The legal battle around the state's anti-abortion Amendment 1 will continue. Opponents of the amendment have filed an appeal with the U.S. Supreme Court, arguing that the the state's vote-tabulation method was unreasonable and infringed on voting rights. The amendment, passed by voters in 2014, stripped the right to an abortion from the Tennessee constitution and opened a path for lawmakers to enact stricter abortion regulations, including the 48-hour waiting period for women seeking the procedure signed into law by the governor in 2015. [WREG]