5 Former N.C. Governors: Proposed Constitutional Amendments 'Must Be Stopped'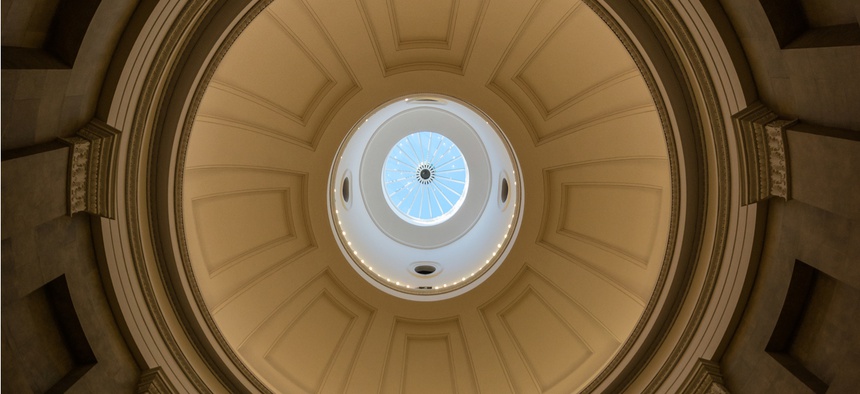 STATE AND LOCAL ROUNDUP | N.J. Supreme Court rules on police video access … stunning images of Carr Fire's destruction … and why Fort Worth doesn't envy Dallas.
Good morning, it's Tuesday, Aug. 13, 2018. Leading Route Fifty's state and local government news roundup is state government news from Raleigh, North Carolina, but scroll down for more from across the nation, including stories from Redding, California; St. Francois County, Missouri; and Deltona County, Florida, among other places.
STATE GOVERNMENT | North Carolina's five living former governors gathered at the old State Capitol in Raleigh on Monday to jointly rebuke new Republican-crafted constitutional amendments headed to the fall ballot that would shift more authority from the sitting governor to the legislative branch. The former governors—Pat McCrory, Bev Perdue, Mike Easley, Jim Hunt and Jim Martin—characterized the amendments in various ways, including: "unprecedented," "a scheme," and "devious and mischievous."  Martin, a Republican, slammed the  GOP's amendments to reduce the governor's powers. "It's not about partisan politics, it's about power politics. And it must be stopped." Among the proposals: Limiting the governor's ability to fill judicial vacancies and certain appointments to boards and commissions and allow the legislature to set up a new state elections board. [@nccapitol / WRAL; The News & Observer]
LOCAL GOVERNMENT | The city of Redding, California has published 73 drone-captured aerial images of neighborhoods destroyed by the Carr Fire. Firefighters stopped the massive blaze from advancing into the Redding's center but burned areas on the city's western fringe, including Lake Keswick Estates, pictured above near Menlo Way and Cape Cod Drive. [City of Redding via The Washington Post]
HEALTH AND HUMAN SERVICES | One of the "largest and most visible homeless camps ever seen in Minnesota" has taken shape near the intersection of Hiawatha and Cedar avenues in Minneapolis, its size growing in recent week to include about 60 men, women and children, prompting concerns by local officials. County public health workers worry about disease control in the camp, where there are "several known cases" of MRSA, a drug-resistant infection. [Star Tribune]
Los Angeles County, California: The Los Angeles County Department of Children and Family Services (DCFS) "has a communication problem, and a bad reputation for working with foster families," according to a new report released by Mercury Public Affairs, which was hired to investigate the agency's communication practices. [Chronicle of Social Change]
Butler County, Ohio: Among the jurisdictions that have discovered mosquitos that have tested positive for West Nile virus is this county in southwestern Ohio. The Butler County General Health District is providing free mosquito larvicide called dunks "that can be used in abandoned pools, ditches, stagnant ponds or other large areas of water that cannot easily be drained." [Journal-News]
INFRASTRUCTURE | It's summer in New York City, so that means that the subway is sweltering: "Overheated platforms are a health hazard, on and off of peak commuter hours. On Thursday, temperatures inside at least one of the busiest stations reached 104 degrees Fahrenheit—nearly twenty degrees warmer than the high in Central Park." [CityLab]
Pittsburgh, Pennsylvania: The Station Square light-rail stop is expected to be out of commission for the next three to four weeks following the derailment of a Norfolk Southern freight train on adjacent tracks earlier this month. [Port Authority of Allegheny County]
Jamestown, Virginia: The Virginia Department of Transportation has deployed a new vessel, the Powhatan, for the Jamestown-Scotland ferry route crossing the James River. [Hellenic Shipping News]
Hartford, Connecticut: The Connecticut Port Authority recently released a five-year plan for the state's ports, including Bridgeport, New Haven and New London, plus smaller facilities in Mildford, Norwalk and Stamford. [Connecticut Post]
ALSO on Route Fifty: