Airbnb Operator Seeks to Appeal More Than $1 Million in City Fines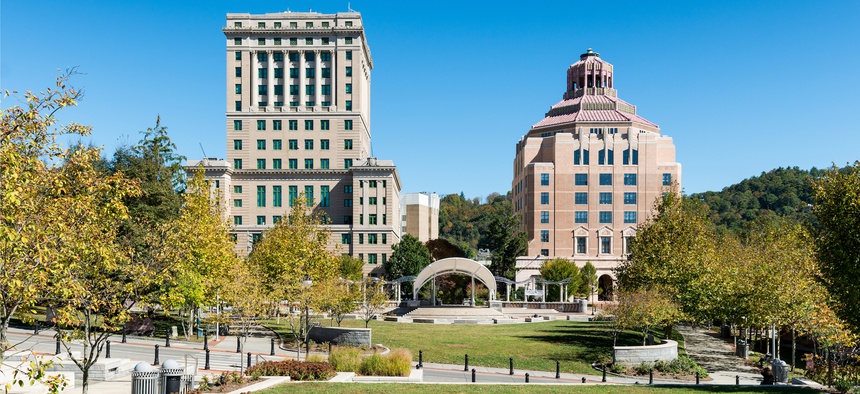 STATE AND LOCAL ROUNDUP | 6 cases of rare illness in Minnesota … broken Texas voter registration link … and the steel cage protecting Jersey City's water supply.
Good morning, it's Tuesday, Oct. 7, 2018. Short-term rental regulations in Asheville, North Carolina lead Route Fifty's state and local government news roundup but scroll down for more stories from places like Norton Shores, Michigan (where the city learned a lesson about social media); Albion, Pennsylvania (where volunteer firefighter finances have been in the hot seat); and Maple Lake, Utah (where the state is trying to remove invasive goldfish).
SHORT-TERM RENTALS | An Asheville, North Carolina man who has been accumulating $1,500 in daily fines for unauthorized short-term rentals on his properties while ignoring mail from local officials is planning to make an appeal to the City Council. A recent tally shows that Reid Thompson owe more than $1 million in fines. [Asheville Citizen Times] … In Texas, the San Antonio City Council is set to vote on a new short-term rental ordinance on Nov. 1 [Express-News] ... Residents in Lodi, California want to city officials to regulate where Airbnb and other short-term rental units can be located. [Lodi News-Sentinel]
GOVERNORS | New York Gov. Andrew Cuomo said Monday that the vehicle involved in this weekend's deadly limousine crash near Schoarie had failed a New York State Department of Motor Vehicles inspection last month and should not have been on the road. [WNCT] … Pennsylvania Gov. Tom Wolf says a proposed supervised safe injection site in Philadelphia is "not a workable solution" to drug addiction [WHYY] … Native American tribes in Michigan say Gov. Rick Snyder's deal with Enbridge to replace the aging Line 5 under the Straits of Mackinac violates 182-year-old treaty rights. [Energy News Network]
MAYORS | New York City Bill de Blasio, who is undeniably a tall person, is having trouble finding an eco-friendly car he can fit in. [The Wall Street Journal] … Apex, North Carolina Mayor Lance Olive spends much of his downtime producing a podcast about human trafficking. [WNCN] … Mayor Bernard Mack McCann of Put-in-Bay, Ohio was indicted last week by a local grand jury on "two counts of having an unlawful interest in a public contract—a fourth-degree felony—and four counts of misdemeanor conflict of interest." [Toledo Blade]
INFRASTRUCTURE | Although full funding has not yet been secured to build the badly needed Amtrak Gateway project replace the deteriorating rail tunnels under the Hudson River between New Jersey and Penn Station in New York City, work has started on some smaller associated projects in the Meadowlands, including relocating "a bundle of fiber-optic cables that connect to Wall Street" and building a protective "steel cage around a Civil War-era cast-iron pipe that still provides two-thirds of Jersey City's water." [NorthJersey.com] … As federal officials weigh their options for replacing the aging Bourne and Sagamore bridges over the Cape Cod Canal in Massachusetts, state officials are looking at massive construction projects aimed at improving traffic flow on the congested roadways that lead to and from the bridges, which are the only ways on and off Cape Cod using a car. [The Boston Globe]  
PUBLIC HEALTH | Six cases of "a rare illness with polio-like symptoms" involving children under 10 years old have been diagnosed in Minnesota since Sept. 20, prompting an investigation by public health officials. But it's unclear what may be going on. "We don't have simple answers for this," said Kris Ehresmann, the director of infectious disease with the Minnesota Department of Health. "It's a hard situation and we feel for this parents and so we're trying to do the best we can." [KMSP]
ELECTIONS ADMINISTRATION | An online link for Texas voter registration was broken but eventually fixed on Saturday, just days before a registration deadline on Tuesday. A spokesman for Texas Secretary of State Rolando Pablos blamed the broken link on a "server error." [Texas Tribune]
CONSERVATION | A columnist writes that critics of Minnesota Gov. Mark Dayton would have a difficult time finding fault with his outdoors and conservation record: Dayton has "surpassed most if not all others who have held his office, measured by achievements in conservation and environmental protection," including adding 43,500 acres to state wildlife management areas since 2011. [Star Tribune] … Utah Division of Wildlife Resources officials are trying to remove invasive goldfish that have taken over Maple Lake. [The Salt Lake Tribune]
SOCIAL MEDIA | From Norton Shores, Michigan, here's a reminder for local agencies when dealing with social media comments they may not like or find objectionable: If they're deleted, be prepared for a "strongly-worded Freedom of Information Act request" from groups that know transparency rules better than local governments do. [Muskegon Chronicle / MLive]
AUDITS | Two local firefighting agencies in northwestern Pennsylvania, the Albion Volunteer Firemen's Relief Association and Albion Volunteer Fire Department, have said that they have "corrected most of the deficiencies" found in a report by State Auditor Eugene DePasquale, including "$39,000 in undocumented expenses" and seven instances of non-compliance with state law. [Erie Times-News / GoErie.com] … Meanwhile a state audit in Washington state found that the State Strawberry Commission "did not have adequate internal controls over cash receipts and expenditures, putting public funds at greater risk of loss, waste and abuse," and is set to be decommissioned. [The Seattle Times]
ECONOMIC DEVELOPMENT | Fort Norfolk, an area of the Norfolk, Virginia waterfront known as "the last frontier" because of the numerous difficulties for any economic development plans to take hold, including "the challenges of multiple landholders, swings in the real-estate market, sea-level rise and the changing appetites of developers." [The Virginian-Pilot]