Kansas Gov.-Elect Vows to Scrutinize State's No-Bid Contracts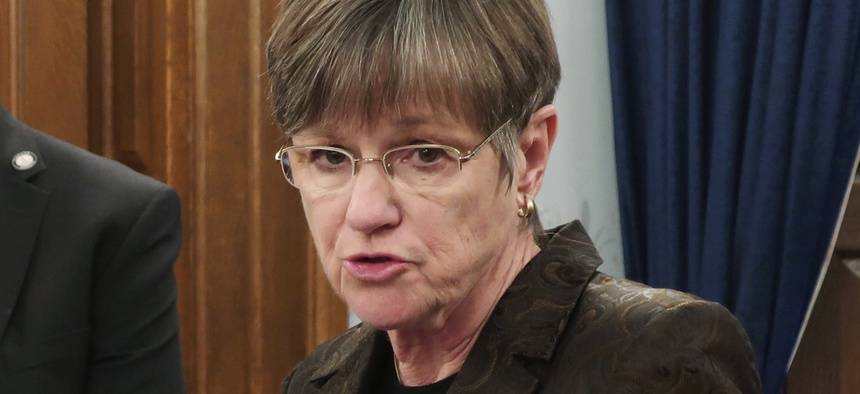 STATE AND LOCAL ROUNDUP | Small-town sex trafficking in South Dakota … counties with the most deportations … and North Carolina vaccination exemptions.
Good morning, it's Tuesday, Nov. 20, 2018. Governors-elect leading Route Fifty's state and local government news roundup but scroll down for more from places like New York City; Carson City, Nevada; Asheville, North Carolina; and Ottawa County, Michigan.
TRANSITIONS | Among the policy priorities for Kansas Gov.-elect Laura Kelly when she assumes office in January: Explore "the fine print on the state government's no-bid contracts and place economic development incentive programs under a spotlight." She said on the Capitol Insider podcast: "I do not want to do no-bid contracts. We will avoid them like the plague. We're also going to be digging down into all the no-bid contracts—actually, all the contracts—the state is involved with right now. We will be working to modify those that are not in the best interests of citizens and we'll keep the ones that work." [Topeka Capitol-Journal / Capitol Insider] … Connecticut Gov.-elect Ned Lamont on Monday announced the selection of two headhunters who will lead his Talent Search Committee to fill positions in his administration. [Hartford Courant]
CITY HALLS | New York City Mayor Bill de Blasio, who has been facing a ballooning public relations crisis after his firing of the city's investigations commissioner, Mark Peters, on Friday, spent part of Monday announcing a new plan to help improve conditions at 62,000 New York City Housing Authority apartments. [The New York Times; WABC] … St. Louis Mayor Lyda Krewson says that a proposal to build a Major League Soccer stadium in her city is a major economic development win: It amounts to "a $400 million private investment without using any current city funds or tax increment financing." [KMOX]
IMMIGRATION | New data from Syracuse University finds that Harris County, Texas, which includes Houston, ranks third in the nation for the highest number of deportations through the federal government's immigration enforcement "Secure Communities" program. El Paso County, Texas and Maricopa County, Arizona were ranked first and second, respectively. [Houston Public Media; Syracuse University]
LAW ENFORCEMENT | Sex trafficking isn't only a problem in larger urban areas. It's a growing problem in small rural towns, too, places that sometimes turn a blind eye to problems happening in their communities. In South Dakota, pheasant-hunting season and the Sturgis Motorcycle Rally, which draw thousands of visitors to the state, "both have the ingredients that attract sex traffickers: lots of men a long way from home, looking for a good time, with money to spend." [Argus Leader]
PUBLIC HEALTH | A private school in Asheville, North Carolina with one of the state's highest vaccination-exemption rate has seen the state's biggest outbreak of chickenpox since a vaccination became available two decades ago. [Asheville Citizen-Times] … After a legal battle with the Pennsylvania state government, 5,000 prisoners with hepatitis C are set to "have access to direct-acting anti-viral drugs, which are effective in about 95 percent of cases." [The Inquirer / Philly.com]
FACILITIES MANAGEMENT | A newly dedicated memorial on the grounds of the Nevada State Capitol in Carson City, one that honors fallen service members from the state dating back to the U.S. Civil War, has been damaged by local teens riding Razor scooters and BMX bikes. As grounds crews assess the damage, they're thinking of ways to erect barriers to prevent similar incidents. [Nevada Appeal] … A robot receptionist will replace a human in the lobby of the main administrative complex in Ottawa County, Michigan as part of a cost-savings pilot project. [The Grand Rapids Press  / MLive.com]