Firing Leads to Confusing 'Three-Day Misadventure' at New York City Hall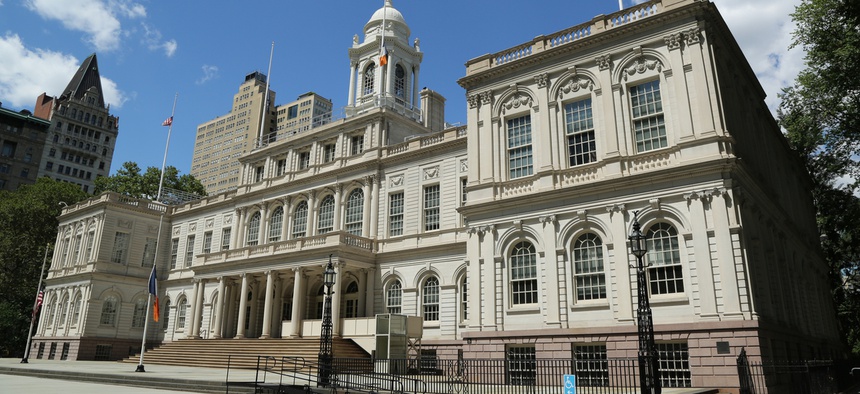 STATE AND LOCAL ROUNDUP | Hurricane Michael total estimated insured losses … Alaska's new governor sworn in … and Berkeley's old city hall will be used as homeless shelter.
Good morning, it's Tuesday, Dec. 4, 2018. A messy City Hall firing leads Route Fifty's state and local government news roundup but scroll down for more from places like Anchorage, Alaska; Pierre, South Dakota; and Trenton, Ohio. ALSO IN ROUTE FIFTY … State-federal "double jeopardy" case to be heard by the U.S. Supreme Court on Thursday … Changing the way we talk about people touched by the criminal justice system … and a tough question in California: Whether to rebuild in places that will burn again.
Let's get to it …
CITY HALLS | New York City's emergency management commissioner was fired Friday by a deputy mayor following a sluggish response to an unexpectedly strong November snowstorm that made a major mess of the evening commute. But Commissioner Joseph Esposito showed up for work on Monday because he hadn't heard directly from Mayor Bill de Blasio. The City Hall personnel mess was described by The New York Times as "a three-day misadventure where no one seemed to know whether he had been fired." By the end of Monday, de Blasio said in a statement. "We have started the process of leadership change at New York City Emergency Management. Commissioner Joe Esposito will continue to lead O.E.M. as we conduct a national search for his successor." [The Wall Street Journal; New York Daily News; The New York Times] … The Berkeley, California City Council voted on Monday to turn the old city hall building into a temporary emergency shelter for the homeless. [KPIX / CBS San Francisco] … In Trenton, Ohio, two candidates for city manager withdrew due to the local residency requirement for the top municipal post. Officials are now "digging back into the stack of applications." [WHIO]
DISASTER RECOVERY | According to the Florida Office of Insurance Regulation data on claims from Hurricane Michael, the total estimated insured losses in the state has topped $4 billion. [Florida Office of Insurance Regulation] … Public schools in Anchorage will remain closed this week as the district cleans up and makes repairs to its 92 facilities after Friday's 7.0 magnitude earthquake near Alaska's largest city, which includes "spilled books and materials to flooding, fallen ceilings and structural damage." Only one school was listed as "seriously damaged and unsafe to enter." [Anchorage Daily News]
STATE LEGISLATURES | The Wisconsin State Senate and Assembly are set to meet on Tuesday to take up a controversial legislative package that the Republican-controlled legislature is pushing to limit some of the executive powers of the incoming Democratic governor. "This is a direct rebuke of the people of the state," said Gov.-elect Tony Evers. [Wisconsin State Journal] … The "most important housing legislation" to come through the Massachusetts State House in decades, which would make it far easier to changing zoning rules in municipalities, is stalled on Beacon Hill. [The Boston Globe] … Utah state legislators on Monday passed compromise legislation that will essentially replace a voter-approved ballot initiative on medical marijuana. [The Deseret News]
TRANSITIONS | Alaska Gov. Mike Dunleavy took the oath of office on Monday, just a few days after a 7.0 magnitude earthquake brought strong shaking to Anchorage. Dunleavy was sworn into office at a middle school in Kotzebue, a community located above the Arctic Circle. [Alaska Public Media / KTOO; Juneau Empire] … While South Dakota Gov.-elect Kristi Noem has announced some of her Cabinet appointments for her new administration. While she'll be keeping some members of outgoing Gov. Dennis Daugaard's administration, seven posts she's looking to fill including the secretaries of agriculture, education, human services, social services, tribal relations and veterans affairs and the economic development commissioner. [Capital Journal] … Illinois Gov.-elect Jay Pritzker late last week indicated that his administration will settle 12 negligence lawsuits stemming from the Legionnaires Disease outbreak at a state veterans home in Quincy. [WBEZ]
LAW ENFORCEMENT | The FBI, joined by the Internal Revenue Service, raided the home of Atlantic City, New Jersey Mayor Frank Gilliam on Monday morning and were seen "removing more than 10 boxes" and searching the mayor's SUV. [The Press of Atlantic City; NJ.com] … Kenton Buckner, the new police chief of Syracuse, New York, was sworn into office on Monday. [WSYR] …