Impeachment Petitions Prompt Response From Pittsburgh Mayor's Office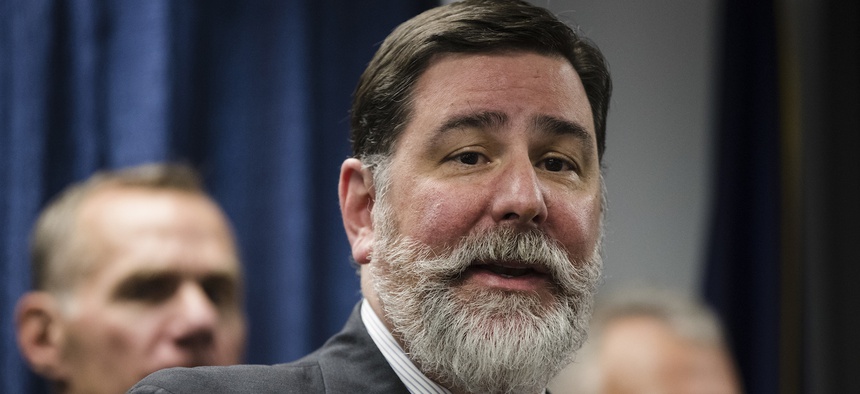 STATE AND LOCAL ROUNDUP | Indiana bill would scrap child-labor rules … Pacific Northwest measles update … and N.J. offshore wind geophysical surveying.
Good morning, it's Tuesday, Jan. 29, 2019. Impeachment leads our state and local government news roundup  but scroll down for more from places like Clark County, Washington; Phoenix, Arizona; and Baltimore, Maryland. … ALSO ON ROUTE FIFTY … The Places Most Likely to See Jobs Disrupted by Automation … Streamlining Local Health Department Inspections and Permitting … Dangerous Winter Blast Puts Upper Midwest, Great Lakes in Deep Freeze
Let's get to it ...
CITY HALLS | A spokesman for Pittsburgh Mayor Bill Peduto dismissed petitions for his impeachment brought forth by a local Republican official as a "total joke" and "waste of time." That official, Brooke Nadonley, has been angered by the mayor's proposal to ban certain types of semi-automatic firearms and accessories in the city, but "could not immediately pay $160.25 for filing fees, but vowed to return after raising the money and consulting an attorney," according to the Tribune-Review. According to the mayor's spokesman, Tim McNulty: "It makes clear that some opponents of the city's proposed reforms would rather make goofy attempts to harass elected officials than actually engage in constructive debate on how to prevent the gun massacres threatening the public health of our country." [Tribune-Review; Pittsburgh Post-Gazette] … New York City Mayor Bill de Blasio on Monday announced a new "LeadFreeNYC" initiative with new programs aimed at eliminating childhood lead poisoning, following a 90-day review of the city's lead-prevention policies. "With LeadFreeNYC, we will target every source of exposure, every apartment and every child," the mayor said in a statement. "We will be there for kids and parents every step of the way, until we drive this problem to zero." [City of New York; LeadFreeNYC] … Atlanta Mayor Keisha Lance Bottoms, who made cleaning up city hall corruption a focus of her campaign, is not the only local official pushing for more transparency: "City Council President Felicia Moore seemed to supplant the mayor's own agenda when she held a press conference at city hall to announce a new clean government initiative" last week. On Monday, a former deputy chief of staff from former Mayor Kasim Reed's administration was sentenced to 21 months in prison following her conviction related to a city hall bribery scandal. [Atlanta Journal Constitution; WAGA] … City Council members in Duluth, Minnesota approved a measure on Monday that will raise the age required to purchase tobacco or e-cigarettes to 21. [Duluth News Tribune]
STATE LEGISLATURES | Every Republican in the Illinois House is supporting a proposed state constitutional amendment to try to limit the influence of politics on the process to redraw the state's legislative and congressional district maps, just as Democrats maintain a firm hold on the levers of power in Springfield. [Herald & Review] … A Republican state senator in Indiana, who owns a ski resort that employs hundreds of minors, has introduced a measure to "scrap all state child labor laws" in the state. "Given the fact that he employs a significant number of minors, his involvement in the issue would certainly trigger a second look and extra scrutiny," Julia Vaughn, policy director of Common Cause Indiana, said of State Sen. Chip Perfect. [The Indianapolis Star] … A 144-page omnibus spending bill in the West Virginia Legislature has some things Gov. Jim Justice and state lawmakers promised to teachers to resolve last year's strike, like the second round of 5 percent pay raises. But it also has some provisions teachers unions oppose, like legalizing state-funded charter schools and public funds for private schools and homeschooling. [West Virginia Press Association via The Intermountain]
PUBLIC HEALTH | A bill introduced by Arizona State Sen. Paul Boyer "would require that any health professional provide not just the positive effects of vaccinations but also the full list of ingredients and side effects—and before a vaccine could be administered." While the Phoenix Republican "sidestepped questions of whether he personally believes that vaccines are harmful," Boyer said he's in support of "informed consent" for childhood vaccinations. [Arizona Capitol Times] … Meanwhile, the measles outbreak in Clark County, Washington, which recently prompted Gov. Jay Inslee to issue a statewide public health emergency, has 35 confirmed cases and 11 suspected cases as of Monday in that county, which sits adjacent to Portland, Oregon. Clark County public health officials have identified some additional exposure sites, including the Oregon Museum of Science and Industry in Portland, and in Vancouver, Washington, two child care facilities, a Walmart Supercenter and a Trader Joe's. [The Columbian; Clark County Public Health] … The Chesapeake Regional Information System for our Patients, the regional health exchange which partners with the Maryland Department of Health to administer the state's prescription drug monitoring program, has awarded Olathe, Kansas-based NIC Inc. a five-year contract for its RxGov prescription drug-monitoring program. [Business Wire]     
TRANSPORTATION & MOBILITY | Despite stiff penalties, the number of Californians who use their cellphones while driving increased in 2018 according to an observational study of drivers at 204 intersections in 17 counties conducted by the California Office of Traffic Safety and California State University, Fresno. [The Sacramento Bee] … Transportation officials in Baltimore are looking to amend legislation that "could have exposed people who ride a rental scooter too fast or on some city sidewalks to a month in jail and a $1,000 fine." [Baltimore Sun] … The general manager of the Massachusetts Bay Transportation Authority is proposing a 6.3 percent increase on transit fares over three years. [WCVB] … Of the top 100 metro areas in the nation, Madison, Wisconsin is the second-most pedestrian-friendly according to the National Complete Streets Coalition. City leaders credit Madison's "innovative crosswalks, bike lanes and other safety efforts that the city has implemented in recent years." [The Capital Times / Madison.com]
ENERGY | Councilmembers in King County, Washington, which includes Seattle, voted Monday to OK a 6-month moratorium on approving new "fossil-fuel facilities," in unincorporated areas of the county. The impacts of the measure are fairly limited, The Seattle Times reports: "It does not disallow existing infrastructure or directly address rail lines or pipelines, which are regulated by the federal government. It excludes fuel storage for airports, marine servicing facilities and railyards." [The Seattle Times] … Maine Gov. Janet Mills is looking to install solar panels on the governor's mansion in Augusta. [WBAI] … Geophysical survey work is underway in the waters off New Jersey's Atlantic and Cape May counties for the first phase of the proposed Ocean Wind Project from Danish energy firm Ørsted. [WHYY]