Tens of Thousands of Teachers Strike in L.A. as Negotiations Stall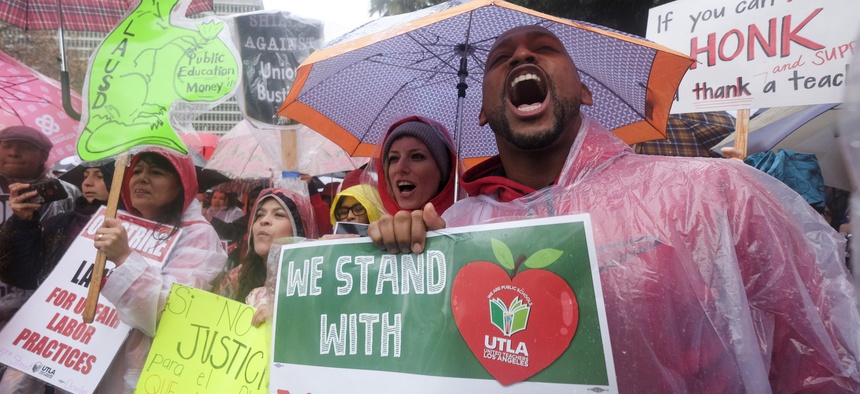 STATE AND LOCAL ROUNDUP | A handful of new governors are sworn in … N.Y.C. pursues illegal hotels in new lawsuit … and FBI raids Scranton City Hall, mayor's house.
Good morning, it's Tuesday, Jan. 15, 2019. Teachers lead our state and local government news roundup but scroll down for more from places like Denver, Colorado; Scranton, Pennsylvania; and San Francisco, California … ALSO IN ROUTE FIFTY … Measuring Bike and Pedestrian Traffic to Make Better Roads … Disputes Over State Taxes on Railroad Fuel Simmer Before Supreme Court ...
Let's get to it ...
WORKFORCE | More than 30,000 members of United Teachers Los Angeles and the L.A. Unified School District went on strike on Monday, with picket lines forming at 900 schools across the nation's second-largest city, a massive downtown protest with an estimated 20,000 people marching in the streets during a rainy day in Southern California. About two-thirds of students stayed away from classes on the first day of the strike, according to preliminary attendance data. California Gov. Gavin Newsom called for the strike to end and said in a statement: "This impasse is disrupting the lives of too many kids and their families. I strongly urge all parties to go back to the negotiating table and find an immediate path forward that puts kids back into classrooms and provides parents certainty." The strike has cost the district at least $15 million. Superintendent Austin Beutner says of the strike and the impasse in negotiations: "We want to resolve it now." [Los Angeles Times; LAist / KPCC; Office of Calif. Gavin Newsom; KABC] … South Carolina's teacher shortage intensified last year, with 7,300 educators in the state leaving their jobs before the start of the current school year. [The Post and Courier] … In cash-strapped Paterson, New Jersey, the local police union has rejected a city request for a proposed two-week paycheck delay as officials seek ways to close a $7 million budget gap. [Paterson Press / North Jersey Media Group]
GOVERNORS | New governors were sworn in on Monday including JB Pritzker in Illinois, Brian Kemp in Georgia, Laura Kelly in Kansas, Mike DeWine in Ohio and J. Kevin Sitt in Oklahoma. In Springfield, Pritzker vowed he "won't hollow out the functions of government to achieve an ideological agenda" with former Gov. Bruce Rauner seated on stage. [Sun-Times; WSB; Wichita Eagle; Cincinnati Enquirer; The Oklahoman / NewsOK.com] … Missouri Gov. Mike Parson has rebuffed requests from seven Department of Revenue attorneys to move their offices out of downtown St. Louis due to crime concerns. [St. Louis Post-Dispatch / SLToday.com]
STATE LEGISLATURES | Mike Shirkey, the Republican leader of the Michigan State Senate, has a message for state contractors: "Don't worry" about Democratic Gov. Gretchen Whitmer's equal pay executive order for gender parity in state salaries. [Michigan Advance] ... Among the top legislative priorities for the Texas State Legislature when it comes to health this session: Medicaid, the opioid abuse epidemic and abortion. [Texas Tribune] … Democrats, now in control of the New York State Senate, approved "sweeping changes" to voting laws on Monday, including legalizing early voting, holding state and federal primaries on the same day and eliminating "a loophole that allowed companies to easily skirt campaign-donation limits." [Newsday]
CITY HALLS | In a new lawsuit filed in Manhattan Superior Court on Monday, New York City is accusing the Metropolitan Property brokerage firm of creating "a shadowy network of shell companies to convert more than 100 Manhattan apartments into more profitable hotel rooms." [New York Daily News; Law 360] … New Orleans Mayor LaToya Cantrell has named a new police superintendent, Shaun Ferguson, a department commander who will be officially sworn into the new position on Friday. [The Times-Picayune / NOLA.com] … Scranton, Pennsylvania Mayor Bill Courtright said he's not resigning as a controversy swirls around the him after the FBI raided City Hall and the mayor's home last week. During a City Council meeting on Monday, Councilmember Bill Gaughan said: "I would fully encourage the mayor, his cabinet, and any other government officials to fully cooperate with the FBI and Justice Department in their investigation." [The Times-Tribune; WNEP] … City Council members in Cleveland, Ohio approved a plan that "grants Mayor Frank Jackson's administration broader powers to approve event-related requests without first securing approval from City Council." [Plain Dealer / Cleveland.com]
RESILIENCY | As the Hampton Roads region in Virginia is expected to see 2½ feet of sea-level rise within 50 years, the city of Norfolk has started a $112 million project funded by the federal government to fortify the Chesterfield Heights neighborhood using earthen berms, a project that "will serve as a testbed for a wide array of potential solutions" and "could have applications far beyond the neighborhood." [The Virginian-Pilot]
ENERGY | In a ruling handed down on Monday, the Colorado Supreme Court overturned "a lower court ruling that said the Colorado Oil and Gas Conservation Commission should give more weight to the public health, safety and the environment when considering new drilling." [The Denver Post]
HOUSING | The Houston Housing Department has launched a new $1.17 billion program funded by the federal government "to assist Houstonians affected by Hurricane Harvey who have already made repairs to their homes, as well as those who are still working on them." [Houston Public Media]
WILDFIRES | San Francisco-based Pacific Gas & Electric Corp., the leading power utility in Northern California, announced Monday that it would seek Chapter 11 bankruptcy protection "amid the financial anguish stemming from its part in helping spark a wave of historic wildfires." [CNBC]