Mayor Wants City to Be First in Nation to Mandate Paid Personal Time Off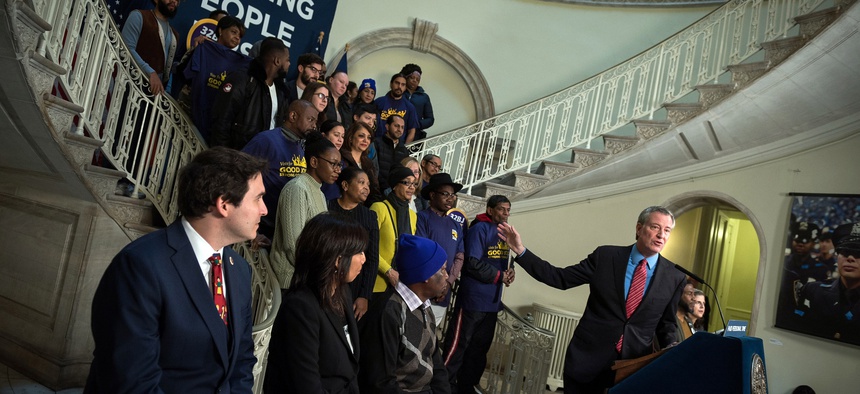 STATE AND LOCAL ROUNDUP | Tsunami of sewage led to Michigan landslide … Florida governor using seized drug plane … and pastor sues St. Louis after bologna sandwich ticket.
Good morning, it's Thursday, Jan. 10, 2019. Leading Route Fifty's state and local government news roundup is a first-in-the-nation municipal proposal taking shape in New York City but scroll down for more from places like Denver, Colorado; Pittsburgh, Pennsylvania; Sacramento, California and Macomb County, Michigan. … ALSO ON ROUTE FIFTY … A Turbulent Stock Market Can Benefit State and Local Borrowers … In States Embracing More Toll Roads, Freeways May No Longer Be Free … San Francisco's Homelessness Tradeoff … Amid Shutdown, Feds Figure Out Ways to Fund Food Stamp Benefits. For Now.
Let's get to it ….
CITY HALLS | New York City Mayor Bill de Blasio on Wednesday announced a proposal that would make the nation's largest city the first to mandate paid personal time off for workers. According to the mayor's office:
More than 500,000 full- and part-time employees in New York City currently have no paid time off. The Mayor will pursue local legislation that would require private employers with five or more employees to offer 10 annual days of Paid Personal Time, allowing employees to take paid time off for any purpose, including vacation, religious observances, bereavement and time with family.
"New Yorkers need a break," de Blasio said in the Rotunda of City Hall, Politico NY reported. "If you work hard and you don't get a break, that's not fair. ... Right now there are a half-million working adults that do not have a single day off—not a single vacation day, not a single day for personal time." [NYC.gov; Politico NY]
GOVERNORS | Florida Gov. Ron DeSantis will be using a drug plane seized by the Florida Department of Law Enforcement to travel across the state. [News Service of Florida via WOLF] … On his second day in office as Colorado's new governor, Jared Polis named four new appointees: Theresa Szczurek, executive director of the Governor's Office of Information Technology and chief information officer; Dan Gibbs, executive director of the Department of Natural Resources; Maj. Gen. Michael Loh, adjutant general and executive director of the Department of Military and Veterans Affairs; and Jill Hunsaker Ryan, executive director for the Department of Public Health and Environment. [The Denver Post] … Minnesota Gov. Tim Walz signed an executive order creating the One Minnesota Council on Diversity, Inclusion and Equity. [KSTP]
PUBLIC HEALTH | New York's biggest measles outbreak in decades has hit Rockland County—105 cases since October—has prompted a major response by state and county officials, who have cracked down on schools, all yeshivas in Ramapo, not complying with immunization reporting rules as set by the county health commissioner. [LoHud / Journal News]
PERFORMANCE | California Gov. Gavin Newsom, who has inherited a "troubled" and much disliked Department of Motor Vehicles, has appointed California Government Operations Agency Secretary Marybel Batjer, "one of the most accomplished management experts in state government" to lead a 6-month "strike team" effort for recommendations to bring about the "comprehensive modernization and reinvention" of the DMV. [California Governor's Office] … The introduction of an online learner's permit program for teens has saved the Arizona Department of Transportation's Motor Vehicle Division the equivalent of 18 business days in 2018.  "Every time this online test is taken, that means a teenager and at least one parent or guardian does not have to visit an MVD office for that purpose," Jennifer Bowser-Richards, a MVD stakeholder manager said in a statement.  Arizona Department of Transportation]
WORKFORCE | A planned strike by educators in the Los Angeles Unified School District has been postponed and is now set to start on Monday. [Los Angeles Times] … The Pittsburgh Joint Collective Bargaining Committee, which represents several hundred Pittsburgh public works employees will be receiving raises 2 percent and 3 percent under a newly signed five-year contract. [Tribune Review]
LAW ENFORCEMENT | In a tweet about the recent deadly drive-by shooting of a 7-year-old girl in Houston, Texas Gov. Greg Abbott said wants to expand the state's anti-gang task force, saying in a tweet that bolstering the task force would "clean our streets of this trash and restore safety." [Houston Public Media]
INFRASTRUCTURE | Engineers have determined that human error led to a "tsunami of sewage" in Macomb County, Michigan that in turn caused the formation of massive sinkholes in 2016, according to Candace Miller, the county's public works commissioner. [The Detroit News]
ELECTIONS ADMINISTRATION | Ohio Secretary of State John Husted, who is leaving office, announced that more than 276,200 "last chance" notices have been sent to inactive registered voters. Ohio state law allows for voters to be removed from official lists "once they have not cast a ballot in any election over six years and failed to respond to notices mailed by county boards of elections." [Columbus Dispatch]
HOMELESSNESS | A pastor is suing the city of St. Louis in federal court after being ticketed for distributing bologna sandwiches to the homeless. "We're not the first ones that have gotten summonses. We believe it's really important to protect people's rights to help those in need," said Rev. Ray Redlich of the New Life Evangelical center. "We would like to get a ruling to protect people that are trying to help the homeless, the people on the streets, with food." [KSDK]