Trump Administration Tries to Thwart States' Unemployment Plan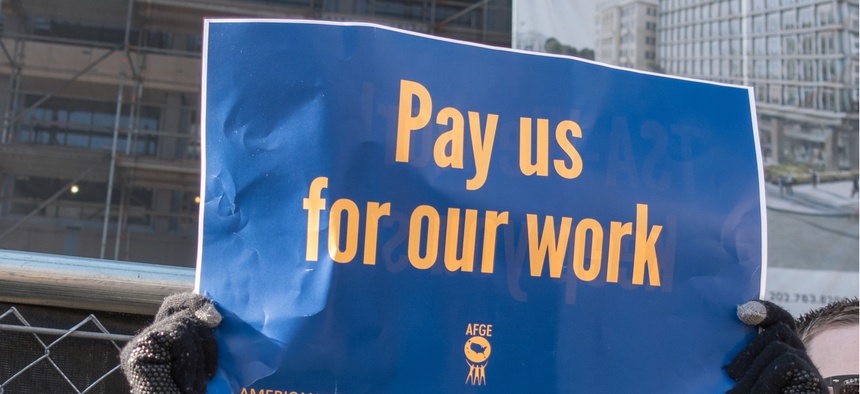 STATE AND LOCAL ROUNDUP | Arizona's rainy-day fund … Iowa mayor arrested for pot-growing operation … and Seattle mayor will pursue new streetcar.
Good morning, it's Friday, Jan. 17, 2019. Unemployment benefits lead our state and local government news roundup but scroll down for more from places like Augusta, Maine; Louisville, Kentucky; and Tuolumne County, California. … ALSO ON ROUTE FIFTY … Sky-High Affordability Gap Strains Ski Town Economies ... Microsoft's Big Pledge to Help Build Affordable Housing in the Seattle Area … White House Snubs Disaster Relief Funds Proposed in House Bill … Is State and Local Cybersecurity Maturing Fast Enough? ...
Let's get to it …
GOVERNORS | The Trump administration told eight states that they can't legally offer unemployment benefits to furloughed federal government employees. "Shame on them," California Gov. Gavin Newsom said Thursday at an appearance at the Sacramento International Airport. "From a moral perspective, there is no debate on this issue and we will blow back aggressively on the Department of Labor." Newsom  [The Sacramento Bee; Los Angeles Tiimes] … Illinois Gov. JB Pritzker signed a bipartisan bill designed to combat gun traffickers by requiring "firearm dealers to be licensed by Illinois State Police instead of the state agency that regulates professions and occupations." [WLS] … Arizona Gov. Doug Ducey wants to more than double the size of the state's rainy-day fund, but some of his fellow Republicans in the legislature want to spend some of the surplus revenues. [Arizona Capitol Times] … Maine Gov. Janet Mills announced the appointment of former Maine House Speaker Hannah Pingree to lead the new Office of Innovation and the Future, which is "charged with finding innovative ways to tackle the opioid crisis, expanding broadband statewide and other issues." [Portland Press Herald]
CITY HALLS | In his State of the City address on Thursday, Louisville Mayor Greg Fischer said that despite a strong economy in Kentucky's largest city, "cuts and new taxes may still be needed to fill the gap caused by the portion of public pension liability Metro government must pay." [WAVE] … City officials in Tallahassee, Florida are awaiting a ruling from a Leon County Circuit Court judge on whether the city violated the state's Sunshine Law in the appointment of a vacant commission seat. [Tallahassee Democrat] … The mayor of Jamaica, Iowa and her husband were arrested on Wednesday night in connection with running a marijuana-grow operation in their house. [KCCI]  
EDUCATION | Negotiations resumed on Thursday in an effort to end the ongoing teacher strike across the Los Angeles Unified School District with L.A. City Hall serving as a venue for the talks to continue with Mayor Eric Garcetti working to mediate a resolution between the school district and United Teachers Los Angeles. [Los Angeles Times] … Michigan Gov. Gretchen Whitmer said the Michigan State University Board of Trustees can "build a new foundation that will provide this university with a clean slate and a brighter future" with the resignation of former Gov. John Engler as the university's interim president, who has been under heavy scrutiny for his leadership in the wake of MSU's sexual assault scandal. [Michigan Advance]
TRANSPORTATION & MOBILITY | Seattle Mayor Jenny Durkan signaled her intent to continue with the construction of the proposed First Avenue streetcar line, a transit project the mayor put on hold for additional review. The Center City Connector streetcar route, which would link two disconnected lines through downtown, comes with a higher price tag: $285 million. [The Seattle Times; Crosscut] … A disability rights advocacy group has sued Bird and Lime in federal court in San Diego for violating the Americans With Disabilities Act for dockless scooters blocking sidewalks. [CNET] … In Pittsburgh, the Port Authority of Allegheny County is will be rolling out its first two electric battery buses in September to test them ahead of their possible use on a proposed bus rapid transit line connecting downtown and the Oakland neighborhood. [Pittsburgh Post-Gazette]
EMERGENCY MANAGEMENT | In California, members of the Tuolumne County Board of Supervisors are looking to make new preparations ahead of the next wildfire season to avert a disaster like the one in November that saw most of the Butte County town of Paradise go up in smoke. "Right now, the loss of life needs to be the forefront, making sure we notify people and that people have safe egress routes to get in and out," said Supervisor Daniel Kirk. [Capital Public Radio]