Federal Judge Blocks Texas Counties From Purging Voters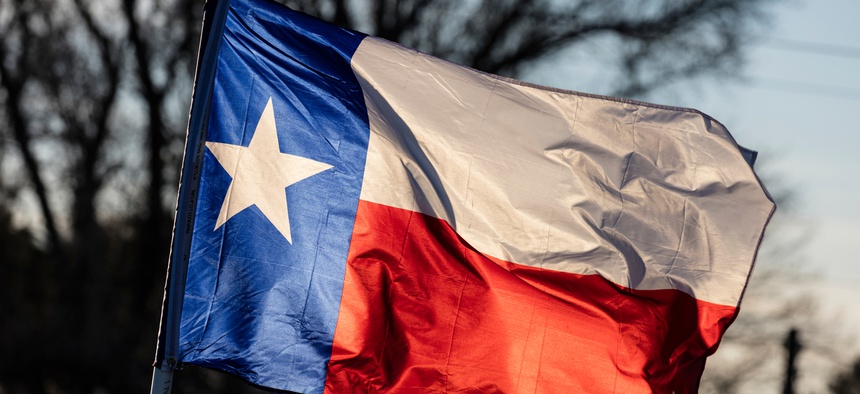 STATE AND LOCAL ROUNDUP | Flooding isolates Northern California cities … snowed-in Oregon town faces lengthy power outages … and boosting Alabama's gas tax.
Good morning, it's Thursday, Feb. 28, 2019. Voting leads Route Fifty's state and local government news roundup but scroll down for more from places like Idaho County, Idaho; Texarkana, Arkansas; Texarkana, Texas; and Portland, Maine … ALSO ON ROUTE FIFTY … Federal Court Rejects State Worker Collective Bargaining Challenge … Cities' Progress Toward Carbon Neutrality Gets Tougher … New York's Online Voter Registration Will Become Accessible to Blind Voters … and The States With the Best and Worst Levels of Well-Being ...
Let's get to it …
ELECTIONS ADMINISTRATION | Describing a citizenship review of 100,000 Texas voters flagged by the state as a "ham handed" effort, a U.S. District Court judge on Wednesday ordered county governments to stop purging any voters from their local rolls without the court's explicit permission and "a conclusive showing that the person is ineligible to vote." [Texas Tribune] 
EMERGENCY MANAGEMENT | Flooding in Northern California has inundated communities along the Russian River, closing numerous highways and bridges and isolating the cities of Guerneville and Monte Rio. It's the worst flooding in western Sonoma County since 1997. [Santa Rosa Press Democrat] … Heavy snowfall in Oregon has led to widespread power outages in some areas. The city of Oakridge, near where an Amtrak train was recently stranded, may be without power for another one to two weeks, according to Mayor Kathy Holston. The town of 3,200 people has been mostly cut off after record-setting snowfall in western Oregon. [KMTR]
GOVERNORS | New Mexico Gov. Michelle Lujan Grisham says that 19 counties that have passed "Second Amendment Sanctuary" resolutions opposing gun-control bills in the legislature have been "fear mongering." One bill would "require background checks for firearms sales, closing loopholes in current background check requirements" and another would "allow law enforcement to effectively 'confiscate' any weapon belonging to a person who has an order of protection filed against them." [Carlsbad Current Argus] … Alabama Gov. Kay Ivey has proposed a 10-cent per gallon increase in the state's gas tax to be phased in over three years. [AL.com] … Alaska Gov. Mike Dunleavy has removed former State Sen. Hollis French as chair of the state's Oil and Gas Conservation Commission. [Juneau Empire] … Michigan Gov. Gretchen Whitmer, who sat next to President Trump at the recent Governors Ball dinner at the White House, said when asked about whether the president understands the disruptive nature of tariffs battles in Michigan and the Midwest. "I don't know if he understands the gravity of it, but we certainly spent a lot of energy talking about it." [Michigan Advance]
CITY HALLS | The mayors of Texarkana, Arkansas and Texarkana, Texas pledged this week to figure out ways to coordinate their annual homelessness points-in-time counts, which can be skewed due to homeless people crossing the state boundary that runs through their cities and creating duplicates. [Texarkana Gazette] … Los Angeles Mayor Eric Garcetti has denounced a downtown mural as a "shameful act of anti-Semitism." [KTLA] … In North Carolina, a Raleigh city council member says she was involved in a verbal and physical confrontation with the mayor's husband during a community event. "I am still very shaken by the experience, and I prefer not to speak publicly about this at this time," according to Councilmember Kay Crowder. [The News & Observer] … The city manager in South Fulton, Tennessee has been accused of using counterfeit money at two businesses in Union City. [Union City Messenger via WPSD]
HEALTH & HUMAN SERVICES | Although the Idaho Supreme Court affirmed the legality of a voter-approved ballot initiative that would expand Medicaid eligibility in the state, the Idaho County Commission voted Tuesday to send a letter to the legislature urging them to halt any Medicaid expansion in the state. [The Lewiston Tribune] … While the ongoing measles outbreak in the Pacific Northwest and Texas has shined a light on low vaccination rates in some states and localities, one state with high rates of vaccination is New Hampshire. [Fosters / SeacoastOnline] … In Portland, Maine, a City Council subcommittee rejected eight sites proposed for homeless shelters and asked for more information on three others. [Portland Press-Herald]