N.Y.C. Mayor Looks to Tame Abuse of Official Parking Placards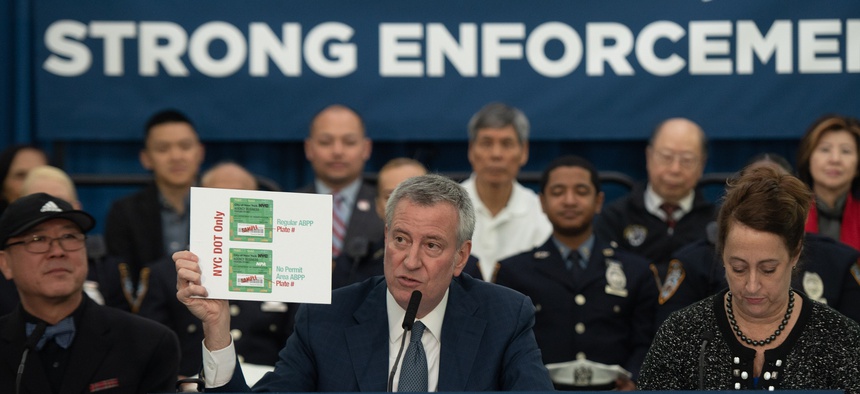 STATE AND LOCAL ROUNDUP | Alaska to end ferry service in October … Philly term limits … and a Florida mayor shoots at police officers raiding his home.
Good morning, it's Friday, Feb. 22, 2019. Parking privileges lead Route Fifty's state and local government news roundup but scroll down for more from places like Port Richey, Florida; Dodge City, Kansas; and Berkeley, California. … ALSO ON ROUTE FIFTY … Why Local Governments Aren't All Aboard the Blockchain Train … The States That Gained and Lost The Most Solar Energy Jobs Last Year … State Legislators Want to Mandate Worker Tracking Software for Contractors
Let's get to it ...
WORKFORCE | New York City Mayor Bill de Blasio announced a new crackdown on the abuse of official parking placards, which give public officials and municipal employees, including police officers, pretty much a free parking pass to park anywhere, including in bus and bike lanes, without fear of enforcement. Officially, there are 140,000 parking placards in New York City and their misuse something that's notoriously difficult to enforce, according to Streetsblog NY. "Simply put: Cops don't write tickets against other cops. And they're loath to write tickets against fellow government workers—in part for fear of retaliation for ticketing a superior." The city's solution to the abuse? Replace the paper placards with digital ones and "scan them with devices that automatically issue tickets." [Streetsblog NY; amNY]
GOVERNORS | As part of "sweeping budget cuts" in Alaska, Gov. Mike Dunleavy's administration said this week that the state ferry service would end Oct. 1, cutting off some isolated coastal communities from the North American road network. According to Joshua Bowen, the mayor of Angoon in southeastern Alaska, population 410. "Angoon right now only has a seaplane base for air transport. With that, we rely on our ferry service for everything," he said. "If the ferry gets cut, this winter is going to be brutal." [Anchorage Daily News; Juneau Empire] … Missouri Gov. Mike Parson accused his Republican colleagues in the state legislature of "political grandstanding" as they scrutinize a tax refund problem at the Missouri Department of Revenue. [St. Louis Post-Dispatch] … North Carolina Gov. Roy Cooper on Thursday announced new financial assistance available to local governments recovering from Hurricane Florence. Grants up to $1 million are available for eligible governments to "help provide short-term assistance for operating expenses like general payroll, vendor payments, and debt service." Local agencies can also "apply for 0 percent interest loans up to $2 million to cover disaster-related expenses while they wait for reimbursement." [Jacksonville Daily News]
CITY HALLS | A proposal to introduce term limits for the Philadelphia City Council seems likely to fail with many veteran City Hall lawmakers voicing their opposition. [WHYY] … Port Richey, Florida Mayor Dale Massad is "lucky he's not dead," Pasco County Sheriff Chris Nacco said Thursday after the mayor shot at, but didn't hit, officers who were part of a law enforcement raid on his waterfront house. The raid was part of an ongoing Florida Department of Law Enforcement investigation into Massad practicing medicine without a license, including "ordering drugs online, injecting people and suturing wounds at his home." [Tampa Bay Times] … Two days after a FBI raid on City Hall and his house and vacation property, Taylor, Michigan Mayor Rick Sollars said during his State of the City address on Thursday that he hopes it doesn't become a "distraction."  [Detroit Free Press]
TRANSPORTATION & MOBILITY | A report from the Texas Insurance Council says that a public awareness campaigns about the state's texting-while-driving law "appear to have had an impact" on reducing the number of traffic fatalities in the Lone Star State, which dropped 4 percent in 2017. [Star Telegram] … Atlanta City Council Dustin Hillis introduced a resolution on Thursday that would require local hospitals and health care institutions to submit quarterly data related to e-scooter injuries, including the "type of incident, injuries sustained, number of people involved and if the incident was a fatality." [Curbed Atlanta] … Connecticut Gov. Ned Lamont says that tolls will be needed to help fund projects like the replacement of the aging Interstate 84 viaduct in Hartford. [Hartford Courant]
PUBLIC HEALTH | Doctors in Texas want to slow down the implementation of the state's prescription-drug monitoring program saying that the technology needed for records checks isn't ready are data systems integrated. [KERA] … Major pharmaceutical companies have sued the California Public Employees' Retirement System and California Correctional Health Care Services to block them from releasing records on drug pricing information that came from a public records request. [The Sacramento Bee] … According to a new University of California, Berkeley study, the consumption of sugary beverages has dropped by half in Berkeley in the three years since the Bay Area city instituted a soda tax. [San Francisco Chronicle]
HOUSING | During a Kansas House Rural Revitalization Committee hearing on Thursday, the city manager in Dodge City, Kansas discussed the challenges of rural housing shortages where supplies have been adequate, but the private sector hasn't added enough new housing. That forced the Dodge City to use a "scatter-gun approach" to leave "no stone unturned" locally, adding 340 housing units with more on the way. "We have touched every aspect of housing from single-family, high-market values to low-income, as well as multifamily market value to low-income rentals," said City Manager Cherise Tieben. [Topeka Capital-Journal] … Pittsburgh City Councilmember Deb Gross has introduced an inclusionary zoning measure that would require new developments in the booming Lawrenceville neighborhood set aside at least 10 percent of units as affordable housing. [Next Pittsburgh]