Virginia Governor Mulls Options Amid More Calls to Resign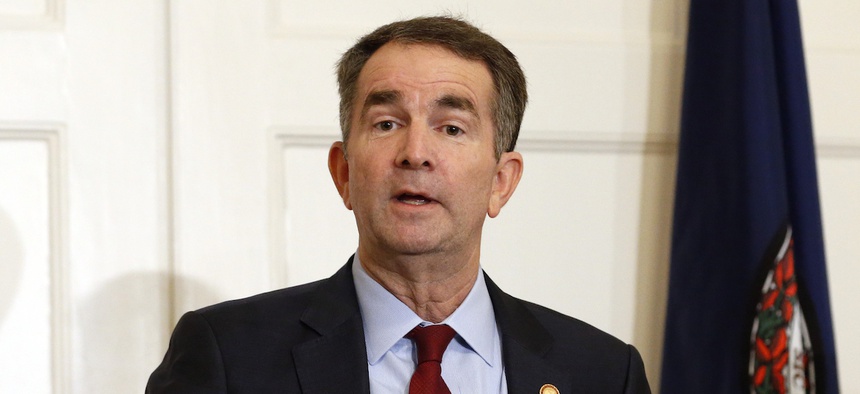 STATE AND LOCAL ROUNDUP | RFID tracking chips in garbage cans ... another Wis. city looks to tiny houses for homeless … and Anchorage ice-scratchers.
Good morning, it's Monday, Feb. 4, 2019. Governors lead Route Fifty's state and local government news roundup but scroll down for more from places like Lawrence, Kansas; Janesville, Wisconsin; and Santa Barbara County, California. … ALSO ON ROUTE FIFTY … The Push to Build a Coast-to-Coast Trail for Cyclists and Pedestrians … State Integration of GIS Into Elections Is Slow Going … When Regulating New Tech Harms Public Safety ...
Let's get to it ...
GOVERNORS | Pressure has been mounting on Virginia Gov. Ralph Northam to step down, including an increasing number of the governor's fellow Democrats, following the surfacing of highly racist photos from Northam's 1984 medical school yearbook. Northam, who has apologized for the photos but has thus far refused to resign, huddled with key aides to evaluate his options on Sunday. Lt. Gov. Justin Fairfax, who would become the state's second African-American governor in the event of Northam's resignation, was reportedly not in attendance. A larger meeting is scheduled for Monday morning. During an appearance on CNN on Sunday, former Gov. Terry McAuliffe predicted that Northam "will do the right thing" and resign. "He will put Virginia first, and I think that will happen relatively soon." [The Washington Post; CNN; Richmond Times-Dispatch; The Virginian-Pilot] … New Hampshire and Vermont are the only two states with two-year terms for governors. Former Vermont governors, including Howard Dean and Madeleine Kunin, are divided on whether the state should adopt four-year terms instead. [VTDigger]
PUBLIC WORKS | In St. Paul, Minnesota, some residents are suspicious of RFID chips affixed to 80,000 city-owned trash cans distributed to property owners, despite the city officials they aren't tracking anything. [Star Tribune] … In Anchorage, Alaska, public works crews are trying a different approach to keeping icy sidewalks somewhat less dicey: "Converting snowblowers into 'ice-scratchers'" with toothy "shark edges" to cut grooves into the ice. [Anchorage Daily News] … Officials in Lawrence, Kansas recently found that they've been "incorrectly taxing as many as 2,000 solid waste customers, adding to a list of other billing errors that the city has discovered over the past two years." [Lawrence Journal World]
TAXES | If Texas Gov. Greg Abbott's recently released plan to cap spending in cities, counties and special districts had been in effect, the municipal budget in Dallas would have been $32 million smaller. That's a budget hole "the size of the library system, which serves 29 locations, or the size of the entire maintenance budget for parks, which serves 388 parks, playgrounds and fields." [Dallas Morning News] … Iowa Fish and Wildlife Fund officials are hoping to turn around a decline in the number of residents choosing the so-called "Chickadee Checkoff" on their state taxes, which was launched in the 1980s to help fund efforts to protect non-game animals in the state, "everything from bumblebees to bats to bald eagles to bluebirds." [Radio Iowa]
PUBLIC HEALTH | There are now 43 confirmed measles cases tied to the outbreak in Clark County, Washington. [KATU] … The Illinois Department of Public Health has lowered the state's threshold for lead in blood to have it align with federal standards. That means that there will likely be more lead intervention actions taken by the state agency. [Journal Courier]
EMERGENCY MANAGEMENT | Heavy rainfall in Southern California triggered mudslides that closed portions of the Pacific Coast Highway in Malibu and U.S. Highway 101 in Santa Barbara County this weekend and swelled the normally benign Los Angeles River into a raging riparian torrent. [Los Angeles Times; @ABC7Veronica] … The Federal Emergency Management Agency has declared that 21 North Carolina counties eligible for recovery aid from Tropical Storm Michael. [The News & Observer] … https://www.statesman.com/news/20181119/how-to-avoid-dangerous-fires-when-frying-your-thanksgiving-turkeyHOMELESSNESS | Housing advocates in Janesville, Wisconsin are looking at how a nonprofit organization set up a cluster of 15 tiny homes to be used as transitional housing for homeless veterans. Janesville resident Rich Snyder wants to use donated time and material to build something similar on a city-owned residential lot that would ideally be connected to city services. [The Gazette] … In San Francisco, a smartphone can be a communications lifeline for the homeless, but data plans are "a luxury." Roughly half of the city's homeless shelters have access to wireless internet. [San Francisco Chronicle]
TRANSPORTATION & MOBILITY | The Regional Transit District in Denver, in collaboration with Transdev, Panasonic and EasyMile, has launched 61AV, an autonomous shuttle that will navigate a four-stop route that connects with the 61st & Pena commuter rail station near Denver International Airport. [61AV / RTD; Future Car] … City leaders in Walnut Creek, California will vote on Tuesday whether to extend a public bikeshare pilot program. [Bay City News / SFGate] … State lawmakers in New York are considering legislation that would provide free transit for all students in the state heading to and from school. [New York Post]