Two People Dead in Historic Midwest Flooding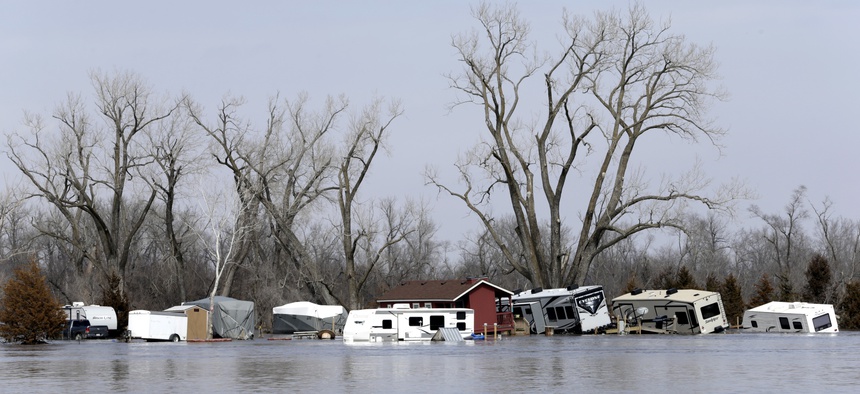 STATE AND LOCAL ROUNDUP | Louisiana duplicate tax refunds ... New approach to combat teen vaping ... Vermont starts paying remote workers.
Greetings. Route Fifty's state-and-local government news roundup leads with stories from the Midwest, where flooding is forcing people from their homes. Keep reading for news from Arizona, Louisiana and Vermont. 
Midwestern rivers rose over the weekend, inundating or threatening to flood communities in Nebraska, South Dakota, Minnesota, Wisconsin and Iowa. At least two people died in flood-related incidents, while two other men were reported missing. The National Weather Service warned on Sunday that "major and historical river flooding will continue along parts of the Missouri and Mississippi River basins." Hundreds of people have been evacuated from their homes and were seeking refuge with friends, family and in shelters. Part of the Offutt Air Force Base in Nebraska was swamped by water and the military stopped trying to keep it out. On Saturday, Nebraska Gov. Pete Ricketts said that the eastern third of the state had been affected by floods—the worst flooding the state has seen in five decades, the Omaha-World Herald reported. The newspaper said the cause was the wet, intense fall and winter, combined with last week's bomb cyclone. "The ground was completely frozen. It's almost like all of this rain was falling, melting snow and every last drop had to run off," Brian Barjenbruch the Weather Service in Omaha told the Washington Post. Communities downriver in Missouri and Kansas began preparing for flooding, with some low-lying areas taking on water over the weekend. The Missouri River in St. Joseph is expected to crest above major flood levels later in the week, the Weather Service said. Members of the community helped prep sandbags at the levee. [Associated Press; Omaha World Herald; Washington Post; WDAF-TV; Kansas City Star]
TAXES | Louisiana is trying to recoup $26 million in duplicate tax refunds to more than 66,000 taxpayers. The plan is to get them directly from banks, so people don't have to do anything to pay the state back, state officials said. But if the money isn't in the account, taxpayers will still have to pay up. [NOLA.com; The Advocate]
VAPING | An Arizona middle school has become the first in the state to install vape detectors in seventh and eighth grade restrooms. "At the start of this year from the very beginning, we were just continually getting reports of kids vaping in the restrooms, and constantly talking to kids. They were just so nonchalant about how everybody vapes," said Principal Renee Kory. [Cronkite News, Arizona Republic]
ABORTION | Two states moved forward with new limits on abortion, with Arkansas Gov. Asa Hutchinson signing a law to prohibit women from getting abortions at 18 weeks into a pregnancy. A similar bill is before the Utah governor, while existing limits are in place in Mississippi and North Carolina. Abortion-rights advocates vowed a lawsuit in Arkansas, while anti-abortion activists heralded the move. [Arkansas Democrat-Gazette; ABC4 Utah]
REMOTE WORKERS | Eighteen people who've moved to Vermont as remote workers have received payments from the state, receiving an average of $3,800. The state began taking applications at the beginning of the year from people who would move to the state to work for out-of-state companies remotely. [VT Digger]