What Caused States to Execute Dramatically Fewer Prisoners in 2016?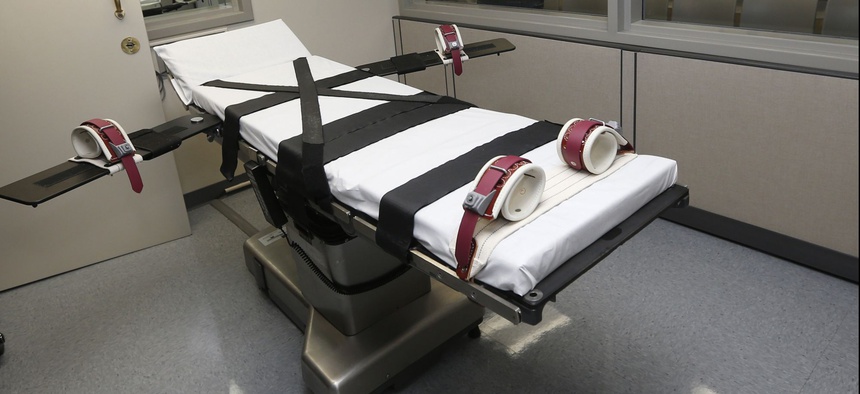 The decrease could be a momentary dip or a part of a larger trend.
Amnesty International's annual report on the death penalty, released Tuesday, shows a significant drop in death sentences and state-sanctioned executions in the United States last year.  
Five states executed 20 people in 2016—the fewest since 1991. With 28 people executed in 2015, this was a precipitous 29 percent drop in executions from the previous year. While the United States still holds the title of the nation with the seventh-highest number of executions in the world, 2016 was the first time America was outside the top 5 in a decade.
It appears the decrease can be largely attributed to pitched political and legal battles, courtesy of big pharma. Key pharmaceutical companies cut off states' supplies of necessary drugs to execute prisoners over the past decade, leaving more and more departments of corrections scrambling to find the chemical compounds needed for their lethal injection procedures.
Danish company Lundbeck banned the use of their pentobarbital for lethal injection in 2011 and Hospira, the American producer of the previous standard execution drug thiopental, blocked its use in executions prior to that.
This led states to begin experimenting with a widely available drug known as midazolam, which led to a wave of "botched" executions in several states. Numerous death row inmates have endured slow deaths by lethal injection at the hands of state corrections officials—in some cases appearing to be conscious and potentially in pain—creating public outcry and significant questions about the future of lethal injection procedures.
After multiple botched executions with midazolam in Oklahoma, the state's supreme court halted executions with the drug and Gov. Mary Fallin commissioned a bipartisan "blue-ribbon commission" to review the state's practices. Oklahoma reversed its state supreme court setback through a constitutional amendment put on the ballot in 2016; it passed 66 to 33 percent. The state is still awaiting its blue-ribbon commission report, due in early 2017, before making a decision as to if and how to resume executions.  As of November, Oklahoma had 13 death row inmates eligible for execution.
Oklahoma was not alone. Ohio, which was also using midazolam, has had a stay since a botched execution using midazolam in 2014. Last month, Gov. John Kasich announced a "revised schedule" for the state's eight pending executions due to ongoing litigation surrounding the use of midazolam.
Arizona also has temporarily halted executions as they review a botched execution from 2014. In a both novel and absurd twist, Arizona released a new protocol in January that invites attorneys of those awaiting execution to provide their own lethal concoction of drugs for their clients.
In addition to the reviews in Arizona, Ohio and Oklahoma, legal challenges have halted executions in Arkansas, California, Kentucky, Louisiana, Montana and North Carolina due to concerns over lethal injection procedures and drug shortages.
In 2015, the United States Supreme Court decided in a 5-4 split decision that using the drug midazolam for executions is constitutional and is not "cruel and unusual punishment." Florida and Alabama used the drug for their executions in 2016, despite both having botched executions with midazolam in the past.
Meanwhile, states have attempted to find ways around drug limitations and the related public relations nightmare in multiple ways. In an article published in the American Bar Association's Human Rights magazine, lawyers with the University of California Berkeley School of Law Death Penalty Clinic Lethal Injection Project, Megan McCracken and Jennifer Moreno, explain:
Arizona, Arkansas, Geor­gia, Louisiana, Missouri, Ohio, Oklahoma, Tennessee, Texas, Virginia, and other states now conceal not only how states obtain execution drugs, but also whether their purchases comply with the law, and whether the drugs themselves are legitimate and effec­tive.
Arkansas, for instance, which had to halt executions due to a drug shortage, just acquired a new supply of a needed drug last month, and is now planning to carry out eight executions this month. According to The Associated Press, the state would not comment on the source of the new drugs, "citing an Arkansas law that keeps the source of its lethal injection drugs secret."
As for 2016, more than two-thirds of the executions in the United States took place in Georgia and Texas, both of whom still have supplies of pentobarbital. The two states executed nine and seven individuals, respectively.
The fight over the availability of drugs may well become a footnote in the question over the future of the death penalty. Public support for the death penalty has been steadily decreasing since 1999 and now is at its lowest point in four decades according to Pew Research Center, with 49 percent of Americans supporting it and 42 percent opposing it.
Governors in Colorado, Oregon, Pennsylvania and Washington have placed moratoriums on death penalty executions, bringing down the number of states that are actively pursuing executions.
Juries and judges are also less eager to sentence individuals to the ultimate punishment. Sentencing prisoners to death has trended downward since 1999, the year that marked the height of public support for the death penalty. In 2016, 32 individuals were sentenced to death across 13 states—down almost 40 percent from 52 in 2015.
If the downward trend in public opinion around the death penalty continues, it is likely the temporary political measures to stall executions will become permanent policy.
There are 2,832 people currently awaiting the death penalty in the United States.