Florida Sheriff's Tough Message Reminds Some of ISIS Recruitment Video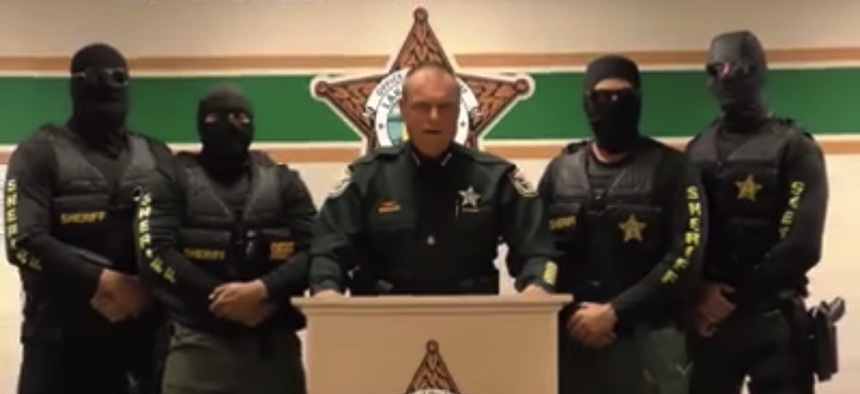 Flanked by masked deputies, the sheriff declared: "Enjoy trying to sleep tonight wondering if tonight's the night our S.W.A.T. team blows your front door off the hinges."
The sheriff of Lake County, Florida, is making no apologies for an official department video that some said reminded them of an ISIS recruitment tool.
In a recently posted video, Lake County Sheriff Peyton Grinnell, flanked by four deputies wearing body armor, balaclavas and black sunglasses indoors no less, delivered a warning to drug dealers in his central Florida jurisdiction.
Reminding viewers overdoses are a "serious issue" because their attire certainly didn't, the sheriff said undercover agents had purchased heroin from many dealers already and were simply waiting for arrest warrants to be finalized.
"To the dealers, I say, enjoy looking over your shoulder constantly wondering if today's the day we come for you," Grinnell said. "Enjoy trying to sleep tonight wondering if tonight's the night our S.W.A.T. team blows your front door off the hinges."
The sheriff appealed to residents to alert law enforcement to locations where dealers operate, even anonymously, while reminding said dealers they would be charged with murder if their drugs could be connected to an overdose death.
As the Orlando Sentinel reported, Grinnell isn't worried about his tough message :
"I've seen some of the comments where some wanted to say this looks like an ISIS video, and I will tell you that those drug agents working up there with me, they're the ones working in the dark world … that's what they do on a daily basis," he said. Grinnell has instituted several changes since taking office including a more aggressive stance toward drunken driving and the formation of a Community Engagement Unit, which produced the video. He said there will be "weekly, if not daily" public service announcements to let residents know about crime trends in the county.
Stay tuned for more ...