There May Be a Good Reason Pittsburgh Kept Its Body Camera Policies Under Wraps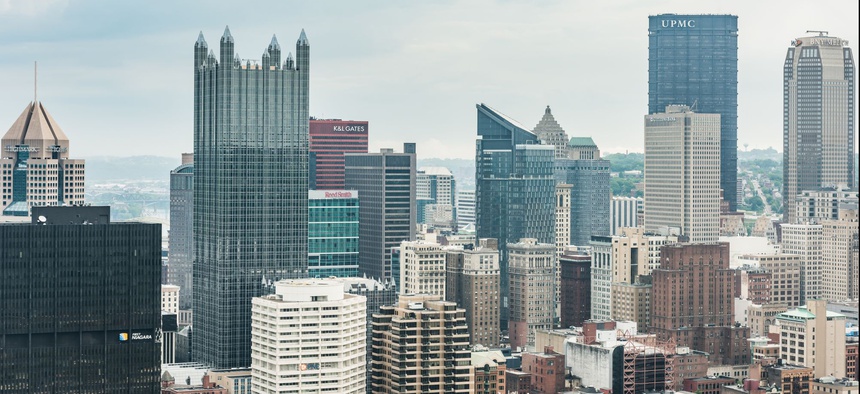 In the eight categories from a Leadership Conference on Civil and Human Rights scorecard, local law enforcement in Steel City get one passing mark.
For any given police department, implementing a body-worn camera program is much more complicated than just clipping a lens onto a uniform. One key step in the development of any effective program is the creation of a set of clear and comprehensive policy guidelines.
Recognizing that not all police body-worn camera regulations were created equal, the Washington, D.C.-based Leadership Conference on Civil and Human Rights set out last year to evaluate the strengths and weaknesses of the approaches taken by departments in major cities across the country. The Leadership Conference worked alongside Upturn, a technology-driven law and policy consulting firm, to develop the Body Worn Camera Policy Scorecard in the hope of identifying the innovative approaches taken by some agencies, while pointing out areas where other departments might improve.  
The two organizations examined body-worn camera guidelines in 50 major U.S. cities, and in the course of that investigation, they discovered something remarkable about the official policies in place in Pittsburgh—for the most part those policies were hidden from public view.
"Pittsburgh was one of two major police departments where we knew they had been using cameras, but they refused to make their policy publicly available," Harlan Yu, a principal at Upturn and one of the lead co-authors of the BWC Policy Scorecard, said in an interview with Route Fifty.
In contrast to Pittsburgh's approach, nearly all other major cities had opened up their guidelines to the public in some way.
San Francisco, in particular stands out as an innovative department in this regard, Yu said. Leading up to the release of its policies, San Francisco's whole process was public—the department devoted a portion of their website to displaying multiple draft copies of the guidelines listed alongside transcripts of community meetings—clear evidence that the public had been given a chance to offer its views on what the policies ought to contain.  
Meanwhile in Pittsburgh, within the last six months, more and more officers began using the body-worn technology. Plans were made in October 2016 to purchase enough cameras to be worn by virtually every single uniformed officer and many of the plainclothes city police—even as the policy shaping the cameras' use remained free from public scrutiny.
That changed earlier this month.
In response to a "Right-To-Know-Law" request filed by Matt Stroud, a criminal justice researcher and writer for the American Civil Liberties Union of Pennsylvania, the Pittsburgh Bureau of Police released its body-worn camera policies to the public for the very first time on April 3. And, there appears to have been at least one good reason for the department to keep their policy a secret: From a civil rights perspective, the policies Pittsburgh put in place leave a lot to be desired.
"We've looked at a lot of these," Yu told the ACLU of Pennsylvania in a blog post. "To put it simply, Pittsburgh's policies are not very good."
The BWC Policy Scorecard bases its evaluations on eight criteria. Those criteria ask the questions: Does the police department's policy have clauses in place that:
make the guidelines publicly and readily available?
limit officer discretion regarding when to record?
address personal privacy concerns?
prohibit officers from reviewing the footage before filing a pre-report?
limit on footage retention?
protect footage from tampering and misuse?
make footage available to people who file complaints?
limit the use facial recognition and other biometric technologies?
And, in those eight categories, Pittsburgh's policy, in an initial review, seems to score only a single passing mark.
"There are major gaps in some of the most important policy areas," Yu said, and there are at least three categories that present immediate concern.
The first has to do with access to footage.
"The promise of body-worn cameras is to increase transparency into community police interactions," said Yu. But Pittsburgh falls short on that basic principle.
According to Yu, "none of the points [in the section of policy regarding purpose of the program] are about transparency or accountability or trust." Rather, the policy is geared toward helping members of the police department gather evidence and facilitate investigations.
"That's a far cry from what a lot of residents of Pittsburgh would probably imagine is the point of body-worn cameras," said Yu.
Many police departments across the country have provisions in place that describe how members of the public could get access to recorded footage. Departments in Washington, D.C., Las Vegas, for example have set up streamlined processes that allow individuals who have been recorded as part of an interaction with the police to make a request to view the footage.
"Nothing in [Pittsburgh's] policy even alludes to how the public or even recorded individuals could get access," said Yu. Missing too are references to the state of Pennsylvania's public records law, which would contain relevant information for those looking for a way to view their footage.
The second gap in Pittsburgh's policy pertains to when police officers are allowed to watch the footage they've recorded.
Best practices, as outlined by Upturn and The Leadership Conference, would require Pittsburgh to establish a two-step process—wherein officers give their own untainted report on the encounter first, and then afterwards would get the chance to watch the footage and supplement the report with information that was missed initially. Pittsburgh has no explicit guidance on this point.
"By giving officers an advantage that other eye-witnesses don't have in being able to watch the footage," Yu said, "that makes the [police] reports artificially more accurate and would thus been seen unfairly as more credible than other witness statements." That's something Yu said could skew the playing field regarding testimony in courts.
And, finally, Pittsburgh's policies fail to properly address facial recognition, a factor that Yu calls "one of the biggest fears that communities have about the adoption of cameras"—that one day camera systems could turn into systems of surveillance.
Rick Smith, the CEO of Axon, the company formerly known as Taser International that is the body-worn camera vendor working with the Pittsburgh Bureau of Police, has already stated his intentions to incorporate facial recognition and other biometric tools into his company's technology. And the company has acquired two artificial intelligence companies to add footage mining capabilities to the technology's repertoire. In the future, the combination of these innovations could possibly give police the ability to search footage by faces.
In response, the most innovative police departments—Boston and Cincinnati for example—have proactively put strict limits on facial recognition and other similar enhancements to make priorities for BWC programs clear to communities.
What this all boils down to is the fact that, ultimately, department policies shape and define the raison d'etre for a camera program in the eyes of the police and the wider community. Without an explicit policy on when officers can view footage, with no clear and consistent way for recorded individuals to view the tape and without a solid policy on facial recognition, Pittsburgh's body-worn camera program comes across as an investigative tool for the police, rather than as a tool to promote accountability.   
When asked if there's any portion of Pittsburgh's policy that's particularly innovative, Yu couldn't find much to say.  
"I don't think there's anything in here that I would say is a best practice."
Officials from the Pittsburgh Bureau of Police could not be reached for comment, but Route Fifty will update this story when and if they do.