Trump Administration Reviewing Federal Police Reform Agreements With Cities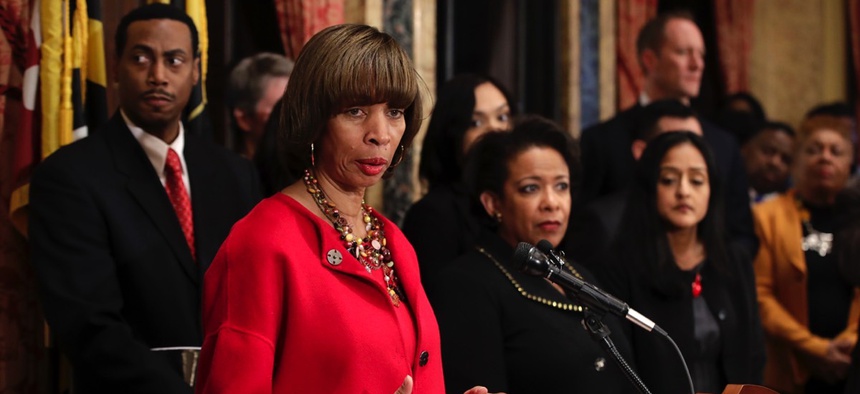 The U.S. attorney general appears to be testing the waters on a rollback of Obama-era consent decrees and law enforcement civil rights accountability and training.
WASHINGTON — When it comes to police reform, U.S. Attorney General Jeff Sessions trusts neither the consent decrees of the Obama administration nor the judgement of affected cities.
The Department of Justice negotiated 14 such formal reform agreements with cities like Ferguson, Missouri, and Seattle under the previous administration.
Monday night, the department announced it had requested a U.S. District Court judge approve a 90-day pause in the federal consent decree that Baltimore's police department signed in January, before President Trump took office.
"We strongly oppose any delay in moving forward. I, along with Police Commissioner Kevin Davis and the citizens of Baltimore, recognize that reforming our police department is long overdue," Baltimore Mayor Catherine Pugh said in a rapid-fire response. "Much has been done to begin the process of building faith between the police department and the community it seeks to serve. Any interruption in moving forward may have the effect of eroding the trust that we are working hard to establish."
A federal judge has not yet approved the Baltimore consent decree, making it perhaps the easiest for Sessions to extricate the Trump administration from.
Along with the U.S. District Court request, Sessions released a memorandum directing the department to reevaluate all "existing or contemplated consent decrees," investigations and prosecutions, trainings, grants, compliance reviews, and task force participation without delaying or impeding "any pending criminal or national security investigation or program."
This calls into question a response to the Obama-era report, released on his last day in office, finding systemic civil rights abuses—namely the frequent police shootings of minorities—within Chicago law enforcement. A monitoring agreement had been floated, but Sessions has doubted the report's findings.
Chicago Mayor Rahm Emanuel and Police Superintendent Eddie Johnson both said public safety reform would continue in the city, regardless of the federal government's "intentions":
In his memo, Sessions hints at reducing the federal government's role in certain aspects of policing. "Local control and local accountability are necessary for effective local policing," the attorney general wrote. "It is not the responsibility of the federal government to manage non-federal law enforcement agencies."
Sessions' memo further places officer safety, morale and respect ahead of "the misdeeds of individual bad actors" in law enforcement.
While the Obama administration stressed the importance of training to reduce incidents of biased policing and excessive use of force in law enforcement agencies, that emphasis is notably absent from Sessions' request that police education focus on rewarding careers and "attracting and retaining well-qualified personnel."
Sessions memo included a reference to "sanctuary cities," albeit a tangential one—the attorney general once again threatened the funding of jurisdictions that fail to "adhere to the Department's grant conditions as well as to all federal laws."