Charlottesville Mayor Says of Trump: 'When You Dance With the Devil ... the Devil Changes You'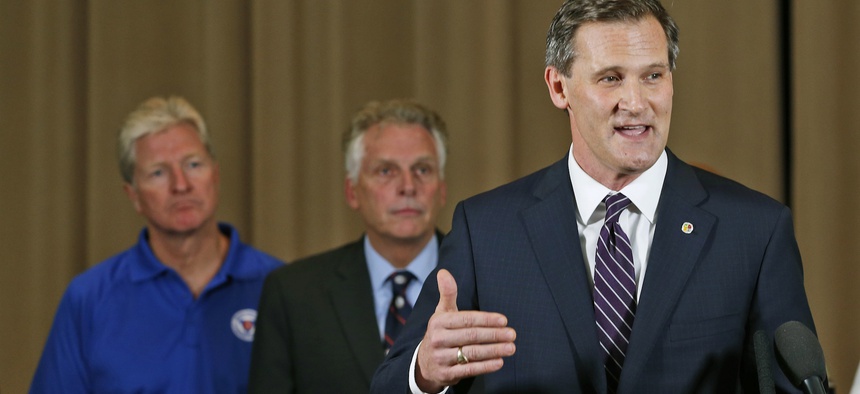 STATE AND LOCAL WEEKEND ROUNDUP | 'Budget deferrals and other government legerdemain' in Texas; Lexington, Ky. mayor wants to relocate Confederate statues; and Minnesota's renovated State Capitol officially reopens.
Our weekend roundup of state and local government news is compiled by Route Fifty's staff and edited by Michael Grass. Help us crowdsource link gathering : Flag state and local government news using the Twitter hashtags #localgovwire and #stategovwire .
VIOLENCE IN CHARLOTTESVILLE | In the wake of this weekend's deadly violence at a "Unite the Right" white nationalist rally in Charlottesville, Virginia — see Route Fifty 's earlier story — Mayor Michael Signer didn't mince words on Sunday regarding President Trump and the tone of the 2016 campaign, blaming him for the unrest that took place in his city. "When you dance with the devil, the devil doesn't change, the devil changes you," he told Chuck Todd on NBC's "Meet the Press," quoting an old saying. "And I think they made a choice in that campaign, a very regrettable one, to really go to people's prejudices, to go to the gutter." Signer, a Democrat, continued: "It's now on the president and on all of us to say, 'Enough is enough." [ NBC News ; The Washington Post ]
Meanwhile, in Lexington, Kentucky …
Mayor Jim Gray announced that he's seeking a vote by the Lexington-Fayette County Urban County Council that would take steps toward the eventual relocation of two Confederate memorials from the Fayette County Courthouse grounds. Gray noted the site was once home to one of the largest slave markets in the South. "It's just not right that we would continue to honor these Confederate men who fought to preserve slavery on the same ground as men, women and even children were once sold into a life of slavery," Gray said in a video statement. [ @JimGrayLexKY ; LexTV / YouTube ]
In Washington state, King County Executive Dow Constantine had a message for white supremacists who had gathered in the heart of Seattle 's central business district on Sunday:
[via @kcexec ]
#STATEGOVWIRE ...
Lansing, Michigan: The state's Unemployment Insurance Agency has been in the process of reviewing unemployment fraud cases from October 2013 to August 2015 that were incorrectly flagged by a computer program , which assessed people 400 percent fines. Of the reviewed cases, which involved nearly 50,000 taxpayers, an average of 70 percent were overturned. [ MLive.com ]
St. Paul, Minnesota: Officials in the North Star State officially reopened the Minnesota State Capitol on Friday, kicking off a weekend celebration after " a four-year, top-to-bottom renovation ." On hand for the festivities was the Minnesota State Band , the only state band in the nation.
[ Minnesota Public Radio ; @bbierschbach ]
Columbia, South Carolina: State officials have been wanting to offload a problematic New Deal-era public utility , but such a move isn't a walk through the park. "Selling government-owned utilities has been a goal in states across the country but rarely have those efforts ended in success." [ The Post & Courier ]
Austin, Texas: In a new report from the Texas Taxpayers and Research Association , the cost of state " budget deferrals and other government legerdemain " is around $7.9 billion, something that will await lawmakers when they return for the next legislative biennium in January 2019. [ TTARA ; Texas Tribune ]
Appledore Island, Maine: In the waters off Maine, native kelp populations are being pushed out by an invasive pinkish-tinged seaweed originally from Japan, "a signal of a changing seaweed population in the southern Gulf of Maine that could have long-term impacts on fish and shellfish." [ York Weekly via Bangor Daily News ]
#LOCALGOVWIRE ...
Montgomery County, Ohio: The opioid abuse epidemic "is sucking us dry," according to Phil Plummer , the sheriff of Montgomery County. "The police are overwhelmed, the courts are backlogged, the jails are overflowing, the coroner has run out of room—and it is getting worse." [ Daily Mail h/t @SWSchweikhart ]
Erie, Pennsylvania: An announcement that General Electric will relocate a locomotive-production facility from Erie to Texas , shows that local workforces in the U.S. aren't just facing global competition—they're facing domestic competition, too. "Denouncing foreign competition can overlook the way communities cannibalize each other close to home." [ Pittsburgh Post-Gazette ]
Cobb County, Georgia: There's some buyer's remorse—or perhaps subsidiser's remorse—in this suburban jurisdiction that lured the Atlanta Braves out of Turner Field downtown to a new stadium in a congested spot near a massive highway interchange. " [T]here's very little good that could be said about the stadium for the Cobb County taxpayers ," one anonymous county official said. [ Deadspin , h/t @kwyatt23 ]
Deerfield Beach, Florida: With buildable land in short supply in Broward County , developers are looking fill in the remaining portion of Sailboat Lake over the next four or five years. Over the past 50 years, the spring-fed lake has shrunk from 700 acres to 150 acres . [ Sun Sentinel ]
Long Beach, California: We all could use some more kittens in our lives. Here's Mayor Robert Garcia at a kitten-adoption event on Friday in the lobby of " Kitty Hall " ...
[ h/t @KerryGerotPIO ]
Arlington County, Virginia: Watch these police officers perform a synchronized swimming routine .
[ @ABC h/t @BenMcCready1 ]