Coast to Coast, State and Local Teams Swarm to Texas Storm Zone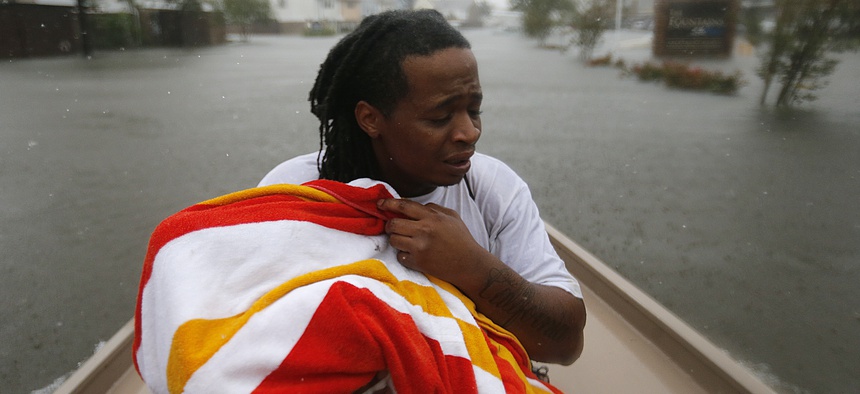 State-based FEMA task forces and local volunteers bring experience, expertise, equipment to help victims of historic Harvey catastrophe.
State and local government agencies and regional nonprofit groups from around the nation have sent key personnel to Texas to provide emergency rescue and relief support as Tropical Storm Harvey continues to dump unprecedented amounts of rain on the Houston area, breaking rainfall records in the continental United States, pushing flood waters across vast stretches of land, and forcing hundreds of thousands of residents to flee listing and sunken homes.
Mostly, help is coming in the form of first-responder search-and-rescue teams that include firefighters and paramedics, many of whom are acting as part of the 28 state task forces deployed by the Federal Emergency Management Agency in response to Harvey's storm zone.
A sampling of some of the efforts:
Teams of medical and search and rescue volunteers from Washington state left for the disaster zone on Sunday, KING-TV reported , including 17 volunteers from the Pierce County Emergency Management Water Rescue Task Force. The volunteers drove 36 hours straight to Beaumont, Texas. They took four flat-bottomed metal boats with them to navigate swift-moving floodwaters.
Members of Empact Northwest , a Poulsbo, Washington-based nonprofit formed after the 2010 earthquake in Haiti, left for the Texas-Louisiana border, where logistics coordinator Sil Wong-Underwood told KING-TV the aim was to aid the kind of smaller outlying communities that are often overlooked during major regional crises.
Two "helo-aquatic" rescue teams from North Carolina landed in San Antonio on Monday, Wilmington-based WWAY-TV reported . The teams include two UH-60 Blackhawk helicopters, eight Tar Heel National Guard airmen, rescue technicians from area fire departments, and two state Emergency Management coordinators.
"Some of the same crews heading to Texas helped rescue people trapped in floodwaters last fall following Hurricane Matthew," WWAY reports. "Search and rescue crews pulled more than 2,300 people from flooded homes and cars when the storm hit North Carolina last October, including more than 100 rescued by helicopter."
Officials in Arizona dispatched a state task force to Rosenberg, Texas, southwest of Houston, where rainfall opened a massive sinkhole. The team of 80 mostly fire department personnel has partnered with volunteers from California and, according to officials who spoke with The Arizona Republic , the volunteers plan to lodge in tents set up at a local fairground.
Crews from Massachusetts are also already on the ground in Texas, WXTK News Radio reported . Twenty-seven Air Station Cape Cod Coast Guard members are assisting with rescues. On Sunday, a team from Beverly brought in supplies and the Bay State's own Task Force 1 search and rescue team landed in the Houston area with four boats.
Missouri's task force departed for San Antonio on Thursday. The team of 47 first responders included  medical and technical support professionals. The St. Louis Dispatch reported Friday that the Missourians were carting 100,000 pounds of equipment with them, including a number of boats.
As New York City Mayor Bill de Blasio tweeted early Saturday that the nation's largest city had dispatched 120 emergency personnel to Texas.
"We are set up for all types of rescues, including swiftwater rescues. We have a compilation of tools that include boats, motors, dry suits, rescue equipment for collapsed structures, rope equipment for confined spaces, and a large compilation of Haz-Mat equipment and tools. We're also supplied with a large, self-sufficient cache of food and supplies that make us sustainable for up to 72 hours in a row. I believe we're ready to face any danger," Fire Department of New York Battalion Chief Jack Flatley said in a news release.
Pennsylvania's task force drove 22 hours on Sunday to the Naval Air Station Joint Base Fort Worth, as a "convoy of tractor trailers, vans, pickup trucks hauling gators and rescue boats," reported CBS Philly .
"Anything you can think of, they're gonna have on these trucks. Water, food, anything at all," said Deputy Fire Commissioner Gary Loesh. "We even have two K-9s going, doctors going, rescue specialists."
"Mainly they'll be doing search and rescue," he said. "That is their primary cause when they get down there. Any collapsed buildings. We're sending a lot of water assets so they'll be out pulling people off the roofs of houses. They're very apt on getting into heavy concreted buildings that have collapsed or are underwater, and they will go in there and search."
In Maryland, Baltimore sent four fire fighters to Texas, and the Greater Chesapeake Region of the Red Cross sent more than 100 volunteer nurses and mental health providers. Red Cross spokesperson Lenore Koors said more volunteers from the region are on the way.
"We're helping with every need that we can," Koors told The Baltimore Sun . "There's going to be more—if not hundreds more—from the Chesapeake region deploying to Texas."
Colorado sent 45 firefighters gathered from cities across the state.
The teams from around the country now working on the ground in Texas are doing good on a city that has done its share of the same in the past.
As Houston resident Jia Tolentino reminded New Yorker readers this week, her city in the 1970s took in more than 200,000 Vietnamese refugees ; even now, Houston resettles 25 out of every 1,000 United Nations refugees—more UN refugees than most countries in the world resettle; and closer to home, in the wake of Hurricane Katrina, a catastrophe everywhere referenced this week, Houston took in a quarter of a million evacuees .
Now, though, the nation's sprawling fourth-largest city is underwater, and things are going to get worse there before they get better.