National Weather Service: Texas Flooding Is 'Beyond Anything Experienced'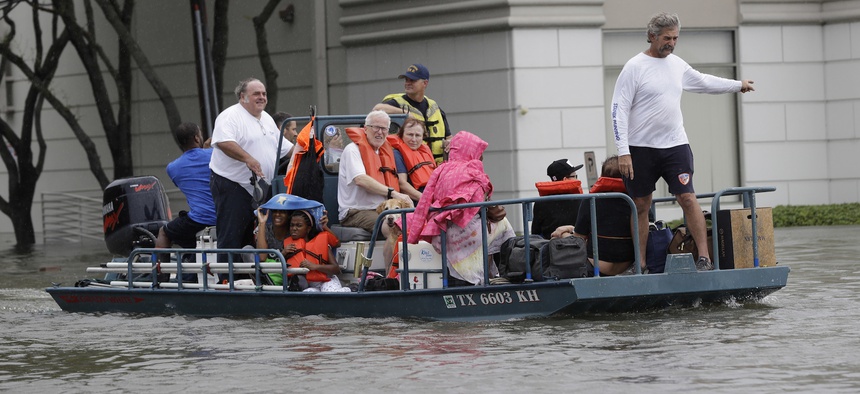 Emergency managers and officials are keeping a watchful eye on flood crests along rivers and high water levels in bayous and creeks.
Emergency managers, local officials and first responders across the flood disaster zone in Texas are carefully watching gauges along rivers, creeks and bayous, awaiting higher water levels as excessive inland rainfall tries to drain as Tropical Storm Harvey continues to dump excessive, unprecedented amounts of rain on the state this week.
In Houston and Harris County, water levels in Buffalo Bayou are expected to rise as the U.S. Army Corps of Engineers continues a controlled release of water from the Barker and Addicks reservoirs.
The National Weather Service continues to warn of life-threatening flooding in southeastern Texas, and that "all impacts are unknown" with Harvey and "beyond anything experienced."
Outside of the immediate Houston area, there are major concerns about worsening flooding on other Texas rivers fed by swollen tributaries.
In Fort Bend County, southwest of Houston, the Brazos River is forecasted to crest in Richmond at 59 feet on Monday afternoon, more than 4 feet higher than a high-water record set last year. Many areas are under mandatory or voluntary evacuations.
The Colorado River in La Grange, a city with approximately 4,700 residents roughly midway between Austin and Houston, was expected to crest Monday afternoon at 54.4 feet, just short of the record of 56. 7 feet, according to KXAN-TV. On Sunday, officials in Fayette County called for mandatory evacuations in part of La Grange, including two nursing homes.
The Guadalupe River runs through Victoria, a city with nearly 70,000 residents about 100 miles north of Corpus Christi, and is expected to crest there on Wednesday short of the record set during floods in October 1998, an event that not only devastated parts of Victoria, but also the city of Cuero upriver.
Until then, many people are carefully watching the rising water and hoping it spares their homes and businesses. That includes Victoria resident Georgia Robinson, a local shuttle bus driver who lives near the river. "I'm just hoping beyond hope that it doesn't get inside the house. Come to my steps, but don't come inside," Robinson, who isn't insured, told the Victoria Advocate.