Texas Awaits 'Devastating and Life Threatening' Flooding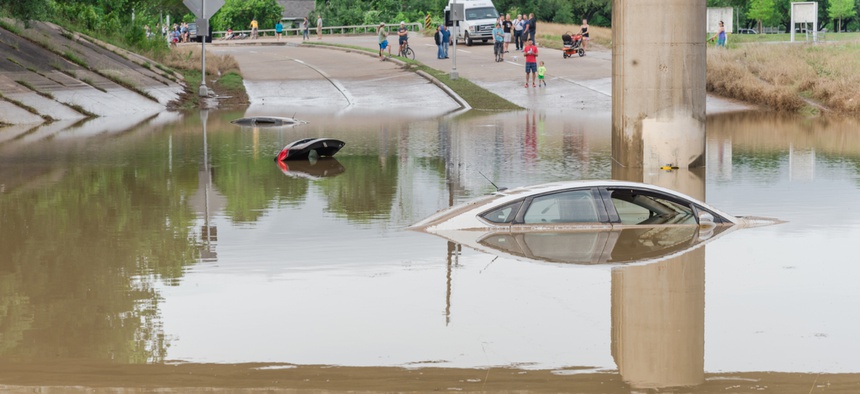 With Hurricane Harvey forecasted to stall inland, some isolated areas could see as much as 30 inches of rain in the coming days.
There's plenty to worry about with Hurricane Harvey as it quickly gains strength in the Gulf of Mexico and makes landfall on the Texas coast somewhere near Corpus Christi as a Category 3 storm late Friday or early Saturday.
First there are the winds. There's also the storm surge that will pile up along the coast and in bays and inlets.
And then there's what should be the biggest worry for federal, state and local officials, emergency managers and first responders tasked with disaster response and recovery: "Devastating and life threatening" flooding from 12-20 inches of rain, "with isolated amounts as high as 30 inches, from Friday through early next week," according to the National Weather Service.
Even though Houston will be well north of Harvey's center when the storm makes landfall, the nation's fourth-largest city will face significant amounts of rainfall. Houston has a long history of flooding and even longer list of risks and hazards as a major port and petrochemical hub.
Gas prices are expected to rise nationwide due to shuttered rigs and reduced refining capacity along the Gulf Coast.
Like Tropical Storm Allison in 2001, Hurricane Harvey is expected to stall inland for a few days before moving out of Texas, dumping heavy rain on the region. It will be a different type of storm compared to Hurricane Ike in 2008.
According to the Houston Chronicle:
The biggest fear is that Harvey will slow down considerably, unlike Hurricane Ike, which scored a direct hit on Houston but breezed on through. Ike's considerable damage—the overall estimate was about $30 billion in direct losses—was caused by storm surge and wind, neither of which are anticipated to be Harvey's main weapons. The fear is rain, buckets and buckets with only periodic relent between bands.
Some of Harvey's rain bands will be capable of 2 to 4 inches of rain per hour on Saturday and Sunday.
Local officials in Houston and Harris County, among other jurisdictions set to be tested by what is expected to be the first Category 3 hurricane to make U.S. landfall in 12 years, have urged residents to prepare, especially those in vulnerable, flood-prone areas.
Much of the Texas coastline is under a Hurricane Warning, with mandatory and voluntary evacuations in place for vulnerable areas.
Officials with the Texas Department of Transportation and state and local emergency managers are expecting a major outflow of people away from the coast on Friday ahead of the storm's arrival.
But with the hurricane's first rain bands pushing onshore in the morning and tropical storm force winds moving inland by 2 p.m. Central time, time is running out for people to flee for safety inland, to places like San Antonio, Austin, Dallas and Fort Worth. 
As Hurricane Harvey affects Texas and the Gulf Coast, Route Fifty will be monitoring news developments on Friday and over the weekend.
PREVIOUSLY on Route Fifty: