Tropical System Headed to Gulf Coast Prompts Hurricane Watch and Flooding Concerns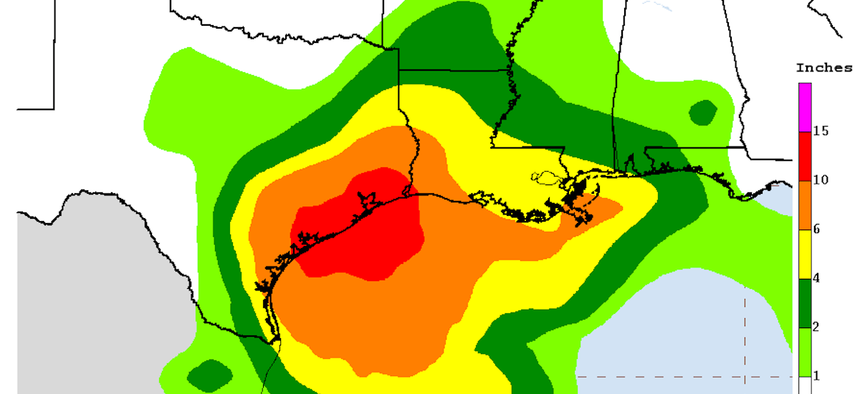 STATE AND LOCAL NEWS ROUNDUP | Oregon wildfires grow; 1.5 million gallons of raw sewage flood repair trench in a Detroit suburb; and Baltimore mayor's good government book club pick.
Our daily roundup of state and local government news is compiled by Route Fifty's staff and edited by Michael Grass. Help us crowdsource link gathering: Flag state and local government news using the Twitter hashtags #localgovwire and #stategovwire.
Leading our roundup: tropical weather, flooding and wildfires and the Zika virus …
EMERGENCY MANAGEMENT | The remnants of Tropical Storm Harvey are reorganizing in the Gulf of Mexico and expected to reach the Texas coast on Friday as a strong tropical storm, but "it could almost just as easily intensify into a hurricane." On Wednesday, the National Hurricane Center issued a Hurricane Watch for much of the Texas coast line, including Corpus Christi. Galveston and Houston were placed under a Tropical Storm Watch. The storm is expected to stall over Texas, dumping 10-15 inches of rain on the Houston area through early next week. In Houston, neighborhoods prone to flooding are facing the prospect of more high water. "We don't know what's going to happen Friday, and the way they're talking about the storm sitting over us," a resident of the Westchester neighborhood said. "It's going to be similar to what happened to us with the Tax Day flood" in 2016. [The Washington Post; National Hurricane Center; Houston Chronicle; KTRK-TV / ABC13]
Louisiana Gov. John Bel Edwards and New Orleans Mayor Mitch Landrieu held a roundtable discussion with Federal Emergency Management Agency Administrator Brock Long in Baton Rouge on Tuesday about emergency preparedness and disaster recovery in the state, which saw widespread flooding in the Baton Rouge area last year. In recent weeks, pump systems that below-sea-level New Orleans needs to stay dry have been struggling to keep up, due to mechanical problems and other challenges. Emergency management officials in Louisiana are also watching Harvey. A crisis team for the Office of Homeland Security and Emergency Preparation has been established. Edwards said the Crescent City's pump situation is improving, so "[t]here's no reason for the people of New Orleans to be panicked at all." [The Advocate; WDSU-TV]
Multiple wildfires continue to rage in parts of Oregon. One of the significant blazes was the Chetco Bar fire, burning near Brookings on the southern coast of the state. Lightning ignited the fire, which had spread to around 100,000 acres and prompted an evacuation order for about 3,000 people. The fire has burned at least five homes. [KLCC Public Radio; The Oregonian / OregonLive.com]
In Utah, the state's share of costs to fight wildfires this year is expected to exceed average levels by about double, checking in around $18 million. One blaze, the Brian Head fire was particularly expensive, costing the state about $10 million. State Forester Brian Cottam blamed the higher than usual costs on "stupid human tricks," like burning weeds and setting off fireworks in dry areas. Humans caused 548 wildfires so far this year in the state, according to Cottam. Another 304 were sparked naturally. [The Salt Lake Tribune]
Tallahassee, Florida: The number of Zika virus cases recorded in Florida in the past week has jumped by 10 percent—that's 151 cases so far in 2017, though 112 of those were "travel related" and not transmitted locally, according to the state's Department of Health. [The News Service of Florida / WCTV; Florida Department of Health via @HealthyFlorida]
Casper, Wyoming: The Cowboy State experienced some of the heaviest traffic ever seen in the state Monday as eclipse enthusiasts took to the roads. "I'm going to go ahead and guess this is the most people that have been in Wyoming since ever," state Department of Transportation spokesman Doug McGee said. "Our highway system was taxed like it's never been before." It's estimated that traffic in the state surged by about 536,000 vehicles. The total number of registered cars and pickup trucks in Wyoming last year was around 636,000. [The Denver Post]
Jackson, Mississippi: A legislative watchdog has raised questions about the costs of state government travel, noting in a new report that Mississippi spent around $38 million in each of the 2015 and 2016 fiscal years and uses 12 travel agencies for booking. [Clarion Ledger]
Honolulu, Hawaii: Check out Hawaii's mapping and data portal where you can explore the progress of various transportation projects across the Hawaiian islands. [Hawaii Department of Transportation via @GovHawaii]
Placer County, California: The annual point-in-time homeless census in this jurisdiction that spans an area northeast of Sacramento to Lake Tahoe found an additional 146 unsheltered individuals, a 28 percent increase over two years. But the data from the last census, conducted in 2015, may have been artificially low due "an unanticipated staffing problem on the night of the count." [The Sacramento Bee]
Fraser, Michigan: About 1.5 million gallons of raw sewage filled into a massive trench dug to help repair a damaged sewer line that had caused a 100-foot-wide sinkhole to open along 15 Mile Road in this Detroit suburb in December 2016. The raw sewage was contained to the repair trench and didn't spread into the local watershed, but it did inundate specialized machinery needed to help build install new pipes. The incident was described as a "setback" by Macomb County Public Works Director Candace Miller, but the repair schedule has some buffer time for contingency. [Macomb County Public Works; The Detroit News; Detroit Free Press]
Seattle, Washington: How about this for a corporate footprint: Amazon now occupies a "mind-boggling" 19 percent of Seattle's prime office space. That makes the Emerald City the largest "company town" in the nation among big cities. The e-commerce giant, which has already reshaped the South Lake Union and Denny Triangle areas north of downtown, currently occupies 8.1 million square feet of office space, which will grow to 12 million square feet in five years. [The Seattle Times via @bruce_katz, @kwyatt23]
Rochester, New York: An allergic reaction sent Mayor Lovely Warren to a local hospital on Tuesday but she is expected to make a full recovery, according to her communications director. [The Democrat & Chronicle]
Los Angeles, California: Excessive temperatures are returning to the nation's second-largest city, prompting agencies to communicate information about heat safety and cooling centers. [@LACityEMD via @Mayorof LA]
Baltimore, Maryland: Here's a good idea from Charm City: A good government book club hosted by the city's budget director, Andrew Kleine. Even if you aren't in Baltimore to participate, this book pick  by Mayor Catherine Pugh might resonate with economic development and revitalization challenges where you live. [@BaltimoreBudget via @MayorPugh50]