Va. Gov. Tells White Supremacists and Neo-Nazis to 'Go Home' After Terror Attack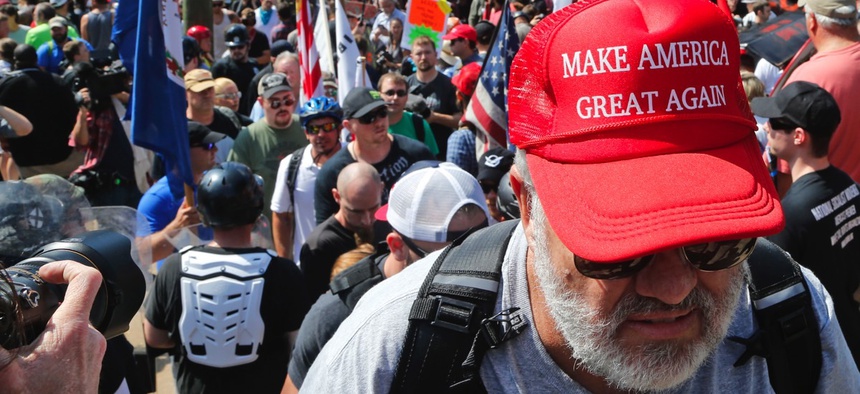 Having declared a state of emergency already, Terry McAuliffe and local officials were left wrestling with three deaths and a president reluctant to blame those responsible.
The FBI is conducting a civil rights investigation into the car crash that left one person dead and others injured during a white supremacist rally in Charlottesville, Virginia, with President Trump's national security adviser, H.R. McMaster, saying the violence "meets the definition of terrorism."
Gov. Terry McAuliffe declared a state of emergency Saturday afternoon "to aid state response to violence" at the rally of about 6,000 people, a reaction to the city's decision to remove a statue of Confederate Gen. Robert E. Lee.
Police charged James Alex Fields Jr. with the second-degree murder of Heather Heyer, who was among those protesting the white supremacists' presence when the car he was driving rammed her group, reported The Associated Press.
"Our message is plain and simple: Go home. You are not wanted in this great commonwealth," McAuliffe said during a press conference. "Shame on you. You pretend that you're patriots, but you are anything but a patriot."
"You came here today to hurt people, and you did hurt people," he added.
Two state troopers also perished in a helicopter crash while monitoring what may have been the largest white supremacist rally in a decade, and at least 35 people were injured throughout the day, according to local law enforcement, which did not engage with protesters on either side. That didn't stop "alt-right" icon Richard Spencer from blaming police for the violence.
Corresponding protests against the self-described alt-right, a white nationalist movement, erupted as far away as Oakland, California, and the U.S. Conference of Mayors issued a statement urging local, state and federal officials "to be firm that in the year 2017, there is no place in America for the kinds of display we are seeing in Charlottesville."
"This tide of hatred and of intolerance and of bigotry that has come to us and that has marched down with torches the lawn of one of the founders of democracy, it is brought here by outsiders, and it is brought here by people who belong in the trash heap of history with these ideas," Charlottesville Mayor Michael Signer said during the press conference.
He further lamented the "sad and regrettable coarseness in our politics," which Trump's critics argue began during the president's campaign.
For his part, the president avoided naming any of the groups involved in the rally and instead blamed "many sides" for the violence, a move neo-Nazis later praised, the AP and other media outlets reported. His own daughter, Ivanka Trump, went further saying "there should be no place in society for racism, white supremacy, and neo-Nazis."
In calling for a civil rights investigation, U.S. Attorney General Jeff Sessions said "the violence and deaths in Charlottesville strike at the heart of American law and justice. When such actions arise from racial bigotry and hatred, they betray our core values and cannot be tolerated."
McAuliffe spoke with Trump following the violent events of the day.
"I told the president that there has got to be a movement in this country to bring people together," McAuliffe said. "The hatred and rhetoric that has gone on and has intensified over the last couple months is dividing this great nation."