Amtrak Cascades Train Using New Rail Bypass Derails Onto I-5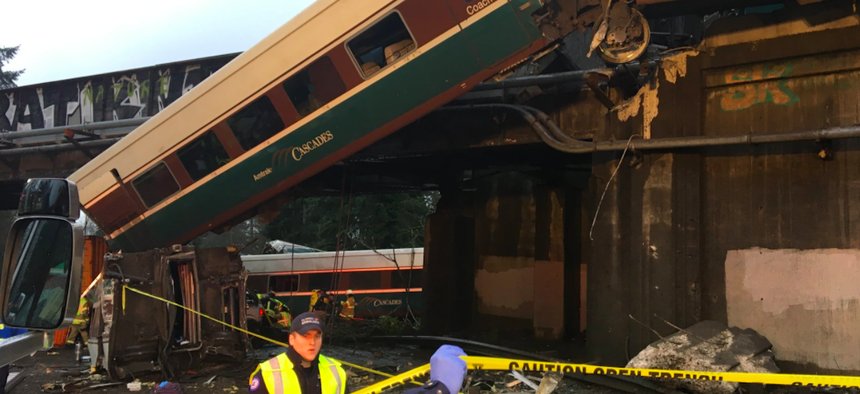 At least 3 passengers were killed and many more injured as railcars left the tracks adjacent to a busy freeway in Washington state.
SEATTLE — First responders swarmed to the scene of an Amtrak Cascades train derailment on Monday morning at a railroad bridge that crosses Interstate 5 near DuPont, about 18 miles southwest of Tacoma.
Amtrak train 501 was en route to Portland, Oregon from Seattle when it left the tracks in the vicinity of the bridge. Traffic camera footage showed a few rail cars dangling off the railroad trestle. 

There have been conflicting reports on the number of deaths. The Associated Press, citing an unnamed U.S. official, reported that at least six passengers had died in the derailment but during a Monday afternoon Washington State Patrol news conference, local first responders said they could only confirm three fatalities. Around 100 people were transported to area hospitals.
As officials and investigators respond, it's unclear at this point what may have led to the derailment. The National Transportation Safety Board investigators are at the scene of the derailment. .
The tracks being used are part of the newly opened Point Defiance Bypass, a Washington State Department of Transportation project that upgraded tracks and rail crossings to give Amtrak trains a shorter and faster trip through the Tacoma area and accommodate additional passenger service between Seattle and Portland. The tracks are owned by Sound Transit, which runs commuter rail service in the Puget Sound region and recently opened its new Tacoma Dome Station for the rerouted rail service. 
The Pierce County Sheriff's Department, via Twitter, reported that several vehicles traveling on I-5 were struck by the train but there have been no fatalities on the roadway.
I-5 was closed in both directions.
The location of the derailment is situated at regional transportation chokepoint with few easy alternatives. State and local officials warned motorists to avoid the area and prepare for lengthy, congested detour routes.
It "We anticipate this will be a lengthy process due to the size and severity of the incident and the size and weight of the train cars," 
This story will be updated as new information becomes available.