Chicago Expected to Pay Another Big Legal Settlement in a Police-Related Lawsuit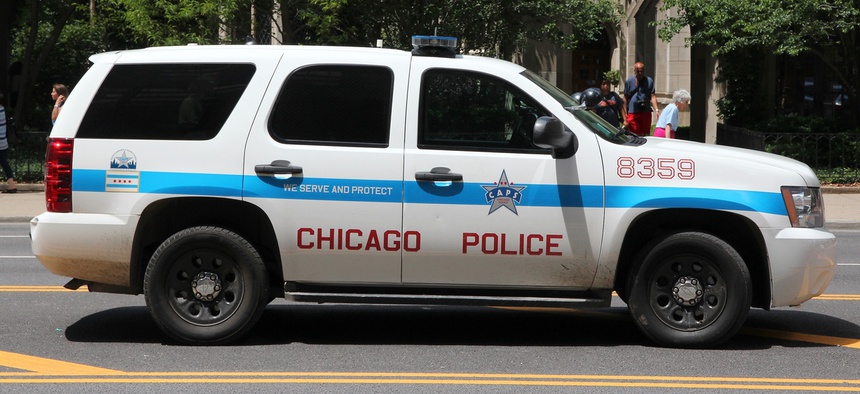 In the past two months, the nation's third-largest city has seen nearly $100 million in judgements from lawsuits involving local law enforcement.
Among large U.S. cities, Chicago faces some of the most challenging fiscal conditions, especially when when it comes to funding police officers, firefighters and teachers pensions. Increasing legal bills from police-related lawsuits aren't helping matters.
The city is poised to pay $20 million to the families of two young men killed in a drunk driving crash caused by an off-duty Chicago police detective, a source told the Chicago Tribune. The settlement in the code-of-silence lawsuit hasn't been made public and still needs to be approved by the Chicago City Council's Finance Committee and full vote by the council.
But, as Tribune continued ...
If approved, it would mark yet another massive payout for the city in a police misconduct suit. In the past two months alone, nearly $100 million in judgments have been assessed against the city for police-related cases, including a record $44.7 million jury verdict in October for a man who was shot by his childhood friend, Officer Patrick Kelly, in an off-duty incident. Earlier this month, the City Council approved a $31 million payout for the "Englewood Four," who each spent some 15 years in prison for a 1994 rape and murder before DNA linked the crime to a convicted killer.
It's the latest chapter for Chicago in an ongoing story involving the city resolving legal claims related to police misconduct.
From 2011 to 2016, Chicago paid $280 million to settle 934 police misconduct cases, according to an analysis by the Chicago Reporter, which maintains a database to track civil rights lawsuits against Chicago police officers:
Chicago has paid more than half a billion dollars since 2005 to settle lawsuits against police officers—money the city cannot afford. Rather than rein in the practices that lead to police misconduct settlements, city officials borrowed tens of millions of dollars a year to pay for these lawsuits, adding to the city's mounting debt. Over time, the interest on the bonds more than doubles the cost taxpayers bear for police misconduct.
Among big cities and counties, Chicago isn't alone when it comes to the fiscal burden it faces from police-related litigation.
Legal payouts involving the Los Angeles County Sheriff's Department have risen from $5.6 million in 2011 to nearly $51 million in 2016, according to the Los Angeles Times.
In Milwaukee, police misconduct settlements have cost the city at least $17.5 million since 2015. "The costs far outstrip the $1.2 million the city sets aside each year for settling all of the claims it faces," the Milwaukee Journal Sentinel reported in November. "And they likely will keep rising."  
In Paterson, New Jersey, city council members on Tuesday approved a $140,000 legal settlement in the case from 2015 of man who accused police officers there of beating him, throwing him on the ground and falsely charging him with several crimes which were all later dismissed.
According to the Paterson Times, City Council President Ruby Cotton said that the city and department need to put new procedures in place to avoid this type of litigation:
"This really reflects an administrative problem that needs to be resolved," added William McKoy, 3rd Ward councilman. He said the administration has been told to develop policies and procedures to protect the city from similar "predicaments" from arising in the future. He did not mention what specifically police have been told to put in place to prevent similar cases.
While many larger local jurisdictions, like Chicago and Los Angeles County, have bigger budgets and other fiscal tools they can use for major legal payouts, for smaller- and medium-sized cities, costly litigation, especially when it's unexpected, can seriously upend local government budgets. Big lawsuits can also prompt liability providers to threaten to withdraw insurance coverage, as The Atlantic reported in June in a feature on Irwindale, California, a small municipality with around 1,300 residents located east of Los Angeles that embraced new department training and reforms.
But Chicago's long track record of costly litigation hasn't necessarily changed behaviors in its police force. An investigation by the Tribune and ProPublica Illinois "found that, of 314 disciplinary appeals the police union pursued on behalf of officers between February 2010 and February 2017, 266 led to favorable outcomes for officers. Police had their punishments reduced or—in 58 of those cases—had them overturned entirely."