Colorado GOP Senator Pushes Back on Revised Justice Dept. Marijuana Guidance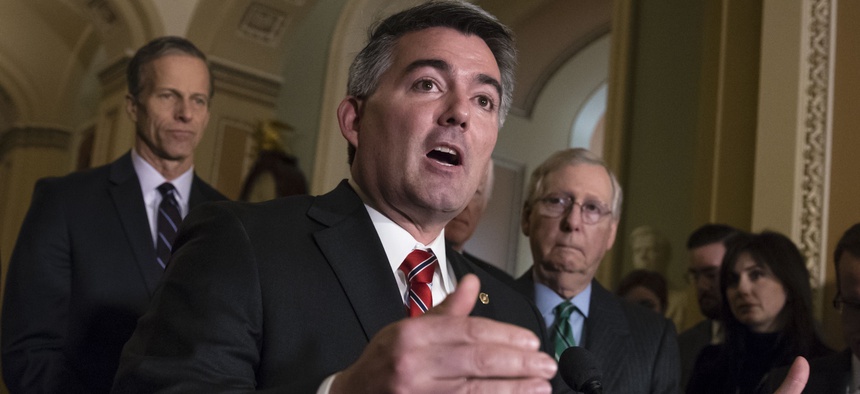 Sen. Cory Gardner met with Attorney General Jeff Sessions on Wednesday to discuss his concerns.
WASHINGTON — Colorado Sen. Cory Gardner, a Republican, along with other congressional lawmakers from the state, are pushing back against U.S. Attorney General Jeff Sessions' revamp last week of Justice Department marijuana enforcement guidelines.
On Wednesday, Gardner met with Sessions to discuss the updated Department of Justice guidance, which has implications for states like Colorado where medical and recreational marijuana is legal.
The sit-down did not appear to yield any immediate concessions from the attorney general, who has not been shy with his skepticism about legalized cannabis and his views that pot is dangerous.
Gardner issued a statement after the meeting. "I reiterated my concern that states' rights were being infringed on through this action and we agreed to continue talks," the senator said.
"I also hope to expand these discussions with the Justice Department to include several of my Democrat and Republican colleagues about what steps can be taken legislatively to protect Colorado's rights," he added.
One action lawmakers could take would be to expand existing budget rider language that blocks the Justice Department from spending money on marijuana enforcement activities that would prevent states from implementing medical cannabis laws.
U.S. Rep. Jared Polis, a Colorado Democrat, said Tuesday he would seek to get an amendment along these lines tacked into an upcoming government funding bill. The measure is backed by him and Rep. Tom McClintock, a California Republican. It would prohibit the Justice Department from using its resources to prosecute people who follow state marijuana laws. Polis has unsuccessfully offered the amendment previously.
Gardner has threatened to hold up Justice Department nominees in the Senate confirmation process in response to Sessions' decision last Thursday to rescind certain marijuana enforcement guidelines. Marijuana remains classified as an illegal drug under federal law, creating a significant legal gray area in states where it is legal.
The ditched Justice Department guidance includes the so-called "Cole Memo."
Authored by former Deputy Attorney General James M. Cole, the 2013 memorandum provided a framework—albeit one that was not codified in federal law—for states to proceed with setting up systems for the regulated production and sale of recreational marijuana.
The memo says that if states establish strong marijuana regulations, which adhere to certain federal priorities, then law enforcement efforts related to the drug will be largely left to state and local authorities. Some of the priorities included keeping marijuana away from kids, ensuring revenues do not go to criminals and preventing pot from moving across state lines.
By rescinding the memo, along with other pot-related guidance the department had in place, Sessions sent a signal to federal prosecutors that they would have more discretion and leeway to take the lead on marijuana enforcement. The attorney general said his action simply directed U.S. attorneys to use previously established prosecutorial principles.
On Tuesday, four members of Colorado's House delegation—Polis and fellow Democratic Reps. Diana DeGette and Ed Perlmutter, and GOP Rep. Mike Coffman—sent a letter to Sessions urging him to reinstate the Cole memo. They said this would help "ensure the federal government is not unduly interfering in state policy."
The lawmakers also said in the letter that rescinding the guidance would seem to conflict with President Trump's previously stated positions on deferring to states on issues involving legalized marijuana.
Legal experts last week said that some time would have to pass without the prior guidance in effect to see if it led to any dramatic changes in marijuana enforcement. Some raised questions about whether federal prosecutors would have much incentive to crack down on pot businesses operating in accordance with state law.
Along with Colorado, Alaska, California, the District of Columbia, Maine, Massachusetts, Nevada, Oregon and Washington have passed laws allowing for the personal possession and consumption of marijuana by adults, according to NORML, a group that advocates for the regulated legalization of marijuana.
A total of 29 states and the District of Columbia had enacted laws that permit people to use marijuana for medical purposes as of September of last year, according to the National Conference of State Legislatures.
State voters approved a ballot initiative in 2012 that cleared the way for Colorado's recreational marijuana industry to come online. Recreational pot sales began there in 2014.
During the first eight months of last year, state-regulated retail sales of medical and recreational cannabis in the state exceeded $1 billion.
PREVIOUSLY on Route Fifty: