Austin Police Chief Has Message for Bomber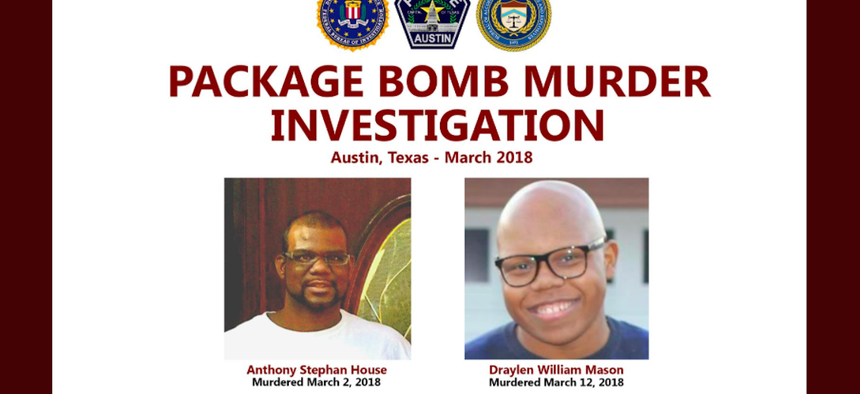 STATE AND LOCAL ROUNDUP | Finger-pointing after FIU bridge collapse; Utah governor OK's "free-range parenting" bill; and Missouri rural broadband legislation.
Here are state and local government stories that caught Route Fifty's attention ...
PUBLIC SAFETY | Federal, state and local law enforcement swarmed to the scene of an explosion in an Austin, Texas neighborhood that injured two people, though it's not clear whether the incident is connected to three recent package bombings in the city that killed two people. Austin's interim police chief, Brian Manley, urged residents in the impacted neighborhood on the city's southwest side to stay indoors until daylight. He also had a message for the bomber: "These events in Austin have garnered worldwide attention, and we assure you that we are listening," Manley said at a news conference. "We want to understand what brought you to this point, and we want to listen to you." A $115,000 reward has been offered for information that leads to the arrest and conviction of the person responsible.
[KUT; Austin American-Statesman; @Austin_Police]
INFRASTRUCTURE | As investigators continue to examine last week's deadly pedestrian bridge collapse at Florida International University in Miami, there's been finger-pointing between the university and the Florida Department of Transportation. "We've had a good relationship with FDOT—I just want to make it clear," FIU President Mark Rosenberg told the Miami Herald. "So we're anxious to find out more about what they think we didn't do. Because they've been involved at every step." [Miami Herald]
OPIOID EPIDEMIC | President Trump is scheduled to be in New Hampshire on Monday to unveil a new package of proposals aimed to help curb the nation's opioid abuse epidemic.
According to The Boston Globe:
His policy is expected to focus on cracking down on drug distribution—urging the Department of Justice to seek the death penalty for some drug traffickers—as well as on prevention and rehabilitation. His administration also aims to cut the number of opioid prescriptions by one-third over the next three years.
Details about Trump's proposal emerged last week. "Rarely, if ever, has a policy proposal been this simultaneously encouraging and horrifying," Daily Intelligencer observed.
[The Boston Globe; Daily Intelligencer / NYMag]
ELSEWHERE …
Cincinnati, Ohio: An ongoing city hall battle that led to Mayor John Cranley asking for the resignation of City Manager Harry Black appears to be one step closer to a resolution. In an agreement between the mayor and city manager, which needs City Council approval, Black would leave his position with 18-months salary. "I thank the mayor and manager for coming together for the best interest of the people of Cincinnati. We hope we can get back to the business of the city," according to Councilman Christopher Smitherman. [The Enquirer / Cincinnati.com]
Salt Lake City, Utah: In a first-of-its-kind law anywhere in the U.S., Utah has become the first state to legalize "free range parenting," the practice where children can do things on their own—with their parents permission—to improve their self-sufficiency. Gov. Gary Herbert signed the measure on Friday. [AP via KUTV]
Phoenix, Arizona: Shoppers in the Grand Canyon State who see the label Arizona Grown might assume that they're purchasing something that's locally grown. But "products made in Arizona don't necessarily have to use ingredients grown in Arizona to qualify for the state brand." [The Arizona Republic / USA Today]
Austin, Texas: A recently released analysis of self-reported industry data compiled by the federal government by Environment Texas and California-based think tank Frontier Group showed that major industrial facilities in Texas "released illegal levels of pollution into rivers, lakes and other waterways over a 21-month period ending September 2017." [Texas Tribune]
Jefferson City, Missouri: Two bills in the state legislature "aim to expand high-speed broadband in rural parts of Missouri through contracts with electric cooperatives." [St. Louis Public Radio]
Modesto, California: Lawyers for firefighters who filed a federal lawsuit in 2016 against the city over how it calculated overtime pay came to a settlement agreement last week. The city will pay about $100,000 to firefighters. [Modesto Bee]
New Orleans, Louisiana: In an interview with George Stephanopoulos on ABC's "This Week," Mayor Mitch Landrieu said that "we have a dark moment in the country, it's obvious that a lot of people feel alienated. White people in rural America feel alienated. African-Americans in urban areas feel alienated," said the Democratic mayor, who will be leaving office this spring. "People just feel [distant] from each other." [ABC News]
Juneau, Alaska: A recent search for two missing mountain climbers making an ambitious ascent of the Mendenhall Towers required a major response by Juneau Mountain Rescue, which used the RECCO Rescue System—primarily used in Europe and designed for avalanche rescue—for the first time in a missing persons search in Alaska. [Juneau Empire]
Lincoln, Nebraska: For the second-year in a row, Site Selection magazine has selected Nebraska for its Governor's Cup, which showcases the place with the "most economic development projects per capita of any state." [Nebraska Radio Network; Site Selection]