Mayors, Police Chiefs Confront State Preemption on Gun Safety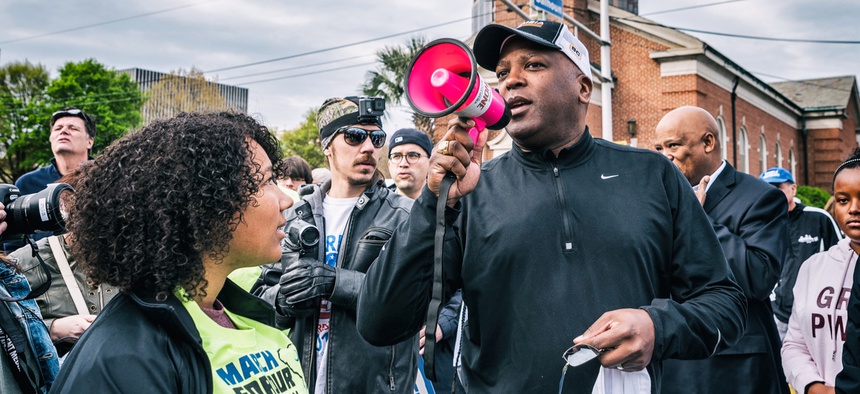 Local government officials gathered in Washington, D.C. for a public safety meeting, where they discussed active shooter event preparation and response.
WASHINGTON — A bipartisan group of mayors and police chiefs stressed Tuesday the need for innovative, local gun safety policies in the face of state preemption and federal inaction on a comprehensive, national solution to firearm-related violence.
Closing out a two-day public safety meeting in the nation's capital, Columbia, South Carolina Mayor Stephen Benjamin—a gun owner and former concealed weapons permit holder—said a "wave of preemption laws" passed about a decade ago continues to hinder local reform efforts.
Columbia's City Council banned the attachment of bump stocks to semi-automatic rifles, which allow them to fire faster, and Benjamin said local officials are "morally bound" to implement precision policing and smart law enforcement technologies to improve gun safety.
"We have paralysis in Washington, D.C. and our state governments, and they refuse to act to keep the people of America safe," Benjamin, the U.S. Conference of Mayors' current vice president, said. "I think it's important that we will act."
Louisiana state officials preempted cities like New Orleans with legislation preventing localities from passing any ordinance related to the regulation of guns.
But New Orleans Mayor Mitch Landrieu, the current USCM president, pointed out 85 percent of the nation's population will soon live in cities, and mayors are closest to them.
"On an average day, 96 Americans are killed on the streets of America in an incident that involves guns," Landrieu said. "We have to start with the simple acknowledgement that not every American needs access to every kind of weapon at all times for anything that they might want."
Gun violence is both a public safety threat and health problem, one that threatens people of color—and the young men among them in particular—in greater numbers, Landrieu added.
The mayors and police chiefs present discussed active shooter preparation and response earlier in the morning.
"These incidents, although becoming more likely to happen in our community, are very infrequent," said Chief Peter Newsham of the Metropolitan Police Department in Washington, D.C.
As a result, repeated training of officers is necessary to prepare for them, he added.
Washington, D.C. is no stranger to such tragedy, having in 2013 seen then 34-year-old Aaron Alexis kill 12 people and injure three others in a mass shooting at the Naval Sea Systems Command headquarters at the Washington Navy Yard. Alexis had a mental illness but was still able to purchase a shotgun and home defense buckshot, which fires nine pellets in tighter groupings, from a Virginia gun store—where he was not even a resident.
The crime scene was the largest D.C. police ever had to process, and the FBI was brought in because they have jurisdiction whenever there's a possible terrorist attack. That takes several days to determine, Newsham said.
Little Rock, Arkansas Police Chief Kenton Buckner wishes his department had done the same after the July shootout at the Power Ultra Lounge nightclub.
Once processing of the scene began, police found 13 weapons had been fired after security had left for the night. Twenty-five people were injured. Three more were hurt jumping from a second-floor window.
In the aftermath of the shootout, city officials have worked to develop better relationships with popular venues, restaurants and bars around Little Rock. Police intelligence officials monitor social media for possible threats.
"It really is important the security requirements for these concerts now are really required through the police department, and if they will not comply with the requirements, then we let them know that security and safety cannot be provided," said Mayor Mark Stodola. "And that usually kills the concert itself."
Buckner said the city now offers tourniquet training for the entire community because, while shootings typically last a few minutes, bleeding must be stopped right away.
Stodola also cautioned cities and their police departments must get better at front-end monitoring threats than local media, lest they find themselves doing damage control after an incident is thwarted.
When mass shootings do occur, like in Las Vegas in October, media organizations will look very quickly at police response time, said Tom Cochran, USCM's CEO and executive director.
What makes the Las Vegas shooting more troubling was the ability of the shooter to make his way to the 32nd floor of the Mandalay Bay hotel with about 30 firearms, Newsham said.
"People who own these buildings have to bear the responsibility of who's in them and what they have," he said. "And mayors can be really helpful to police departments in talking to our business leaders about security procedures that they have—particularly at these high-occupancy, high-storied buildings."
Dave Nyczepir is a News Editor at Government Executive's Route Fifty and is based in Washington, D.C.