Hawaii Volcanic Eruption Sends Lava Into Subdivision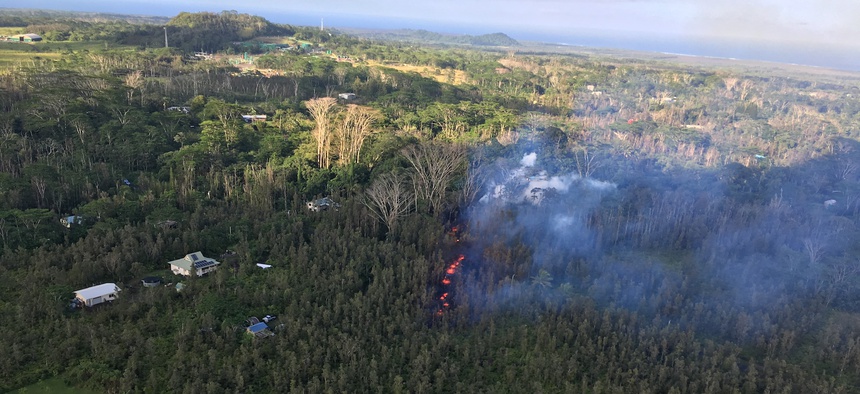 STATE AND LOCAL ROUNDUP | Ariz. teacher walkout ends … Mich. State University bond rating downgraded … Mo. special session to look at Greitens allegations … and relief in Albuquerque.
Here are state and local government news stories that caught our attention ...
Puna, Hawaii: Following a series of recent earthquakes, an eruption at the Kilauea volcano on the Big Island on Thursday sent lava flows into the Leilani Estates subdivision, which was put under mandatory evacuations. Surface cracking was observed in the area, according to the U.S. Geological Survey Volcano Hazards Program, which reported: "White, hot vapor and blue fume emanated from an area of cracking in the eastern part of the subdivision. Spatter began erupting shortly before 5 p.m." Hawaii County Civil Defense suggested that more residents in the Puna area should evacuate. Some residents in the area reported "fountains of lava" shooting 100 to 150 feet into the air. [U.S. Geological Survey; Hawaii News Now; National Public Radio]
Phoenix, Arizona: The Arizona teacher walkout has come to an end after the legislature passed an education budget early Thursday morning with Gov. Doug Ducey promptly approving it. The teacher pay increase plan "pumps $644 million into schools to support a cumulative 20 percent raise by 2020." [Arizona Public Media; Phoenix New Times]
Jefferson City, Missouri: The Missouri House and Senate will go into a special legislative session to consider matters "including, but not limited to disciplinary actions against Gov. Eric R. Greitens." It's the first time in Missouri history that a special legislative session has been called by the legislature itself. [The Kansas City Star]
Franklin County, Ohio: State Auditor Dave Yost's office is investigating the county sheriff's department over "allegations that a unit in the sheriff's office was inconsistent in handling in money seized from drug dealers and other criminals." [WOSU]
East Lansing, Michigan: The Moody's Investors Service credit rating agency downgraded Michigan State University's bond rating from Aa2 from Aa1. The reason? The Larry Nassar sex abuse scandal. "We expect operating performance to thin over the short-term, with ongoing legal costs and university investment into enhanced risk management and governance issues increasing costs," Moody's wrote. "Timing of the ultimate resolution of outstanding claims and litigation, which is currently in mediation, is uncertain, but the financial ramification could be material." [Detroit Free Press]
Albuquerque, New Mexico: Mayor Tim Keller said that major construction for the city's Central Avenue bus rapid transit project has wrapped up, bringing a difficult period of disruption to an end. The ART project, which was supposed to open in December, has been delayed for a variety of reasons, including difficulties with the delivery of BYD electric buses designed to run on the route. [KRQE-TV]