Complete Figures for State Disaster Spending Are Hard to Come By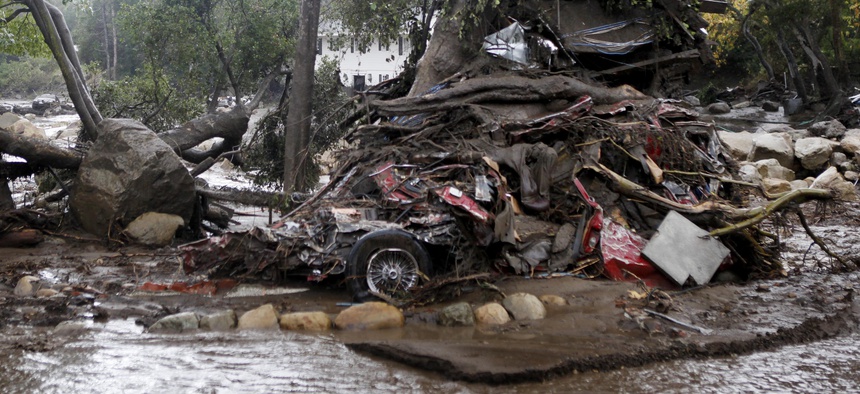 A new report from The Pew Charitable Trusts highlights some of the reasons policy makers may want to tackle the issue.
Comprehensive data showing how much states are spending on natural disaster costs is in short supply, new research shows.
A report released by The Pew Charitable Trusts on Tuesday says that this data gap means that policy makers at all levels of government are missing key information that would help them to make more informed decisions about the future of disaster assistance programs.
"Disasters are becoming more frequent and more expensive," Pew's Anne Stauffer said during a conference call. "This is putting stress on state and federal budgets and both levels of government are looking to manage these increasing costs."
The report says it can be difficult to track state-level expenditures on natural disaster programs because disasters happen irregularly, and response efforts tend to involve multiple agencies, often with different financial reporting systems.
Florida alone, for example, can have as many 12 agencies that are involved in some way in disaster-related activities, Stauffer said.
"Bottom line, there is no single source for comprehensive information about state natural disaster spending," she added.
Pew's team did assemble data about spending on disaster assistance programs in 23 states between 2012 and 2016. This showed that disaster-related spending varied widely in terms of how much money is spent and what types of costs it goes toward covering.
The report points out that at the federal level there has been interest in reining in spending on natural disasters by possibly looking to shift some funding responsibilities to states.
Between 2005 and 2014, the report notes, more than 300 federal programs across 17 departments together spent an inflation-adjusted average of $25.5 billion annually on disaster assistance. (The federal government spent a total of about $3.7 trillion in the last fiscal year.)
"Underlying much of the discussion and many federal reform proposals is the assumption that states are not contributing enough to disaster expenses. But this is difficult to assess because the available data on state spending are incomplete," the Pew researchers wrote.
Stauffer pointed out that natural disasters are not confined to events like hurricanes in southeastern states, or wildfires in the west. All 50 states and the District of Columbia had events between fiscal years 2005 and 2014 that led to federal emergency or disaster declarations, the report says.
The Pew researchers offer some recommendations for how to improve the state spending data that's available.
For starters, they suggested a commitment to better data collection from elected officials like governors and legislative leaders. The report highlights that state emergency management agencies generally have limited authority to view or request spending data from other departments.
Another suggestion calls for tracking how money flows to different phases of disaster spending, such as mitigation, preparedness, response and recovery. And and a third recommendation emphasizes the importance of accounting for local government spending as well.
Stauffer cautioned that "without complete data about state investments, any proposal tackling intergovernmental spending, or cost reductions, will be operating largely in the dark."
A full copy of the report can be found here.