California Legislation Would Mandate List of Quake-Vulnerable Buildings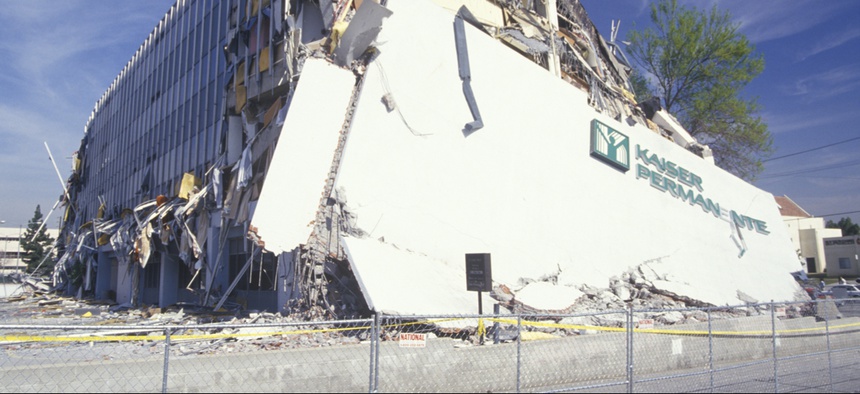 STATE AND LOCAL ROUNDUP | School districts still scrambling for bus drivers … Mich. county removes massive "fatberg" from sewer … and a Fla. city OKs a ban on lawn fertilizer.
Good morning, it's Thursday, Sept. 13, 2018. Hurricane Florence is moving into the Carolinas—stay tuned for more from Route Fifty in the coming days. Disaster news of a different sort leads our state and local government news roundup, but scroll down for more stories from places like Lincoln, Nebraska; Venice, Florida; and Macomb County, Michigan.
STATE GOVERNMENT | State lawmakers in California have approved legislation sponsored by Assemblyman Adrin Nazarian of North Hollywood that would mandate seismically vulnerable cities and counties to "create lists of buildings that could be at higher risk of major damage or collapse" during a major earthquake. But the bill, if signed by Gov. Jerry Brown, would only go into effect if state funding is identified. Many larger jurisdictions, including Los Angeles, Santa Monica and San Francisco, have started their own seismic inventorying efforts. "If you don't know how sick you are, or how vulnerable you are, to me, it's a sign of ignorance," David Khorram, the city of Long Beach's superintendent of building and safety, told the L.A. Times. "A mandate like this will help and encourage smaller cities to accomplish what the bigger cities are doing." [Los Angeles Times]
LOCAL GOVERNMENT | With school bus driver shortages in various parts of the nation, local administrators continue to scramble to find enough qualified operators to transport students to and from school. In St. Paul, Minnesota, school administrators are trying to move 32,000 students along 350 routes with an operation that's "5 to 20 percent short on drivers." According to Tom Burr, who heads up the St. Paul schools' transportation services: "It's kind of a domino effect. We're backfilling people, drivers, with typically full-time staff—mechanics, dispatchers, trainers." In Chesterfield County, Virginia, local schools have had problems retaining drivers. Between February 2017 and August 2018, Chesterfield schools hired 180 new bus drivers, but "174 drivers either resigned, retired or were terminated during the same period." [Minnesota Public Radio; Chesterfield Observer]
ALSO in Route FIfty: