'Painstakingly Difficult' Efforts to ID Camp Fire's Victims as Death Toll Rises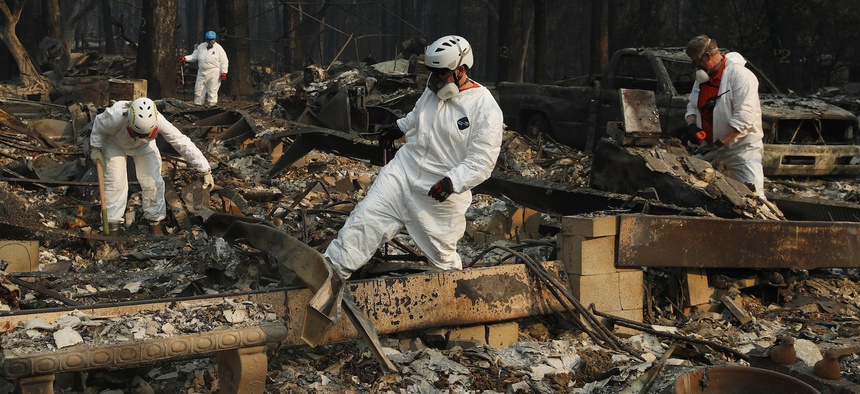 STATE AND LOCAL ROUNDUP | States report continued low unemployment … Massachusetts marijuana sales … and San Diego's costly broken sidewalks.
Good morning, it's Monday, Nov. 19, 2018. The grim news from California's wildfire zones leads Route Fifty's state and local government news roundup, but scroll down for more from places like Bend, Oregon; Noorvik, Alaska; and Albany, New York.
CALIFORNIA WILDFIRES | More than a week after California's deadliest and most destructive wildfire on record consumed nearly all of the Sierra Nevada foothills town of Paradise, the death toll continues to rise. As of Sunday night, the Butte County Sheriff's Department has confirmed 77 deaths from the Camp Fire, with more than 1,200 on a list of missing. The Sacramento Bee takes stock of the "painstakingly difficult" efforts underway to make positive identification of victims:
Many have been burned beyond recognition. In some cases, just individual bones or fragments are left. If teeth survived, matching them with dental records will be difficult in a town where some dentists' offices burned along with nearly everything else. Even DNA analysis won't be easy, because of the scarcity of remains and the temperatures to which they were exposed.
Some of those killed will likely never be identified.
In nearby Chico, the Enterprise-Record's editorial board observed how the disaster in Paradise was shouldn't have been a surprise since it was "the tragedy we were all warned about":
"Nobody would have ever thought this could happen," President Donald Trump said while touring the Camp Fire devastation Saturday.

That's not true. The Camp Fire was inevitable. It is the event that so many dreaded for so long.

People prepared. Fire prevention officials planned. They drilled. They worked with homeowners. They invented fire-safe councils and Fire on the Ridge and sent fire prevention officials to schools via a program called Fire Pals. They raised money to keep fire lookouts open when the state said it wouldn't.

Eventually, geography and topography proved to be the trap everyone thought it was. [The Sacramento Bee; Chico Enterprise-Record]
UNEMPLOYMENT | The unemployment rate in Iowa hit 2.4 percent in October, the lowest it's been in 19 years. [Radio Iowa] … The Texas Workforce Commission has reported that the state's seasonally adjusted unemployment rate fell to 3.7 percent, the lowest since the state started tracking unemployment data in 1976. [EverythingLubbock] … Economists at the University of Michigan say that Michigan has had nine years of uninterrupted job growth and "is on the brink of the longest job growth period since World War II." [WXYZ]
MARIJUANA | The first recreational marijuana sales in Massachusetts are set to start on Tuesday. [Boston.com] …  In Bend, Oregon, proceeds from a local sales tax on marijuana dispensaries and the city's portion of the state's tax on recreational cannabis now constitutes "a small but significant part of the city's budget." [Bend Bulletin]
TRANSITIONS | The transition team of Colorado Gov.-elect Jared Polis has set a Nov. 27 deadline to apply for 19 positions in the new governor's Cabinet, which will set up "several weeks of fast-paced decisions" in hiring. [The Denver Post] … Alaska's next governor, Mike Dunleavy, who will be sworn in on Dec. 3, will be be the first governor to be sworn in north of the Arctic Circle in a small Inupiat Eskimo village, Noorvik. The governor-elect's wife, Rose Dunleavy, is from Noorvik, which is located in the Northwest Arctic Borough, roughly 1,000 miles northwest of Juneau. [AP via Anchorage Daily News; Alaska Public Media]  
STATE GOVERNMENT | When the Montana state legislature reconvenes on Jan. 7 to start a 90-day session, expect Medicaid to the "marquee battle" as a July 19 sunset date looms for the state's current Medicaid expansion program, which provides health care for nearly one-tenth of the state's population. [Lee Newspapers / Billings Gazette] … "There are serious constitutional questions" with a new commission in New York state that was created to set the salaries of top elected officials in the state. [Newsday] …
LOCAL GOVERNMENT | City officials in San Diego are considering requiring property owners fix broken or crumbling sidewalks—which create legal liability for the city—before they sell their adjacent property. [The San Diego Union Tribune] … Two years after Lake Elmo, Minnesota was "labeled a troubled and dysfunctional government" by the Insurance Trust Board of the Minnesota League of Cities, the St. Paul suburb has seen "a turnaround that has been really refreshing and fun to watch." ... Springfield, Massachusetts Mayor Dominic Sarno will be performing in the "Nutcracker" ballet next month. [WWLP]