Arsonist Attempts to Set Mayor's SUV on Fire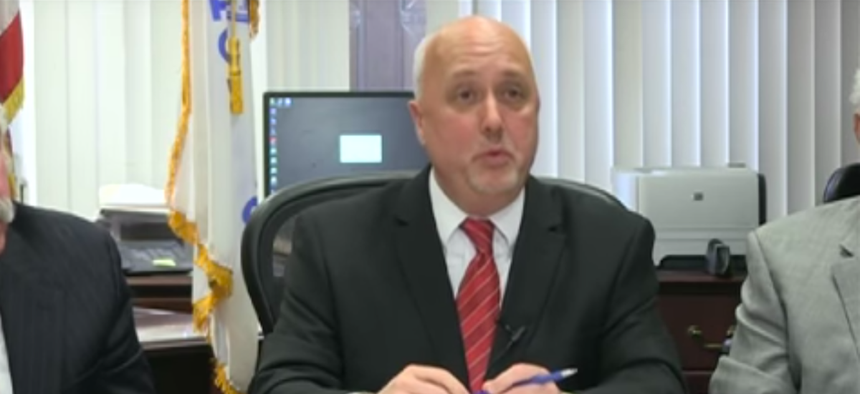 STATE AND LOCAL ROUNDUP | State capitals in transition … Denver's proposed e-scooter rule changes … and W.Va. first responder vaccinations.
Good morning, it's Thursday, Dec. 6, 2018. Leading Route Fifty's state and local government news roundup is an arson in Brockton, Massachusetts that targeted the mayor's SUV but scroll down for more stories from places like Travis County, Texas; Wheeling, West Virginia; Juneau, Alaska and New York City. … ALSO ON ROUTE FIFTY … Checking in on a census "homework assignment" for cities and counties … Rhode Island plans winter weather autonomous vehicle testing … Pennsylvania's broadband challenges are worse than previously thought … and could recreational marijuana help fix New York's subway? … Let's get to it ...
CITY HALLS | An arsonist attempted to destroy the city-owned SUV of Brockton, Massachusetts Mayor Bill Carpenter on Friday night, an incident that's being investigated as an intentional act by the Brockton Fire Department and the Massachusetts Department of Fire Services. The mayor was out of the country at the time of the incident. "As you can imagine, this is a difficult time for my family and I," the mayor said in a statement. "We have faith in the state and local public safety agencies involved to complete a thorough investigation." [The Enterprise] … Voters in Little Rock, Arkansas elected Frank Scott, Jr. as the city's first black mayor elected by popular vote. Scott has served a deputy police director and a director of intergovernmental affairs under former Gov. Mike Beebe. [KARK; Essence] … Kansas City, Missouri, which has long been recognized as a leader in data-driven governance and performance management has rebranded its nine-year-old Office Performance Management as DataKC. [KCMO.gov]
TRANSITIONS | Alaska Gov. Mike Dunleavy, who was sworn into office on Monday, has announced his slate of new state public safety officials, including Anchorage lawyer Kevin Clarkson as attorney general, campaign aide Amanda Price as chief of public safety and state Rep. Nancy Dahlstrom as corrections director. [Juneau Empire] … Ohio Gov.-elect Mike DeWine this week named a handful of loyal staffers as Cabinet appointments including "Laurel Dawson as his chief of staff, Mary Mertz as director of the Department of Natural Resources, Ann O'Donnell as chief advisor, Alisha Nelson as director of RecoveryOhio, which will focus on the opioid crisis, and Ervan Rodgers, II, as the top information technology officer for the state." [Dayton Daily News] … California Gov.-elect Gavin Newsom is planning to host a town hall meeting in Fresno on Friday. [Fresno Bee] … Newly elected Maryland state lawmakers had legislative orientation in Annapolis on Monday. Some advice given: "Treat lobbyists skeptically. Build relationships. Vote your conscience." [Baltimore Sun]
DISASTER RECOVERY | A U.S. District Court judge who has been supervising the felony trial from the Pacific Gas & Electric pipeline explosion in San Bruno, California "wants to know if the embattled utility committed crimes in connection with its operations or maintenance of electricity lines in the area of several Northern California deadly wildfires," including the Camp Fire. [Bay Area News Group via Chico Enterprise-Record]
PENSIONS | The California Supreme Court on Wednesday considered an important question regarding "a key legal precedent that could restore the generous pension formulas [Gov. Jerry] Brown worked so hard to tighten." [Los Angeles Times; CALMatters] … If the Kentucky Supreme Court strikes down a controversial pension-reform law passed by the state legislature and OK'd by Gov. Matt Bevin, a decision that could come as soon as next week, Republican lawmakers say they'll likely try another bill on state retirement benefits. [WVXU]
PUBLIC HEALTH | In West Virginia, the Wheeling-Ohio County Health Department is offering vaccination clinics through the month of December targeting populations at higher risk of exposure to hepatitis A. That includes first responders "because they are at some of the greatest risk to contract the disease." [WTOV] … Health officials in Michigan are reporting the state's first confirmed case of a rare polio-like illness called acute flaccid myelitis. [Michigan Radio] … In Austin, Texas, three organizations—Dell Medical School at the University of Texas-Austin, CommUnityCare Health Centers and Integral Care—will be launching a mobile healthcare unit to serve homeless people in Travis County funded through a $2.5 million, five-year federal grant. [KXAN]
TRANSPORTATION & MOBILITY | The Denver City Council is slated to consider a bill next month that would reclassify e-scooters as "electric mobility scooters" which would mean they're subject to a different set of rules. In the biggest shift, e-scooter users would need to use bike lanes when available and not use the sidewalk, except when there "is not a bike lane available and if the speed limit of the closest road exceeds more than 30 miles per hour." [KUSA] … Ahead of the Dec. 14 opening of Oklahoma City's new downtown streetcar line, local officials are engaged in public education efforts to promote safety among motorists and pedestrians. [KFOR] … In New York City, the World Trade Center PATH rail station will be closed weekends in 2019 and 2020 to repair damage from Superstorm Sandy, which swamped the tunnels and tracks connecting lower Manhattan with New Jersey. [Curbed NY]