Kentucky Governor: Cold Weather Closures Set Bad Example for Kids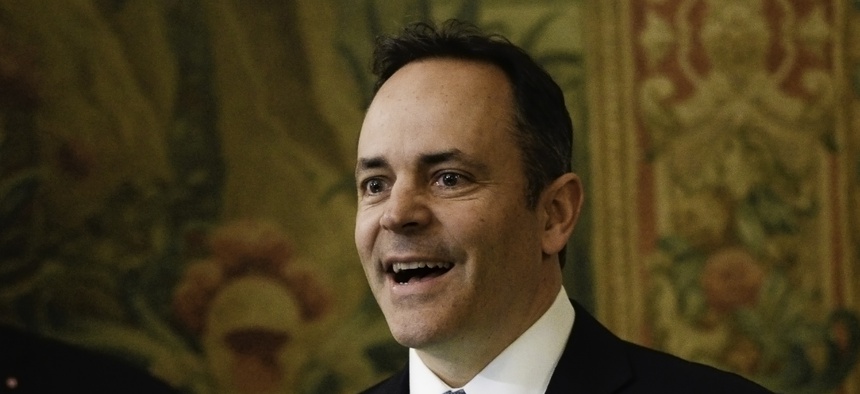 STATE AND LOCAL ROUNDUP | STD spike in Indiana … N.Y.C.'s new unified contracting system … and radon gas risks in Colorado.
Good morning, it's Wednesday, Jan. 30, 2019. Winter weather school closures lead Route Fifty's state and local government news roundup but scroll down for more from places like Santa Fe, New Mexico; Waterville, Maine; and Mecca Township, Ohio … ALSO ON ROUTE FIFTY … The Case For Helping Local Government Employees Better Manage Their Finances … City Officials Push for National Housing Strategy …
Let's get to it ...
GOVERNORS | Kentucky Gov. Matt Bevin says that school districts in his state are "getting soft" when it comes to closing for cold weather conditions and that sets a bad example for younger generations. Bevin said in a radio interview with WHAS' Terry Meiners: "There's no ice going with it or any snow. I mean, what happens to America? We're getting soft, Terry. We're getting soft," Bevin said. "It does concern me a little bit that in America, on this and many other fronts, we're sending messages to our young people that if life is hard you can curl up in the fetal position somewhere in a warm place and just wait until it stops being hard, and that just isn't reality. It isn't." [WKYT] … New Mexico Gov. Michelle Lujan Grisham signed her first executive order on Tuesday, creating a state task force to examine climate change and find ways for to reduce carbon emissions in the state by 45 percent by 2030. [KQRE] … Alaska Gov. Mike Dunleavy has proposed permanent dividend fund payments to residents of roughly $3,000, but the figuring out the precise payment amount won't be an easy task given the state's difficult fiscal landscape. [Alaska Public Media]
CITY HALLS | Boston Mayor Marty Walsh hasn't exactly warmed up to a proposal to bring congestion charging to traffic-clogged areas of his city. [Boston Herald] … Nonprofits working with the New York City government may no longer have to face the prospect of late payments thanks to a new unified contracting system. [New York Post] … In Richmond, Virginia, members of the City Council gave the thumbs up to "a 20-year proposal to devote half of the city's future debt capacity to building and renovating city schools." [Richmond Times-Dispatch] … Mayor Nick Isgro of Waterville, Maine wants to kick out an environmental group, the Sustain Mid Maine Coalition, from its free office space in city hall. [Morning Sentinel / CentralMaine.com]
LAW ENFORCEMENT | A New Orleans Police Department "clean sweep" operation has resulted in 40 arrests, including two men wanted in recent murders. [New Orleans Advocate] … Four Houston police officers were shot on Monday while serving a narcotics warrant on a home. [KTRK] … Vermont state lawmakers aren't pleased with a plan from the State Police to "spend more than $560,000 allocated for officer body cameras on weapons instead." [VTDigger]
AUDITS | Mecca Township, Ohio, located near Youngstown, is no longer on the state's "unauditable" list thanks to the restoration of the local government's financial records. [The Vindicator] … In Utah, the Office of the State Auditor has found that a state-sponsored online preschool program has been receiving $1 million more in funding than it should be and not serving as many low-income students it's required to by law. [The Salt Lake Tribune]
PUBLIC HEALTH | In Colorado, El Paso County Public Health officials are urging residents to test their home for radon gas, the second leading cause of lung cancer in the nation, something linked to about 500 deaths in Colorado annually. [KKTV] … Among the jurisdictions across the nation seeing an increase in sexually transmitted diseases is Allen County, Indiana, which includes the city of Fort Wayne. Last year, the county recorded 3,545 cases of gonorrhea and chlamydia—300 more than in 2017—the third year there's been a sustained increase. [The Journal Gazette]