California Governor Plans Death Penalty Moratorium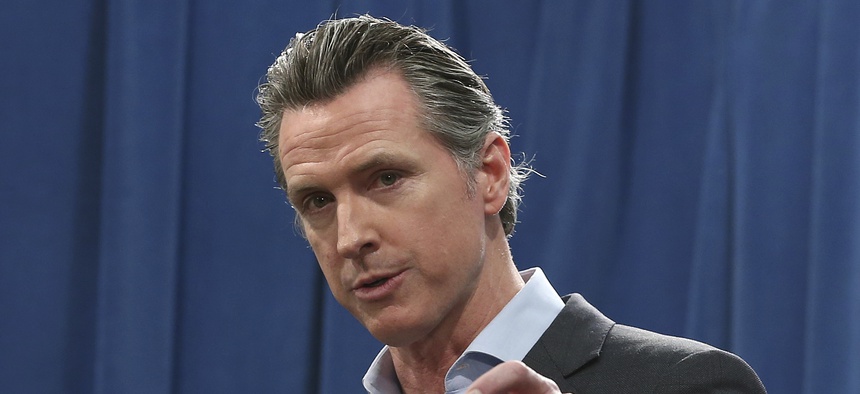 STATE AND LOCAL ROUNDUP | Dialed-back housing plans ... An Inland Port Authority lawsuit in Salt Lake City ... A paramedic proposal in Florida.
Greetings. The California governor's plan to stop executions in his state leads Route Fifty's state and local government news roundup but scroll down for more from places like Salt Lake City, Portland, Oregon and Florida.
California Gov. Gavin Newsom is planning to sign an executive order to grant reprieves for prisoners on death row, multiple news outlets reported Tuesday. The Associated Press said that Newsom would stop executions for 737 inmates and the moratorium would be good for as long as he's in office. "I do not believe that a civilized society can claim to be a leader in the world as long as its government continues to sanction the premeditated and discriminatory execution of its people," Newsom said in prepared remarks, according to the Washington Post. The last execution in California was in 2006. [Associated Press; Washington Post]
HOUSING | Newsom is calling for California to direct $750 million to cities and counties to boost housing construction, a major priority in a state dealing with an affordability crisis. Newsom also proposed to follow through on his previously announced plan to withhold gas tax dollars from municipalities that don't focus on building affordable housing. But that component wouldn't go into effect until 2023. Democrats in the legislature have questioned withholding the money, noting that passing the tax had been difficult, Streetsblog reported. The Los Angeles Times reported that a Newsom aide said providing the money for planning is a good faith effort to support local governments. Out of the $750 million, $250 million would help governments with planning, while $500 million would be incentives if cities meet the goals. "Our state's affordability crisis is undermining the California Dream and the foundations of our economic well-being," Newsom said in a news release. "Families should be able to live near where they work." The proposal, which is part of the state's budget process, also would include another $1 billion in tax credits and loans to help with housing construction at various affordability levels. San José Mayor Sam Liccardo responded to the gas tax proposal by saying he supported withholding money from cities that don't invest in housing. "So long as jobs-heavy suburbs continue to embrace boardrooms, but depends on cities like San José to provide the bedrooms, our state's housing crisis will worsen," he said. [Los Angeles Times; Newsom press release; Streetsblog]
STREET FIGHTS | During a news conference, Portland, Oregon Mayor Ted Wheeler addressed an October street fight between right-wing and left-wing groups that was caught on video, saying that he thought police should have been able to make arrests. Police who were present did not make arrests and prosecutors have declined to bring charges. [The Oregonian]
EMS | A proposal under consideration in the Florida Senate would allow armed paramedics—EMS workers the sponsor called "SWAT medics"—to accompany police officers on "high-risk" operations. [Tampa Bay Times]
SALT LAKE CITY | Salt Lake City Mayor Jackie Biskupski has filed a lawsuit against the Inland Port Authority, which she has said amounted to a state land grab. Proponents have said the port will create jobs and help not only the city but the whole state. [Salt Lake Tribune]