States, Cities Pick Up on Climate Change Where Trump Leaves Off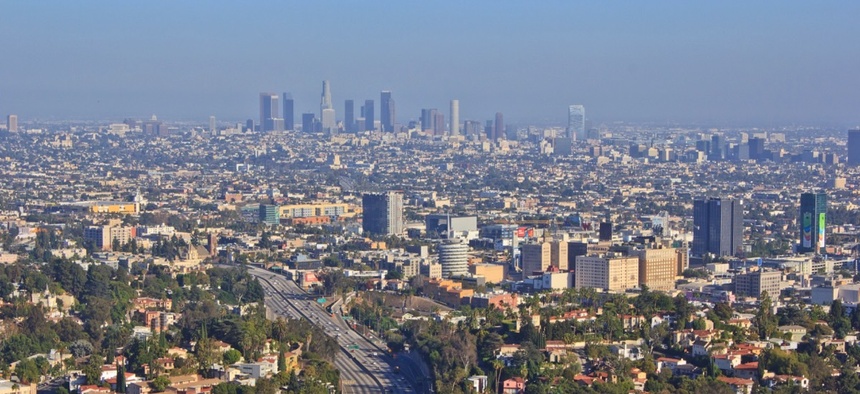 What does environmental resistance to the president look like?
With the swipe of a pen on Tuesday, President Trump sought to reverse U.S. course on climate change, signing his Promoting Energy Independence and Economic Growth executive order, but gubernatorial and mayoral responses since then show he hasn't had the final word.
California Gov. Jerry Brown, whose state represents the sixth-largest economy in the world, along with New York Gov. Andrew Cuomo reiterated plans to curb carbon emissions beyond the targets of the Clean Power Plan Trump just gutted.
The two states account for about 10 percent of U.S. greenhouse gas emissions and both aim to fall 40 percent below 1990 levels by 2030 and 80 percent by 2050.
"Dismantling the Clean Power Plan and other critical climate programs is profoundly misguided and shockingly ignores basic science. With this move, the Administration will endanger public health, our environment and our economic prosperity," the governors said in a joint statement. "Climate change is real and will not be wished away by rhetoric or denial."
As part of the Under2 Coalition, Brown and Cuomo plan to add to the subnational leaders from 167 jurisdictions worldwide committed to limiting the increase in global average temperature to below 2 degrees Celsius.
That's in addition to California's goals to have 33 percent of electricity be renewable by 2020 and 50 percent by 2050, all residential buildings be zero net energy by 2020 and commercial buildings by 2050, and more zero emissions vehicles on roadways.
New York, meanwhile, wants to reduce its cap-and-trade program's carbon emission cap by 30 percent by 2030, 50 percent of electricity to be renewable by 2030, to develop 2.4 gigawatts of offshore wind power by 2030, and to close or repower all coal plants with cleaner fuel sources by 2020.
The coal industry, it seems, was the big winner with Trump's executive order. Then-President Barack Obama's Clean Power Plan would've seen coal production fall 242 million tons, according to the National Mining Association.
Instead, Trump lifted the ban on federal leasing for coal production having already killed the Stream Protection Rule prohibiting the pollution of streams outside a mine's permitting area.
"The miners told me about the attacks on their jobs and their livelihoods. They told me about the efforts to shut down their mines, their communities, and their very way of life," Trump said at the executive order's signing. "I made them this promise: We will put our miners back to work. We've already eliminated a devastating anti-coal regulation—but that was just the beginning."
Coastal and inland flooding, air pollution, heatwaves, wildfires, and drought are just a few of the climate change-related threats members of the Mayors National Climate Action Agenda said their residents increasingly faced. Representing 41 million Americans across 75 cities, they've also framed their position in economic terms for climate change deniers.
Electric vehicles, solar power, energy efficiency and battery storage offer more promising jobs avenues for restoring the nation's middle-class manufacturing base than coal, MNCAA argues, going so far as to issue a request for information for 115,000 electric vehicles across 30 municipal fleets.
"Today, one in fifty American jobs is now in the solar sector, surpassing employment in oil, gas, and coal extraction combined," the mayors wrote in an open letter to Trump. "Texas is once again experiencing an energy boom — this time, with wind power. In fact, the majority of wind jobs in the U.S. are in congressional districts that voted for you."
One of those mayors was Los Angeles Mayor Eric Garcetti, whose Sustainable City pLAn seeks to reduce greenhouse gas emissions by 80 percent by 2050—partly by promoting zero emissions transportation.
The city has already divested from the coal-fired Navajo Generating Station, and its Department of Water and Power will be coal-free by 2025.
"Nothing can stop us from investing in electric cars and mass transit; from ending our reliance on coal; from installing cool roofs and pavement; or from leading America in solar power," Garcetti said in a statement. "Los Angeles will uphold the obligation to preserve the health of our planet, protect our most vulnerable residents, and create a 21st century economy—and working with my fellow 'climate mayors,' we will continue doing our part to meet the goals of the Paris Climate Agreement in cities across the country."
Indeed, one of governors' and mayors' biggest criticisms of Trump's executive order is that he's ceded the U.S.'s position as the global leader on environmental regulation, a position even bigger polluter China isn't willing to fill.
Energy independence and resilience can only be achieved through the Paris agreement, mayors say, and they can not go it alone.
"We hope as the Trump Administration moves forward that the CPP will be implemented as promulgated," Tom Cochran, U.S. Conference of Mayors CEO and executive director, said in a statement. "The rule was finalized after countless scientific, industry and governmental input. It should remain."
Elsewhere on the West Coast, Seattle is home to the U.S.'s first carbon neutral electric utility producing clean electricity the city wants to supply its transportation sector.
Washington State Gov. Jay Inslee and Oregon Gov. Kate Brown were among the first to criticize Trump's executive order, Brown touting the pending closure of its last-remaining coal plant by 2030.
Portland, Oregon, has decreased carbon emissions 21 percent since 1990 while increasing jobs more than 25 percent and its population 33 percent.
"Our city and region will stay the course and move beyond coal and other fossil fuels," said Mayor Ted Wheeler in a collaborative of West Coast officials. "Portland is showing the rest of the country that clean energy, sustainable development, and walkable communities mean local action is a smarter choice than federal inaction."