Note to Tech-Savvy Cities: It's Not All About Attracting Millennials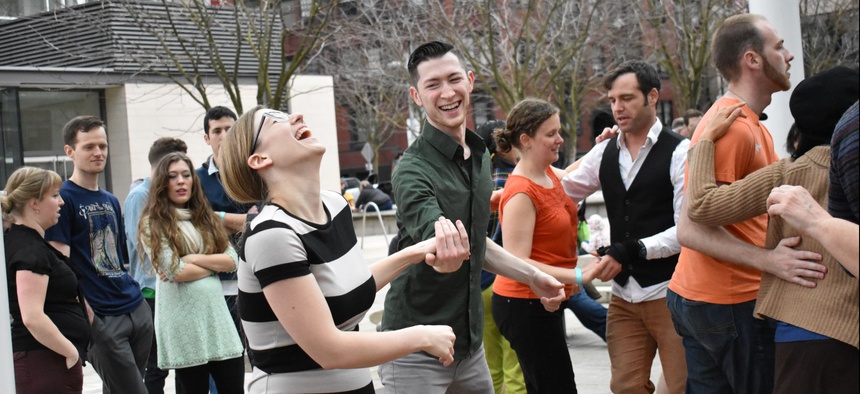 A recent Brookings Institution paper explores the importance of residents from older age groups to cultivate thriving "innovation districts."
Cities with neighborhoods that serve as hubs for technology-related businesses and other types of innovative activity should consider how to attract and accommodate not only millennial residents but people from older age groups as well, a recent report recommends.
The paper, released last month by the Brookings Institution, notes that the focus among private sector and civic leaders in areas described as "innovation districts" tends to be on drawing in millennials because of their outsized participation in the tech sector and start-up culture.
But the paper goes on to say that these communities commonly have attributes that are well-suited for older adults too, such as transit systems, walkable neighborhoods, job opportunities and easy access to amenities like grocery stores and medical offices.
Jessica Lee, a former Brookings associate fellow and an associate director at Intentional Futures, a Seattle-based strategy and design consultancy, authored the paper.
"One thing that was surprising is that there are a lot of places that aren't really thinking about this issue yet," Lee said by phone recently as she discussed her research.
Why does that matter? The paper notes that the 50-and-over population is one of the fastest growing demographic segments in the U.S. The age group totalled nearly 110 million people in 2015, about one-third of the nation's population, according to the paper.
During the same year, Lee writes, the 50-plus group was responsible for close to $5.6 trillion of the $10.4 trillion in U.S. consumer spending.
The paper also points out that most entrepreneurs are over 35 and that older workers possess work experience and expertise that can be valuable to businesses and younger employees.
One major roadblock to attracting a broader mix of age groups to innovation districts is housing affordability, Lee notes.
The paper also says that making urban areas amenable to older adults with less agility can require thinking carefully about design and planning elements. For instance: ensuring public seating is available and constructing entranceways to buildings that don't have steps.
Among the suggestions in the paper is that cities should look for ways to connect older adults with education and training programs. For many Americans, Lee writes, retirement has become "more of a process than an event," with older adults gradually reducing their work hours.
For city leaders, Lee emphasized the importance of regularly considering the needs of people in all age groups during planning, design and other decision making processes.
"It is not something that is just going to take care of itself," she said.
A full copy of the paper, titled "Beyond Millennials: Valuing Older Adults' Participation in Innovation Districts," can be found here.